Special Feature 1
RE-ORG Nigeria
An Interview with Dr Abubakar Sule Sani, Senior Lecturer at Ahmadu Bello University, Nigeria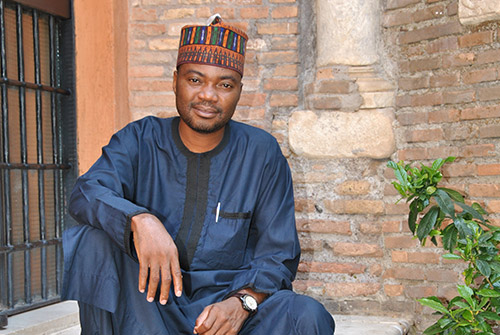 ICCROM: Thank you for speaking with us. Can you tell us about RE-ORG Nigeria?
Abubakar Sule Sani: RE-ORG Nigeria is a national project to improve storage conditions in Nigerian museums. The project is funded through a generous grant from the US Ambassadors Fund for Cultural Preservation (AFCP). We collaborated with ICCROM, the Nigerian National Commission for Museums and Monuments (NCMM) and Ahmadu Bello University to implement the project across Nigeria with 13 participating museums. There are ten Nigerian national museums, two specialized institutions – one being the Archaeology Department at Ahmadu Bello University in Zaria and one being the Arewa House, the university's historical centre for documentation and research – and one museum at Nigeria's University of Ibadan.
Can you tell us a little about your background?
I'm an archaeologist with a master's degree in history and a combined PhD in art history and archaeology. I was privileged to work for six years at NCMM before I transferred my services to the Ahmadu Bello University. Initially I worked as curator of the university museum, and then I converted to teaching archaeology. Archaeology has a strong component of heritage studies, so in the courses I taught, we created a way of dealing with the management of collections. After my participation in the China RE-ORG workshop, I began to introduce RE-ORG principles into the courses.
How did these organizations come to a decision on how to use the RE-ORG funds?
The museum collection at the Arewa House was created in the early 1950s, while the collection at Ahmadu Bello University's Archaeology Department was developed in the late 1970s by a German professor of art history with objects from ethnographic groups from across Nigeria. The problem was that the collection had to change premises every ten years, which affected the documentation and state of preservation of the objects. We recognized that these priceless objects had no house where they could be cared for, so we argued to have a purpose-built museum. When we got the RE-ORG grant, the university graciously agreed to match with US$100 000 for a new building, a modern museum facility. In fact they built this new museum in 12 months, and a portion of the RE-ORG funds could be used immediately to provide the furniture needed for the collections.
Could you tell us more about these collections?
As we moved collections to the new space, we discovered objects hidden for over 40 years, objects I didn't know about. At first the collections were focused on northern Nigeria, but when the government took over the university in the 1960s the museum shifted to a national collecting focus. The collections cover about 350 ethnic groups of Nigeria and deal with festivities, religious systems, body adornment and technological development. The terracotta Nok head sculptures of northern Nigeria, dating to about 2 000 years ago, are fully represented in our collections. The exhibits show the technological advancement of the Nigerian territory in ancient times, including sophisticated smelting and bronze-working skills.
What was the response to the project from the museum managers and staff?
Initially there was some suspicion and pessimism from the staff, and I think they didn't appreciate or understand fully how RE-ORG works globally. I was the first Nigerian to participate in the RE-ORG project at the China workshop, and I took responsibility upon myself to ensure it would be implemented in Nigeria. So the other institutions had an impression that this was my personal project. The grant money came when Nigeria was in recession, and the collaborating directors thought the project wouldn't happen.
I first gave a talk in Abuja about the technical issues of RE-ORG itself. Social media platforms facilitated lively debates about the project, particularly with other museum professionals, and there was a lot of enthusiasm at the mid-professional level. It took four days of intense negotiation with the National Museum to develop the hierarchy framework for control and monitoring of the project, using a tripartite arrangement with different responsibilities for each organization. What convinced them was the pilot activity held in Jos. It was practical, and we created opportunities for engagement and discussion with stakeholders, including National Museum managers and staff in Jos and Abuja. That helped clear the negative perception about the project.
How did you engage the outside community in the project?
After any RE-ORG project, part of the recipe is always to stage a final social outreach event to select objects for a final exhibition, lecture and presentation. These are objects that were previously hidden or obscured, and you try to create stories around them. The public talk and stakeholder discussion are very important and effective. Being a project mentor opened the way for me to give a talk, not exclusively to museum professionals but also to the local community.
At the public talk we discussed what we have, that it is theirs as stakeholders, and why museums are social institutions. We explain that we are curators and managers, but we are there to serve them. The integration of the exhibition and public lecture into what is essentially a space management project makes huge strides in engaging and including communities.
Did you come across any community members with a personal connection?
I spoke to a Muslim man who had never been to the museum due to a negative perception that visiting a museum is idolatry. Over 20 years that he'd been in Kaduna, he stayed away because he thought it was forbidden. He sold fruit nearby and by chance he was invited. He didn't want to partake, but after a while he realized it was about issues he'd been interested in for a long time. It was about him, about his roots, and he said to the curator that it was historical, not un-Islamic. I remember he used this word. Afterwards, he wanted to return to the museum but did not have the money, so we waived the entry fee for him so he could return.
What are your plans to take the project forward?
It's about sustaining the methodology. We appreciate so much the generous contribution from the US Ambassadors Fund to do RE-ORG in Nigeria, and we think this is the first level. I'm beginning to look at those museums that were not selected, which have problems that need to be addressed. The museums that are not visible to us are mostly private or community museums, but I don't think they will be a problem as the management responsibilities rest with the owner. It's about engaging and negotiating with them and volunteering to give them the skills to implement RE-ORG.
There's a need for resources, and I have two strategies now. The first one is to apply for grants and implement them from corporate institutions through social responsibility. At one level I will negotiate and engage, but at another level we need to see if RE-ORG can be implemented without the grants. I'm convinced that yes, even with little funding it can be done. One way is to provide free volunteer services for these museums to implement the projects. I'm impressed at this level that the resource people that we trained at the first stage are competent now to start new projects and need only minimal supervisory oversight. Their energy and enthusiasm can ensure that the RE-ORG initiative will progress in Nigeria, no matter what.