Dates: From 26 September to 07 October 2022
Language: French 
Closing date: The complete application (including supporting documents) must reach the Ecole du Patrimoine Africain-EPA no later than 31 August 2022 via the link Training Workshop on Virtual Exhibitions in Museums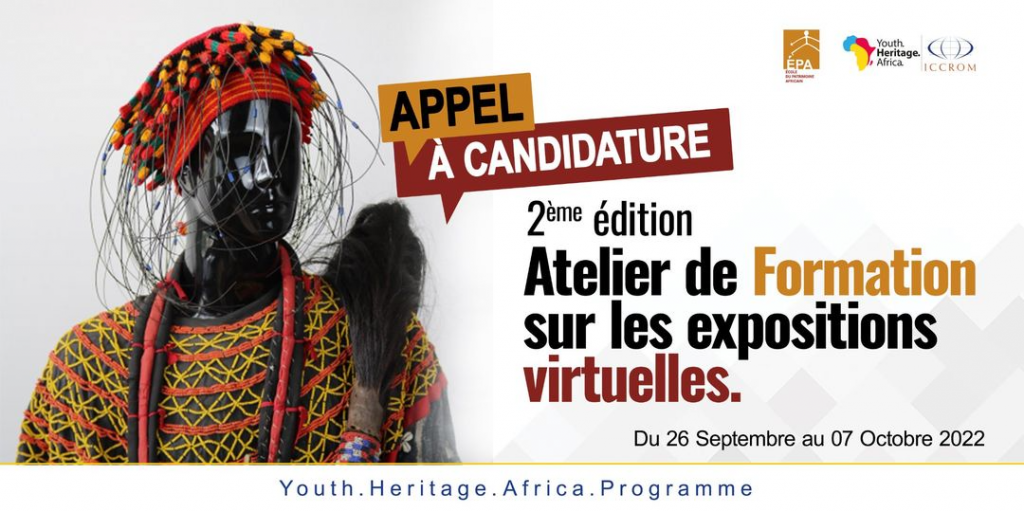 Terms of Reference 
Context
Due to a lack of renewal of their scientific and cultural offerings, among other things, most museums in Africa do not often attract visitors.
For some, the last permanent exhibitions date back more than 20 years, and they have few or no temporary exhibitions to diversify their offer. This situation explains the low attendance rate of these institutions. Similarly, their offerings do not always take into account the expectations of users and, above all, the communities in which they are located.
Very low attendance and the lack of resources are the two major problems encountered by most African museums. Indeed, the revival of attendance is now considered an essential prerequisite for raising awareness as well as the need to develop proactive public policies favour of museums, and, more generally, of heritage. 
Beyond these structural difficulties experienced by African museums, the current global health situation linked to Covid19 has definitively revealed the limits of the actions of museums, which have all been closed. As a result, they have ceased to fulfil their mission of bringing culture to communities. They must therefore reinvent themselves through innovation and by adapting their actions to any situation.
It is in this context that we are launching the second edition of this training workshop on virtual exhibitions in African museums. This workshop will take place online on EPA's e-learning platform with the participation of museum professionals and resource persons.
This activity is part of the Youth.Heritage.Africa programme implemented jointly by ICCROM and EPA.
Objective
The workshop's goal is to equip African professionals to create virtual exhibitions to make the museums' heritage resources available online in an entertaining and attractive way.
The specific aim is to provide 30 professionals with the means, techniques and methods necessary to design a quality virtual exhibition.
Results
At the end of this workshop, participants will have acquired knowledge that will enable them to:
make their heritage resources widely available locally and internationally;
reach a wider audience than an in-person exhibition;
have wider access to the collections: for example, to present rare and fragile artifacts or archives;
offer non-linear content, now having a plurality of means that animate the content in a dynamic way, with an original cognitive, emotional, visual and sound experience.
Implementation
The training workshop consists of two phases:
The first phase is the theoretical course; the training materials will be mainly videos and PowerPoints downloadable from the EPA platform but also MCQs and practical cases for evaluation and follow-up. Chat and live sessions will allow for interaction between learners.
The second phase is devoted to practicing and applying what has been learned. It takes into account the four best projects selected after participation in the workshop, which will benefit from a grant for the implementation of the virtual exhibition;
Monthly monitoring will be carried out over a period of three months at the level of the beneficiary museums to assess the progress in the implementation of the different projects; A presentation of the virtual exhibitions will be made on 31 December 2022 to conclude the training.
Participants
Thirty participants will be selected: twenty from countries (two from each participating African museum) and ten from youth, who have already started developing a virtual exhibition project or have already entered the project implementation stage.
For country candidates, pairs with one or more women and young professionals are strongly encouraged. Candidates who were successful in the first edition are not eligible.
Selection process
The selection will be based on the following elements:
A completed application form for the training programme 
a letter of recommendation and release from the supervisory authority of the applicant's country of origin (for country applicants)
Candidates will be asked to submit an exhibition project for their training. This could be:

an exact online reproduction of a physical exhibition (permanent, temporary, thematic) already existing in the museum;
a complement to an ongoing exhibition (a project that has not been completed for various reasons): while respecting the main theme of the exhibition, the planned virtual exhibition may provide additional information;
a new exhibition to be designed solely for online distribution.
As individuals, candidates must:
Have initiated or collaborated in the setting up of an exhibition in their museum (institution);
Be knowledgeable of the museum environment, the institution's public and its expectations
Bilingualism would be an asset for English and/or Portuguese-speaking candidates
Necessary for training
Since the course will be online, candidates will need:
good computer skills;
a computer (desktop or laptop), a scanner and a camera
a good internet connection;
a hard drive or USB storage key.
NB: Applicants will be informed of the results of this call for applications within 30 days of the closure of the call.