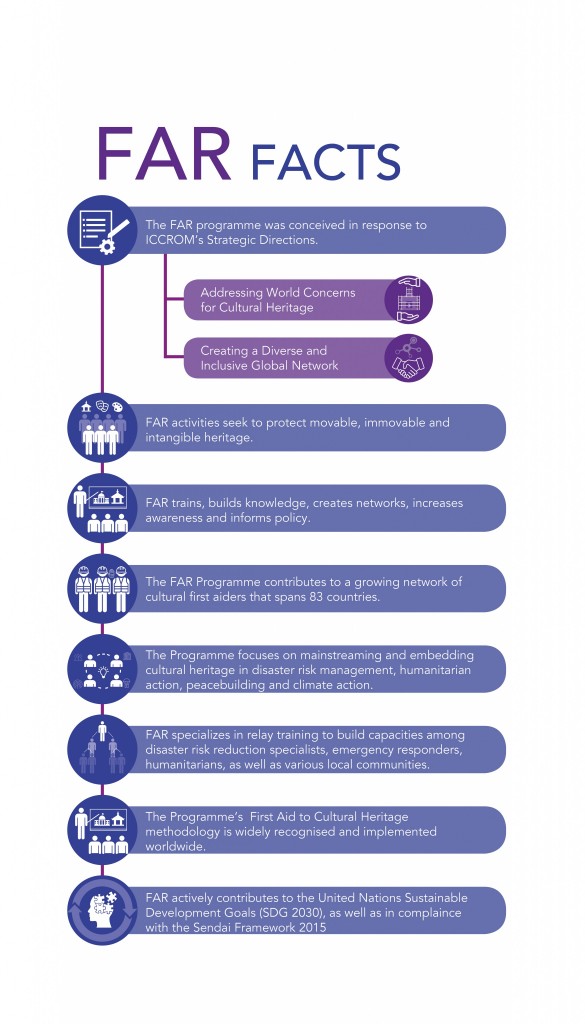 Goal
FAR contributes significantly to preventing and reducing risks for all types of cultural heritage in order to build disaster resilient communities. The programme directly responds to ICCROM's Strategic Directions on:
Addressing World Concerns for Cultural Heritage. 
Creating a Diverse and Inclusive Global Network.
Objectives
As a multi-partner capacity development programme, FAR emphasizes integrated and multi-hazard risk management for all types of heritage (movable, immovable, and intangible), which is systematic and coordinated with actors from the wider field of disaster risk management. 
The programme promotes a systems-based approach to heritage and strengthens its links to the social and environmental dimensions of sustainable development. Its strategy considers risk drivers such as: climate change and variability, armed conflicts, and socio-economic instabilities.
FAR aims to build resilience by encouraging community-based approaches for disaster risk reduction of heritage, as well as using heritage resources for transforming conflicts and contributing to climate action. The programme adheres to the implementation of the Sendai Framework for Disaster Risk Reduction for cultural heritage, in compliance with the commitments UNESCO and ICCROM made at a special session of the World Conference on Disaster Risk Reduction (WCDRR) in 2015 in Sendai, Japan.
To  learn more about FAR's work, read Connecting people and heritage for peace and resilience.
FAR actively contributes to the following United Nations Sustainable Development Goals (SDGs)