Practitioners working with heritage in diverse capacities all need to stay up-to-date with the field. To this end, the three Advisory Bodies of the World Heritage Convention  – ICCROM (International Centre for the Study of the Preservation and Restoration of Cultural Property), ICOMOS (International Council on Monuments and Sites) and IUCN (International Union for Conservation of Nature) – joined forces in May 2022 for the 2nd Advisory Bodies Networking Activity. The activity brought together 40 natural and cultural heritage professionals working with the Advisory Bodies and World Heritage-related UNESCO Category 2 Centres.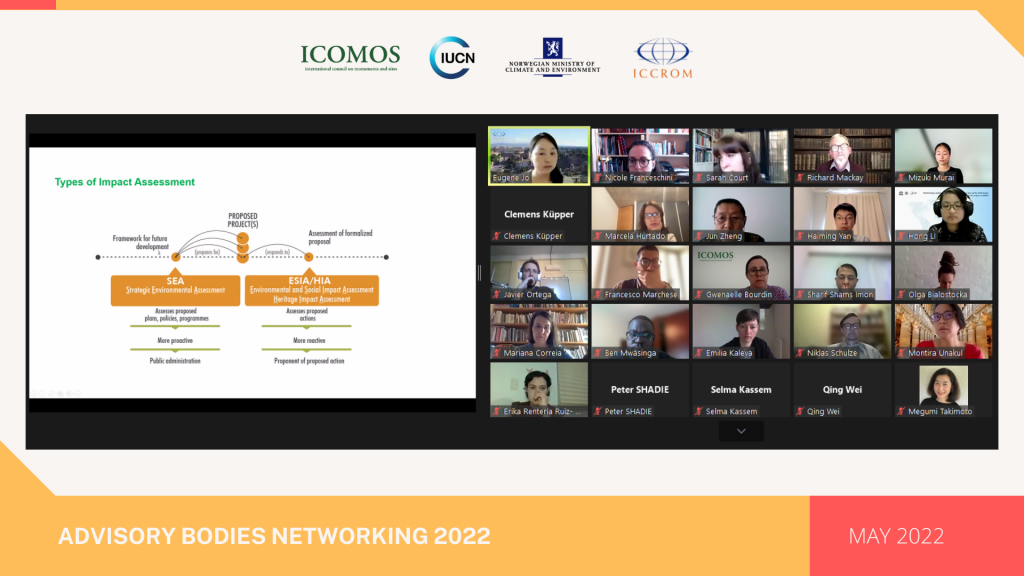 The Advisory Bodies Networking Activity, a capacity-building effort coordinated by the World Heritage Leadership Programme (WHLP), targets the three Advisory Bodies and their networks. It provides an opportunity to build the Advisory Bodies' capacity to fulfill their responsibilities in World Heritage evaluation and monitoring and in providing quality advice and support in upstream processes. The Advisory Bodies Activity offers a platform for natural and cultural heritage practitioners to exchange insights and reflect on new World Heritage resources and future capacity-building needs, drawing on their real-world experiences.
This session welcomed the participation of colleagues from World Heritage Category 2 Centres: the Arab Regional Centre for World Heritage (ARC-WH), the Regional World Heritage Institute in Zacatecas (IRPMZ), the World Heritage Institute of Training and Research for the Asia and the Pacific Region (WHITRAP-Shanghai) and the Wildlife Institute of India (WII). They play an essential role in implementing regional capacity-building activities and in advising and supporting States Parties and sites.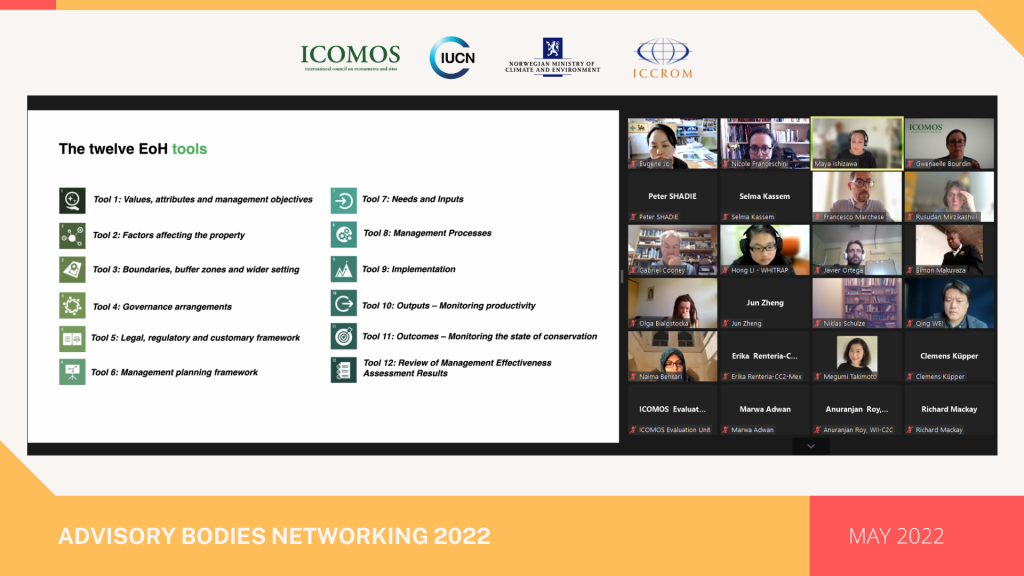 This second edition of the Advisory Bodies Networking Activity was held online and was the first since the outbreak of COVID-19. The first edition took place in September 2018 at ICCROM Headquarters in Rome, with a field trip to World Heritage site Villa Adriana in nearby Tivoli. The gathering focused on understanding and improving the Advisory Bodies' approaches and procedures.
The recent Advisory Bodies activity focused on two forthcoming World Heritage resource manuals – the Guidance and Toolkit for Impact Assessment in a World Heritage Context and Enhancing Our Heritage Toolkit 2.0. We discussed how these tools can best support site managers, national focal points and States Parties to implement the World Heritage Convention on-the-ground and improve the management and conservation of World Heritage properties.
Future Advisory Bodies networking activities and workshops will explore how upcoming revised manuals on managing World Heritage and disaster risk management can further support heritage professionals working in evaluation, advisory and monitoring tasks on behalf of the Advisory Bodies.