Many cultural heritage institutions worldwide, including ICCROM, hold material samples archives comprising samples collected from heritage objects and sites, reference materials and replicas. These historic resources are non-renewable and have huge potential for future research and didactic purposes, but they are often little known, and their value under recognized. In addition, they pose very particular challenges concerning their physical safeguarding, access and use. As a result, they are critically threatened.
Recognizing these challenges, ICCROM launched Heritage Samples Archives Initiative (HSAI) to promote the long-term survival and use of these collections. 
The HSAI aims to improve the recognition, preservation, management, access and use of heritage samples archives, pursuing the following objectives:
Raise awareness of the value and importance of sample archives.
Develop good practices, policies, procedures, tools, and methodologies (e.g. through guidance documents and case study examples) for the management of sample archives.
Develop a roadmap for increasing the accessibility and use of samples archives, connecting them through open digital platforms.
To date, more than 20 institutions have joined ICCROM as partners in the initiative, and different activities have been developed. Discover them below.
How are we working?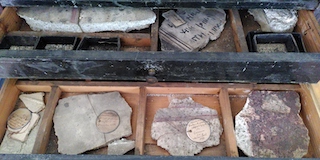 The initiative takes action through the following five working groups:
Values and Significance
To improve the ways in which heritage sample archives are described and communicated, in particular with regard to their values for diverse stakeholders.
 
Cataloguing and Archival Management
To enhance the preservation and use of heritage sample archives through providing guidance and tools for establishing minimum baseline requirements for samples archives management.
 
Access and Use
To enable increased access to, and sustainable use of, heritage sample archives through providing practical guidance on how to develop policies for granting access to different users within the available resources of the organization.
 
Connecting Data Across Collections
To share information on heritage samples archives through a manageable communal platform, modelled on the minimum information required to connect samples archives, taking into consideration user requirements.
 
Research Opportunities
To evidence the value of heritage sample archives, promote their use as research resources, and identify ways to foster the research potential of sample archives.
Who are our partners? 
In addition to ICCROM, the initiative comprises more than 20 partner institutions:
Want to know more?
If you are interested in more information about the HSAI, please contact: María Mata Caravaca (archive@iccrom.org), Alison Heritage (ah@iccrom.org).