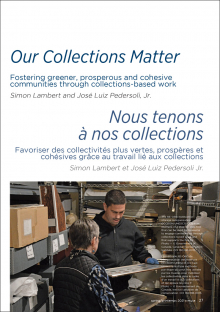 In: Muse Magazine Spring 2021
Heritage collections and their conservation have a crucial role to play in sustainable development. The Value Study of GLAMs in Canada has shown that visits to Canadian galleries, libraries, museums and archives are associated with greater literacy, curiosity, innovation, knowledge and creativity, increased rates of volunteerism and a better sense of community.
Heritage collections safeguard and transmit cultural and natural heritage directly, but also enable a wide range of activities and programmes — from learning, education, participation and research, to creative industries, sustainable tourism and peacebuilding. Thus, they can also advance sustainability in its different pillars: social, economic and environmental.