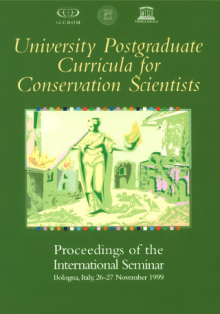 Contents:
Rocco Mazzeo & Marisa Laurenzi Tabasso - Preliminary Survey on the Feasibility of a Training Curriculum for Conservation Scientists: results and proposals for future developments.
Audrey Matthews & Belinda Colston - Training Opportunities at De Montfort University.
Alison Murray - Educating for Conservation Science: observations of a former student and current faculty member.
I. Papayianni - The Challenge of European Inter-University Postgraduate Studies in Conservation Science.
H. R. Sasse - A First German Curriculum on World Heritage Studies.
Andreas Arnold -The Natural Scientist in Conservation.
J. Delgado Rodrigues - The Education, Training and Professional Activity of Conservation Scientists.
Bertrand Lavedrine - Conservation Scientists: the missing link.
Maurizio Marabelli - The Outlook and Competencies of Conservation Scientists: premises and suggestions for training.
Mauro Matteini - Science for Conservation: a wide-ranging discipline. A few observations on identifying realistic sub-areas for potential educational projects.