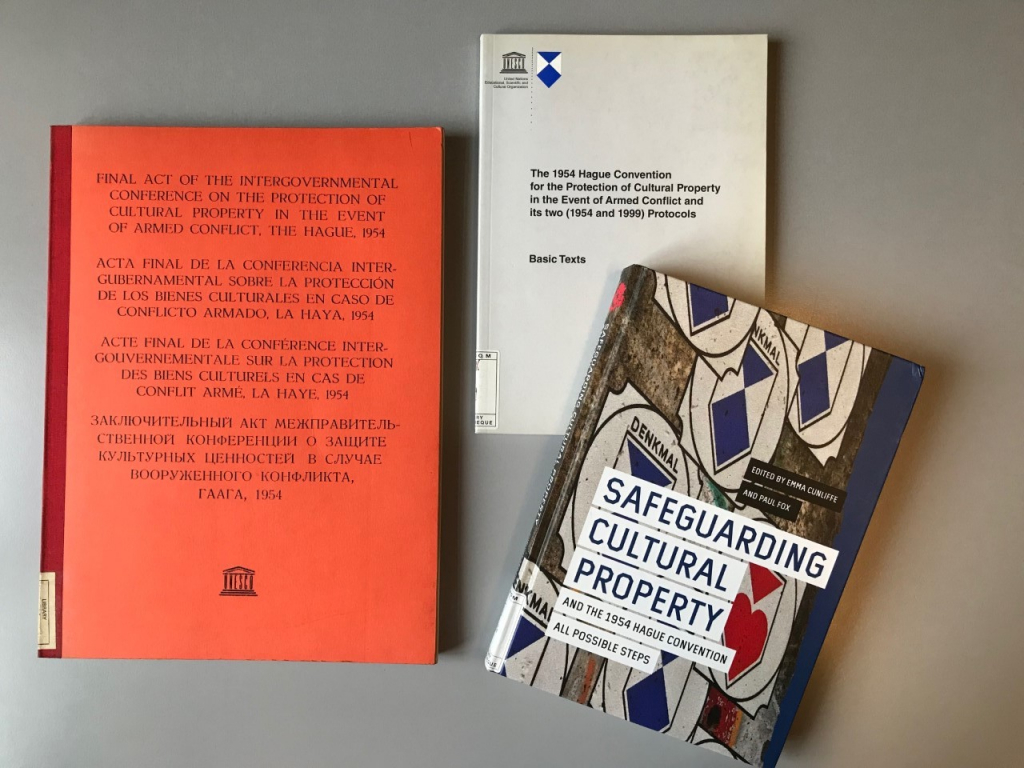 It is an annual tradition to send one another positive wishes at the beginning of each year – wishes of health, happiness, success, peace. The new year is a fresh start when people feel regenerated hope for a bright year ahead. Key to a "happy new year" is a responsible approach to our environment, a sustainable and respectful lifestyle, and peaceful coexistence of people. 
Last year, more than 20 armed conflicts took place in different parts of the world, costing many lives and causing much suffering and destruction. Cultural heritage is far from being exempt from conflict; sometimes it is specifically targeted. In hoping for a more peaceful year in 2023, this year's first Resource of the Month is the 1954 Hague Convention for the Protection of Cultural Property in the Event of Armed Conflict. This iconic convention lay the first – and perhaps the most important – international legislation framework for the protection of cultural property during armed conflict.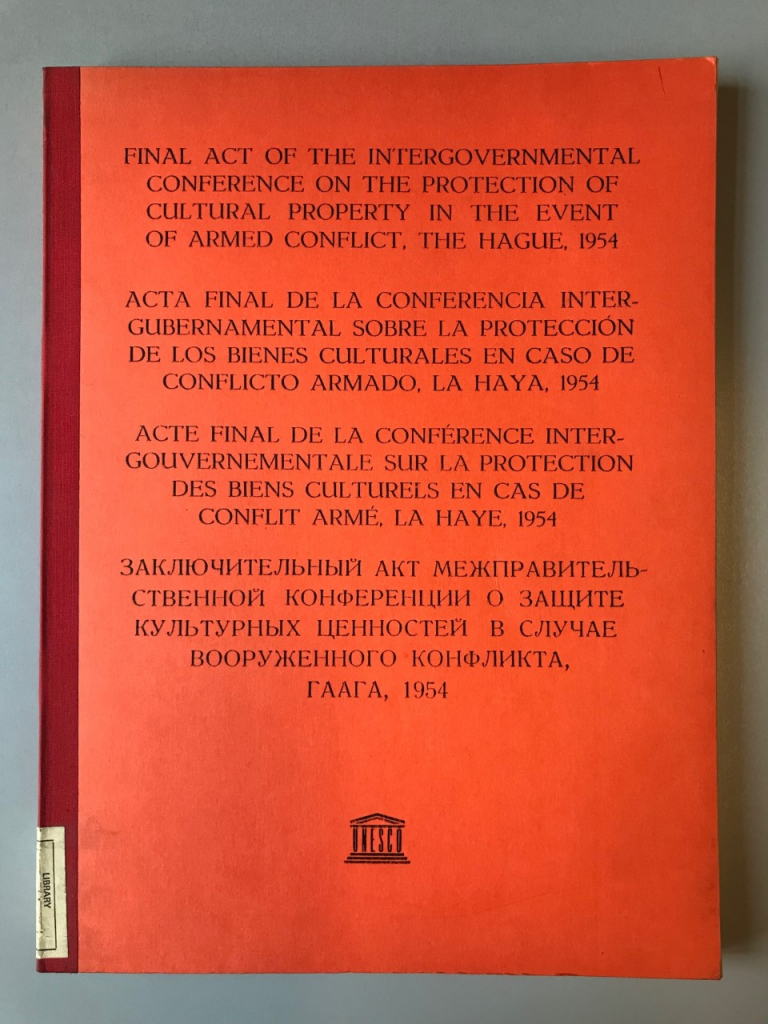 A copy of the large volume, published by UNESCO, is the first book in the ICCROM Library's Cultural Heritage Legislation section (XXIX B 1).* Its red cover contains the weighty convention, signed by 54 participating countries (it now has 133 state signatories). The work is divided into three parts: the Convention in its entirety (seven chapters, 40 articles) and Resolutions for its execution (21 articles); the Protocol; and the Resolution. It is printed in parallel columns in English, French, Russian and Spanish. It begins with a call for international cooperation, emphasizing the national responsibility of individual states to protect cultural heritage and that the conditions for this protection must be established pre-emptively in peacetime.  
When I was a student analyzing the convention, two sentences made a particularly deep impression on me: 
"Being convinced that damage to cultural property belonging to any people whatsoever means damage to the cultural heritage of all mankind since each people makes its contribution to the culture of the world;  
Considering that the preservation of the cultural heritage is of great importance for all peoples of the world and that it is important that this heritage should receive international protection..." (p. 8)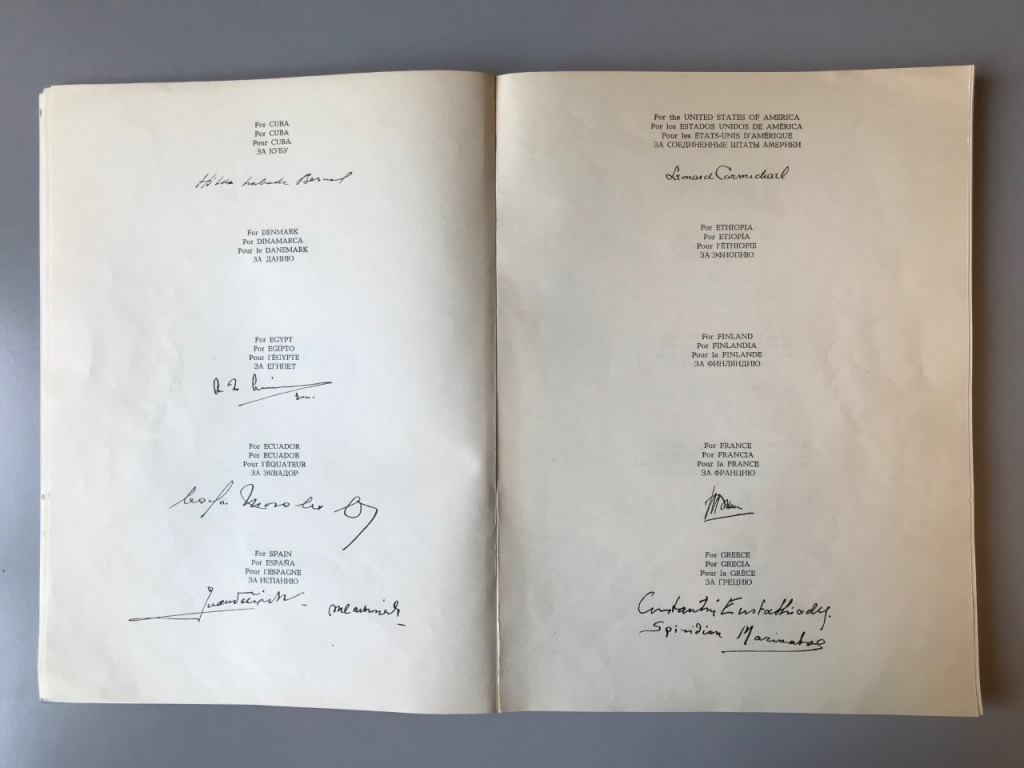 This fundamental text is a living document. Countless researchers and writers have analyzed and re-analyzed it over the past seven decades. For example, in 2010, UNESCO returned to the Convention, publishing a small volume in its Basic Texts series that contained the full convention, the Protocols of 1954 and 1999, and a foreword by Irina Bokova. Just last year, Boydell Press published Safeguarding Cultural Property and the Hague Convention: All Possible Steps in its Heritage matters series. Edited by Emma Cunliffe and Paul Fox, the volume compiles texts related to the Convention's reception and legal implementation in various contexts. 
The ICCROM Library's body of literature about protecting cultural heritage is steadily growing. We are keen to offer our users as wide of a selection as possible. This topic is prominent in some of our own publications and is one of the core themes of ICCROM activities. 
We, as a Library, recognize: sharing knowledge is crucial, as knowledge generates more knowledge. Reading about, writing about and discussing cultural heritage protection can help reduce future damage to heritage and contribute to building lasting peace. 
Only if we can see the mosaic of our cultural heritage and understand that each individual piece is an essential part of the whole, and we are curious about and respect other cultures, will we be able to ensure that our cultural heritage lives on in future generations. 
Dear readers, 
Thank you for tuning in to our Resource of the Month column. We appeal to you to reach out to us with recommendations of titles (in any language!) that would enrich this section of our library – from texts about national legislation to specific topics on the protection of cultural property. We are incredibly grateful for donations of resources. 
Thanks for being here! 
The ICCROM Library  
*XXIX B is a continually growing section to which countless volumes concerning the protection of cultural heritage have been added over the decades as the field evolves and expands. All such resources deal with protecting all forms of cultural heritage, both generally and in light of global problems. Some resources focus on a specific type of heritage – movable, immovable, intangible, etc. – or concentrate on the context of a country or region. All these resources are available for free public view by appointment at the ICCROM Library at our headquarters in Rome, Italy.