This year marks two decades of contributing to the upskilling of new heritage professionals through the ICCROM Internship and Fellows Programme. A new group of interns and fellows joins us each quarter; in the second quarter of 2022, we welcomed seven new interns and one volunteer, representing seven countries.  
Ahmed Mohamed Sallam Hassan from Egypt interned with the ICCROM Library at ICCROM-Sharjah this spring, from March to May 2022. Sallam Hassan was able to work both online and in person. He helped catalog library materials according to scientific and international standards, provide reference services to the MSc programme students, and compile bibliographies for the office's projects. Sallam Hassan holds a PhD in conservation from the Faculty of Archaeology, Cairo University (Egypt), and works as an associate professor at Aswan University (Egypt).
Jiayao Jiang from China interned with the World Heritage Leadership and Capacity Building programme from April to June 2022. She assisted with various activities on "Sustainability and Built Heritage" – in particular, with publications and training courses. Jiang holds an advanced master's degree in conservation of monuments and sites from KU Leuven (Belgium) and a master's in architecture conservation from the Sapienza University of Rome (Italy).
Tania Contrucci from Canada will complete an online internship with the World Heritage and Capacity Building programme from May to July 2022. She holds a master's degree in archaeology from the University of Montreal (Canada) and a master's in World Heritage studies from the Brandenburg University of Technology, Cottbus (Germany). Under the supervision of Eugene Jo, she will help finalize the World Heritage Management Manual and the website for capacity building. 
Caroline Lodi from Brazil will carry out an online internship with the Latin America and the Caribbean programme from May to July 2022, providing assistance to the programme's various activities. Lodi holds a master's degree in conservation and restoration of historical-artistic heritage from the Istituto per l'Arte e il Restauro Palazzo Spinelli (Italy) and a master's in international relations from the Universidade do Estado do Rio de Janeiro (Brazil). 
Michela Masciocchi from Italy will intern online with the Programmes Unit from June to August 2022. She will assist with the First Aid and Resilience for Cultural Heritage in Times of Crisis (FAR) programme's activities. Masciocchi holds a master's degree in international security studies (international relations and applied security) from Sant'Anna School of Advanced Studies and the University of Trento (Italy).
Debora Azogoua Avayenie from Gabon will intern with the Youth.Heritage.Africa. programme from June to September 2022. She will help with the programme's various activities, but particularly with the Heritage Hubs and with developing an African heritage professionals database. Azogoua Avayenie has a degree in international political science from L'Université Paris-Est Créteil (France).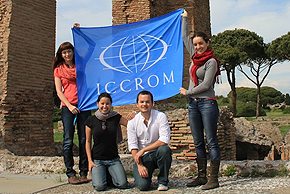 This quarter, we also welcomed Anna Tierney-Fife from the United States, who will volunteer in the ICCROM Library in June and July, gaining insight into most library activities. In particular, she will catalog the Carbonara Donation books and participate in ongoing projects. Tierney-Fife studies classical studies and Italian studies with a concentration in translation studies and was a study abroad student with the Smith College Junior Year Abroad in Florence programme. 
Learn more about our internships and fellowships.