ICCROM and Korean governmental and higher education institutions join forces to protect heritage worldwide through capacity building
Rome, 7 October 2022 – ICCROM and the Republic of Korea agree that it is imperative to invest in providing capacity building, tools and know-how to those tasked with the management and conservation of places of cultural and natural value. In formal recognition of this common goal, the Cultural Heritage Administration of Korea (CHA) and the Korea National University of Cultural Heritage (KNUCH) are partnering with ICCROM (the International Centre for the Study of the Preservation and Restoration of Cultural Property).
On 7 October, ICCROM and CHA signed a five-year cooperation agreement to build heritage management and conservation capacities in the Asia-Pacific region and internationally.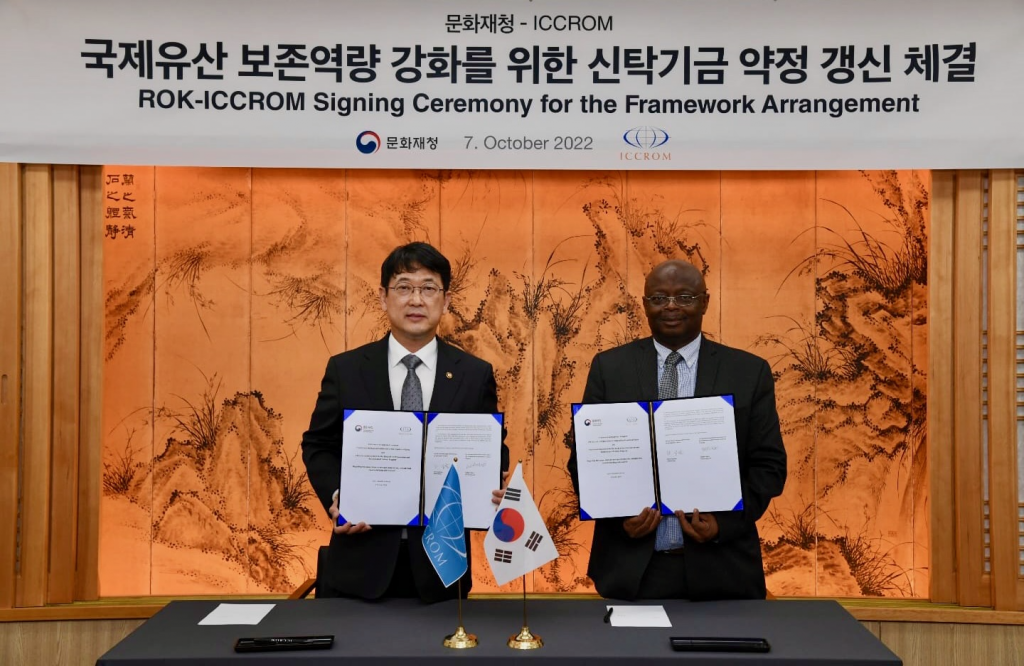 "ICCROM is deeply happy to renew this strong collaboration with Korea for another five years. Capacity building is an area that takes time to reap results, but that always yields stronger and better results," said ICCROM Director-General Webber Ndoro. "The projects that CHA has fostered with ICCROM have become pillars in the field: CollAsia is one of the strongest networks among museum professionals in Southeast Asia, and People-Nature-Culture is now the foundational World Heritage Management course. I sincerely thank CHA for entrusting ICCROM to continue this work, and hope that we can collaborate further with Korea in years to come."
After the signing ceremony, ICCROM Director-General Webber Ndoro visited KNUCH and gave a special keynote lecture on the future trajectory of heritage management and conservation. The Director-General emphasized the importance of a people-centred approach to heritage management, which promotes communities' daily engagement with heritage and recognizes the services heritage provides to people.
On 12 October, ICCROM and KNUCH will also sign a five-year agreement. The collaboration aims to create educational and professional development opportunities in the heritage conservation field.
The new agreements build on ICCROM and Korea's successful ten-year partnership. The two began collaborating in 2012 on a regional project – the CollAsia programme for the conservation of collections in Southeast Asia – and on a series of fora and related publications. The partnership later expanded to supporting ICCROM's World Heritage Leadership (WHL) programme: in particular, the People-Nature-Culture course. In the past five years, CHA and WHL have implemented seven editions of the course, building the capacity of more than 180 heritage practitioners and community members and engaging with more than 40 global partners. ICCROM's ongoing collaboration with CHA has enabled us to continue pursuing cooperation for education, capacity building and research in cultural heritage management and conservation regionally and globally.
These accomplishments will be celebrated with the People-Nature-Culture Forum, which will take place in Suwon, Republic of Korea, from 10 to 12 October 2022. The Forum will also usher in five more years of fruitful collaboration between ICCROM and Korea and offer a stage for reflecting on what is needed in future capacity building on heritage management. In the coming years, ICCROM, CHA and KNUCH will work closely to design and implement capacity-building activities that respond to on-the-ground heritage management issues. ICCROM and KNUCH will supplement these actions with international exchanges on professional development and solid research, data collection and archiving.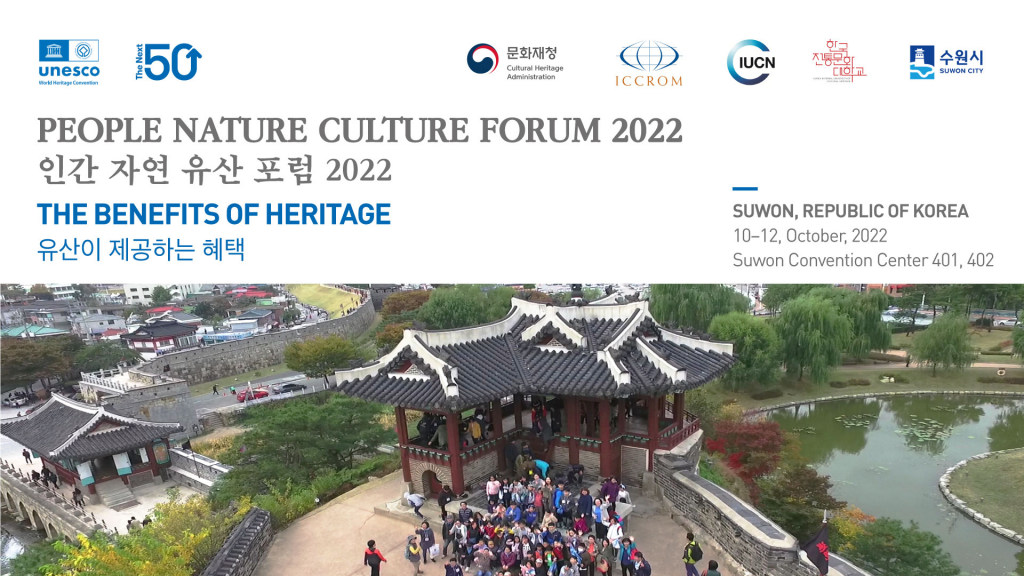 Media Contacts
Jennifer Copithorne
ICCROM Communications
(+39) 0658553413
Boram Shin
Cultural Heritage Administration of Korea (CHA)
(+82) 42-481-4737
Kyungmin Lho
Korea National University of Cultural Heritage (KNUCH)
(+82) 02-779-7871
ICCROM is an intergovernmental organization dedicated to the conservation of cultural heritage. ICCROM aims at improving the quality of conservation practice as well as raising awareness about the importance of preserving cultural heritage. It serves the international community as represented by its Member States. ICCROM contributes to preserving cultural heritage in the world today and for the future through five main areas of activity: training, information, research, cooperation and advocacy.
The Cultural Heritage Administration of the Republic of Korea (CHA) is a governmental agency in charge of the preservation, management and promotion of Korean cultural heritage. It was established to safeguard the integrity of cultural traditions of Korea and enhance the cultural life of Korean people by preserving and promoting the use of cultural heritage.
The Korea National University of Cultural Heritage (KNUCH) is a national university that was established by the Cultural Heritage Administration of the Republic of Korea (CHA) in 2000 with the special purpose to foster the education of future professionals in the field of tangible and intangible cultural properties, cultural property repair and maintenance, and traditional culture and cultural assets.