Intergenerational Conversation on Heritage, Communities and Sustainable Development
Following the great success of TERRA 2022, held in early June, we are pleased to announce the ICCROM-TERRA webinar series, titled "Intergenerational Conversation on Heritage, Community, and Sustainable Development." The series will open the floor for engaging discussion about earthen heritage around the world, and hopes to stimulate even more interest in this important form of cultural heritage:
Tuesday, 27 September 2022: Sustainable Earthen Architecture in Changing Environment
Wednesday, 30 November 2022: Earthen architecture for and by communities
Tuesday, 31 January 2023: Understanding Practices and Rethinking Earthen Architecture for Community Development
Webinar 2: Earthen architecture for and by communities
The webinar will be broadcast on Zoom Platform; you can register here. The recording will soon be available on our YouTube channel. 
Earthen architecture is one of the most original and powerful expressions of our ability to create a built environment with readily available resources. Over the years, communities created and maintained a connection with earthen structures for different reasons as they reflect the times' experiences and mirror the communities' identity. A lot of knowledge about this heritage is lost, resulting in various unanswered questions essential to understanding the present and future. This webinar examines how communities in Jordan and Algeria maintain the connection to significant places, including earthen structures.
SDGs in Focus
SDG1    |   No Poverty
SDG 8   |   Decent Work and Economic Growth
SDG 11 |   Sustainable Cities and Communities
SDG 13 |   Climate Action
Moderator
Olufemi Adetunji, University of Newcastle, Australia
Panelists
Dr Zaki Aslan, Director, ICCROM-Sharjah Regional Office
Doa'e Taan | Historical Islamic Architecture in North-Western Jordan, Heritage Mosques in Irbid Governorate
Tinhinane bachir-cherif | Earthen architecture in Algeria: earthen constructive know-how in the Ksour of the Saoura region
Dr Hossam Mahdy | President of ICOMOS CIAV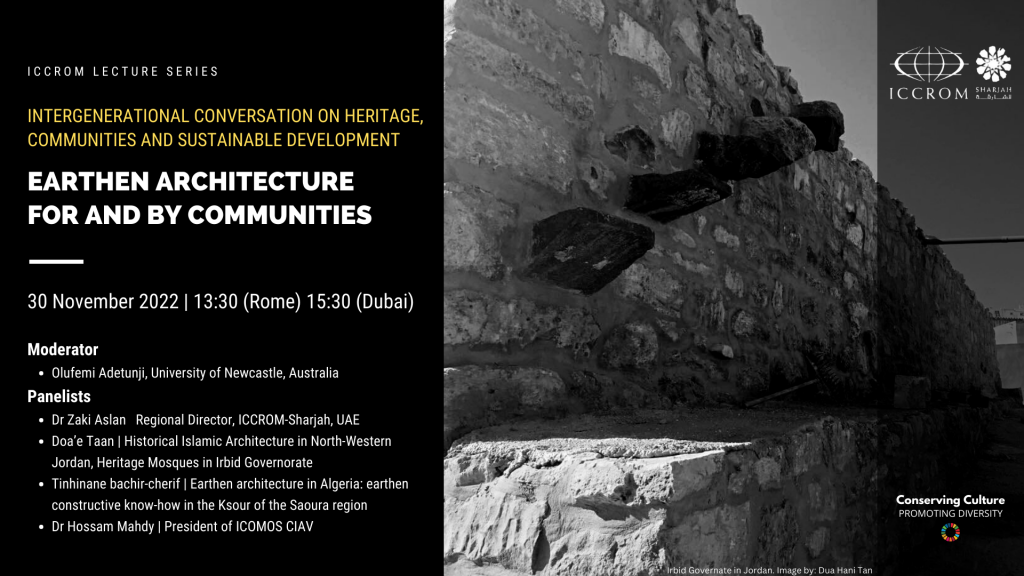 Join us on 30 November 2022.
Registration
is mandatory and FREE.