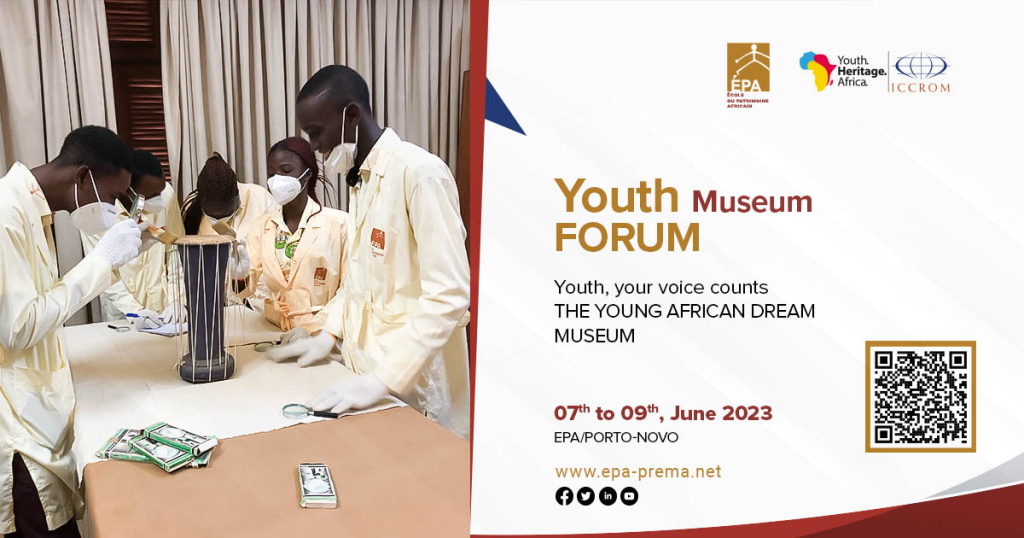 ICCROM, in partnership with the Ecole du Patrimoine Africain (EPA), for the implementation of the Youth.Heritage.Africa programme is organizing the 1st Youth Forum on Museums in Porto-Novo, Republic of Benin, from 7 to 10 June 2023. The Forum will bring together around 40 young people and emerging professionals from across Africa to share their experiences and present their innovative projects that will help define the "New African Museum".  
Conceived around the theme "Youth, your voice counts!" this Forum's main objective is to engage and empower African youth, in an innovative vision, for a better definition of the "New African Museum".   
The 1st Youth Forum on Museums will specifically contribute to creating a new dynamic around African museums and young professionals; to interact with African youth to develop attractiveness and innovation around museum offerings and heritage initiatives; to develop a collaborative and innovative museum concept note for the next forum and to make this forum a regional meeting and exchange space for young people around attractive and innovative museums in Africa.  
In addition, it addresses new challenges, issues and prospects linked to the economic, social and, above all, cultural development of the African continent, with particular emphasis on the involvement of young people who represent the present and the future. Indeed, it is often said that youth is the most sustainable investment there is. The role of young people in the promotion and protection of art, heritage and cultural diversity, therefore, represents an immense potential for the future of Africa, whose socio-cultural and economic development remains more than unstable (Abungu and Autran, 2006).  
During the forum, themes such as museums and technology, travelling exhibitions, entrepreneurship and museums, etc., will be at the heart of debates and reflections, with promising prospects for the continent.   
The Youth.Heritage.Africa programme is ICCROM's long-term regional flagship aimed at creating economic value, investing in social and human capital, and fostering innovation and creativity in the heritage sector, in line with the United Nations' 2030 Sustainable Development Goals and the aspirations of the African Union's Agenda 2063.