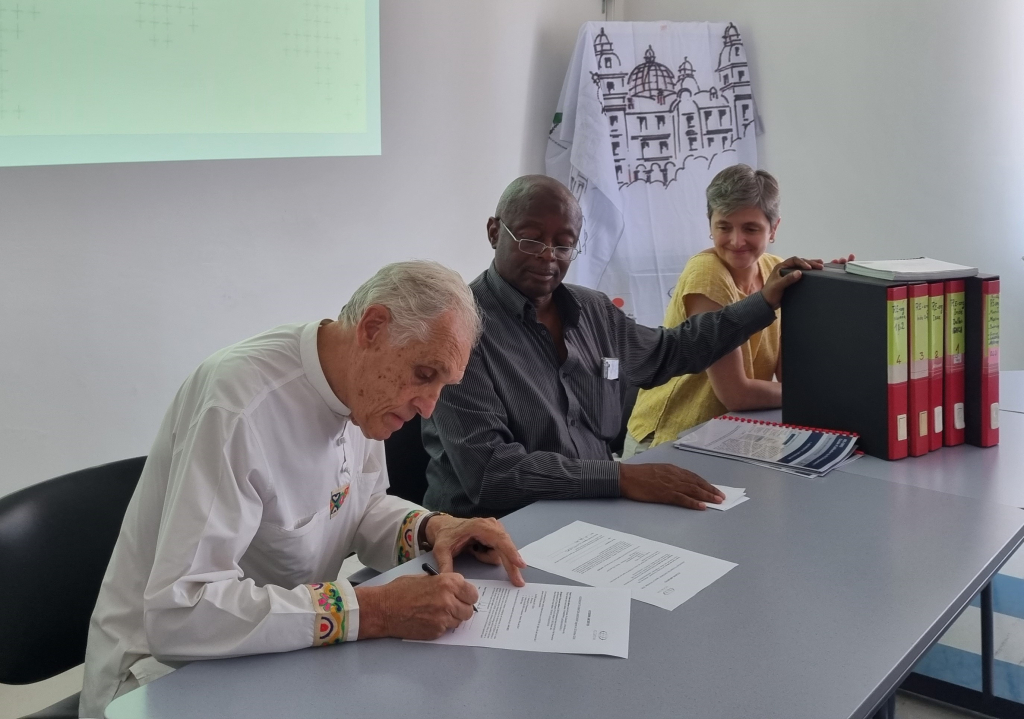 On 14 July 2023, we were honoured to officially receive a generous donation of RE-ORG materials to the ICCROM Archives. Special Advisor to the Director-General and a precursor of the RE-ORG Method, Gaël de Guichen, donated more than a decade's worth of archival materials related to RE-ORG. On this particular occasion, Mr de Guichen and ICCROM Director-General Webber Ndoro signed the agreement that formalized the paper and digital transfer of de Guichen's vast archive. 
The materials document de Guichen's missions related to the RE-ORG project since 2011. This wealth of information – including numerous presentations and illustrations – provides the details and materials needed to create, participate in and run a RE-ORG course. 
The ICCROM RE-ORG Method offers a step-by-step approach to help those who work with cultural and heritage collections reorganize their current storage rooms, focusing on the creative yet safe use of existing resources. 
Over the past several months, Mr de Guichen has been working with ICCROM intern Gladys Garcia to organize and inventory all the related archival content methodically. From this inventory came the source of knowledge transmission: a teaching kit for teams managing a Re-ORG course in French. At the signing ceremony, Garcia gave an in-depth presentation of the process she undertook alongside de Guichen to prepare the archive for its donation to ICCROM. 
All the archives and the RE-ORG kit are available for consultation upon request to the ICCROM Archives.