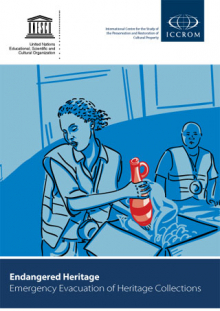 Built upon years of experience and real-life situations, this publication offers a field-tested, simple workflow for the emergency evacuation of valuable objects that is easy to replicate in any context.
A multi-purpose guide, it is created with a variety of users in mind, with simple language and layout intended for heritage personnel, emergency responders and civilians alike. It offers guidance on when and how to intervene to protect endangered heritage, its illustrations and charts helping readers to understand quickly and begin working.
In crisis situations already underway, it is a fast and easy read that covers the emergency documentation of collections, safe transport and temporary storage.
For institutions that are either in vulnerable areas or generally seeking to create an emergency plan, this booklet will be a valuable aid in disaster preparedness. It will assist users in prioritizing needs and in planning for realistic action within specific circumstances, using limited resources.