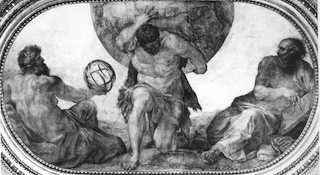 In a room on the first floor of the Palazzo Farnese, a High Renaissance palace now housing the French embassy in Rome, the ceiling is decorated with a fresco cycle by the painter Annibale Carracci (1560–1609).
Known as the Camerino Farnese, it features a scene from Greek mythology in which Hercules carries the weight of Atlas' globe. On the left could be Ptolemy with his armillary sphere, representing astronomy, and on the right Euclid with his compass and tablet, representing mathematics.
This photo of the fresco was taken by Franco Rigamonti during restoration works carried out on the ceiling in the early 1970s by participants of ICCROM's 1971 Mural Painting Course and students from the Istituto Centrale per il Restauro. Like other projects of the era, it was helmed by renowned conservators Paolo and Laura Mora.
Our archives hold a series of black and white photographic prints and colour slides documenting the entire restoration process from beginning to end. There are also notebooks from the 1971 course describing the students present and works undertaken, as well as photogrammetric drawings of the facade and ceilings of the Palazzo Farnese by I.G.N. (Institut Geographique National, Paris) from 1974.