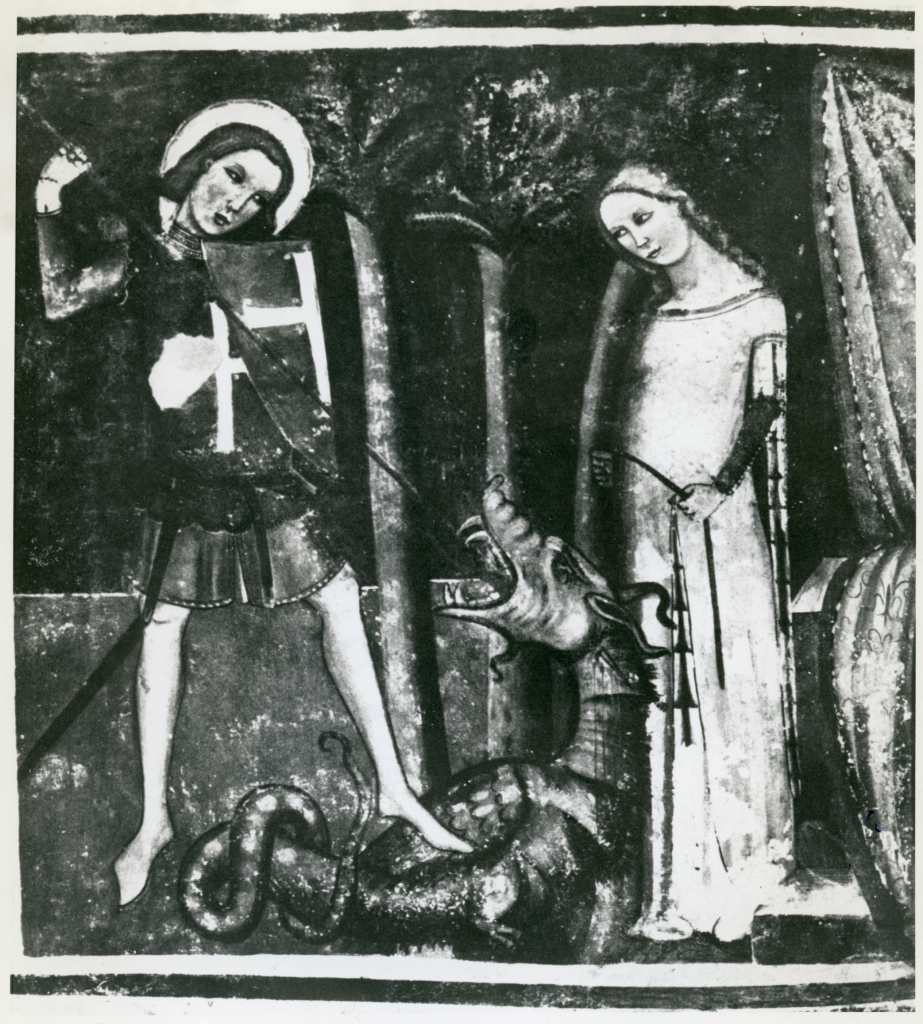 Once upon a time, there lived a man called Saint George who served as a soldier in the Roman army. Legend has it that he heroically defeated a fire-breathing dragon to save a princess from her castle. 
This iconography was beautifully illustrated in the 14th century in a fresco within the Venzone Cathedral of Sant'Andrea Apostolo in Friuli – a northeast Italian region bordering Austria, Slovenia and the Adriatic Sea. Sadly, this story has an unpleasant ending – the fresco, along with others, was severely damaged by an earthquake. 
In May 1976, a 6.5-magnitude earthquake tremor hit Friuli, which had many aftershocks: especially severe were those of September 1976. More than 70 villages were affected, causing many deaths and injuries, and many lost their homes. Extensive emergency measures and international aid were made available. This event also prompted the creation of the Protezione Civile (the Italian Civil Defense body that deals with nationwide prevention and management of emergencies and disasters). 
In the case of Venzone, the cathedral was completely destroyed and rebuilt by the reconstruction technique called anastylosis. The original stones were placed in their original location. The town itself was also reconstructed, with works finishing nearly 20 years later, in 1995. The village's reconstruction became one of the shining symbols of the renaissance of the Friuli region. 
Reconstruction was possible thanks to the significant documentation efforts, including photographic surveys, made before the earthquake. The original building materials were preserved, and a faithful reconstruction of the collapsed parts was undertaken. The new materials are distinguished from the original ones to highlight that they are not authentic. 
ICCROM was part of the international emergency response following the quake. We went on several missions to Friuli in 1976 and the following years to assess the conditions of the damaged buildings through photogrammetric surveys and mural painting assessments. Documentation of these missions is kept in ICCROM Archives. It includes stereophotogrammetric drawings and pictures for the structural monitoring of buildings and urban areas and mural painting damage assessments. These are accompanied by correspondence, reports and photographs, such as the one photographed above. These resources provide contextual information about the event and how communities coped through post-trauma recovery by partaking in reconstructing their cultural heritage.