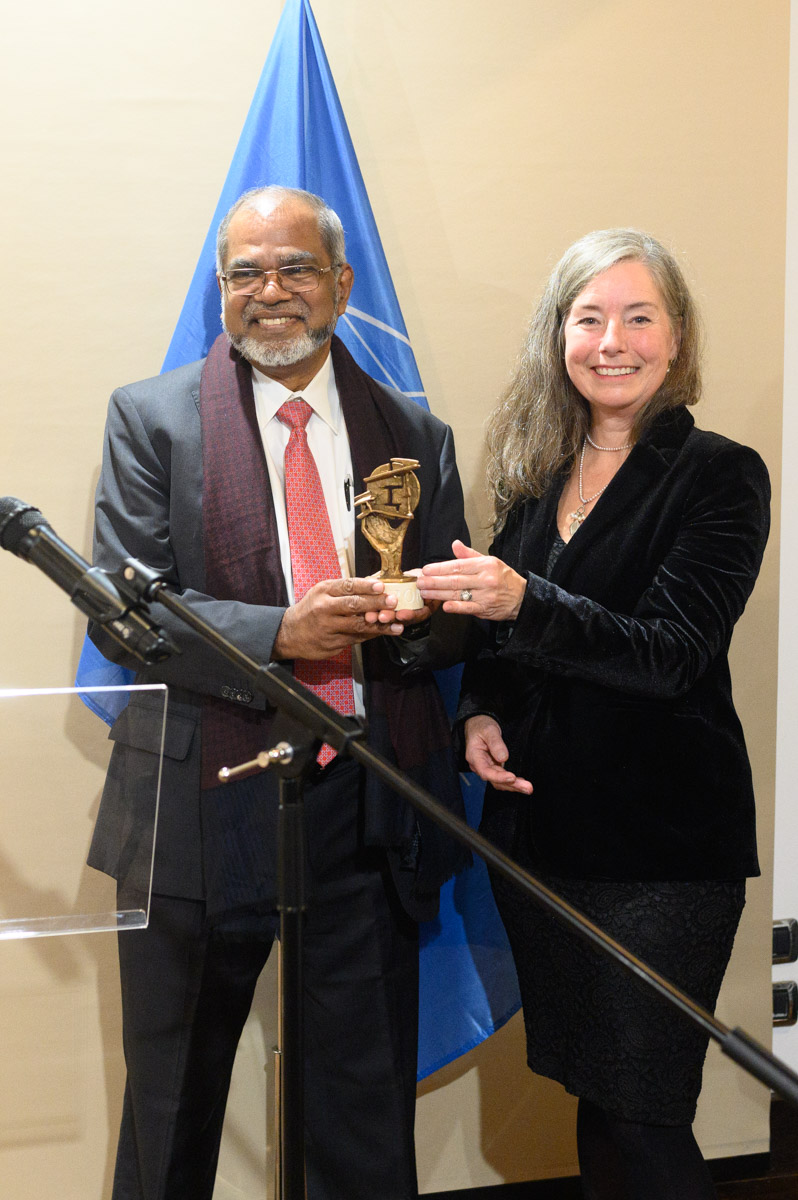 Dr. Gamini Wijesuriya has been named this year's recipient of the ICCROM Award, in recognition of his contributions to the field of cultural heritage both in his home country of Sri Lanka and internationally, and towards ICCROM's development as an organization. The esteemed architect and archaeologist was honoured at an intimate ceremony in Rome on 26 October 2021.
In his acceptance speech, Dr. Wijesuriya dedicated the award to the "extraordinary human capital that makes up our heritage community," and acknowledged the "voices of Asia and other regions of the world that for too long went unheard in many international arenas." He also recalled the early debate around the people-centred approaches to conservation that he helped pioneer. "It is truly heartening to look back and see that we have sufficiently overcome doubts of this nature by placing communities at the very heart of the heritage discourse," he said.
"It has proved a springboard not just for working towards greater alignment with the nature sector but also in understanding heritage as dynamic places that are part of a greater whole – society and the environment – and how engaging with this 'greater whole' is the key to improving heritage and heritage management."
Dr. Wijesuriya's distinguished career includes 18 years as Head of Conservation at the Department of Archaeology in Sri Lanka and a period as an executive committee member of the World Archaeological Congress. For over 40 years, he has championed the World Heritage Convention, including as a founding member of ICOMOS Sri Lanka and on missions to Laos, India and Pakistan, and credits his time as Principal Regional Scientist at the Department of Conservation in New Zealand with helping him see the potential to drive positive change within its framework.
A member of the ICCROM Council in the early 1990s, Dr. Wijesuriya later joined the organization as a consultant before becoming a staff member in 2004. Among his many achievements at ICCROM, he expanded the scope of the Conservation of Built Heritage course and was instrumental in developing innovative programmes such as Living Heritage, People-Centred Approaches to Conservation of Nature and Culture and Nature-Culture Linkages. Dr. Wijesuriya helped shape the World Heritage Capacity Building Strategy, from which grew ICCROM's flagship World Heritage Leadership programme, and his training initiatives, research and publications have directly benefited some 1 000 heritage practitioners from over 100 countries.
Since his retirement from ICCROM in 2017, Dr. Wijesuriya has continued to serve as a Special Advisor to the Director-General, while holding several other national and international positions, including Special Advisor to the Director of WHITRAP Shanghai, honorary senior lecturer at the Institute of Archaeology at University College London, and member of the advisory body to the Sri Lankan Department of Archaeology. His legacy can be seen in the generations of heritage leaders he has mentored.
Director-General Webber Ndoro and ICCROM staff congratulate Dr. Wijesuriya on receiving the award, which is presented every two years to coincide with ICCROM's General Assembly.
Watch the 2021 ICCROM Award ceremony: