The Central Asian nation is alive with ancient traditions, artistic communities, and a breathtaking natural landscape. As it becomes the 137th country to join ICCROM, we affirm our commitment to Tajikistan's peoples and heritage.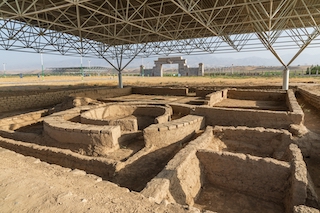 From the streets of Dushanbe to the peaks of the Pamirs, cultural life in Tajikistan has its roots deep in the past. Some examples include falak folklore music, the art of Chakan embroidery, gushtingiri wrestling, and oshi palav, a popular traditional dish.
Dating from the fourth millennium BCE, Sarazm in north-west Tajikistan is a World Heritage-listed archaeological site, while across the country lie Silk Roads sites, centuries-old mausoleums and a Buddhist monastery, all similarly valued for their historical significance.
Reflecting its proud literary tradition, Tajikistan is home to the largest library in Central Asia. It is perhaps fitting that our own world-leading conservation library caught the interest of Mubirkhoni Muminpur from the National Museum of Tajikistan.
"The [ICCROM] library by itself is one of the best opportunities for all the specialists of our country," says Muminpur, who has championed joining ICCROM since participating in a CollAsia course in Laos in 2019. He describes it as being part of a family.
Practitioners like Muminpur will now gain complete access to our programmes, training, publications and other services. Our hope is to strengthen ties with Tajikistan's heritage community as we lend our support to reinforcing their skills and knowledge.
We are excited and honoured to start collaborating with the people and institutions caring for cultural heritage in Tajikistan, while learning from the unique perspectives they bring to conservation. The relationship will benefit our entire Member State family for years to come.
Hear more from Mubirkhoni Muminpur on Tajikistan joining ICCROM:
Banner image: Mehrgon Market in Dushanbe