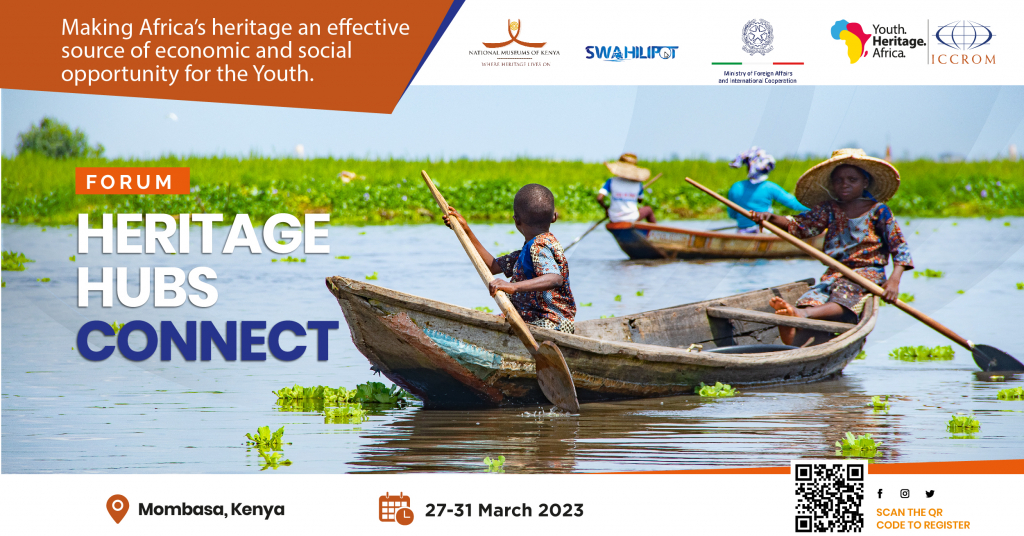 We are organizing the first-ever Heritage Hubs Connect Forum at Fort Jesus in Mombasa, Kenya, from 27 to 31 March 2023. The Forum will bring together about 30 stakeholders from African and European universities, heritage institutions, and cultural and technological hubs to exchange experience and opportunities and identify ways to collaborate for the sustainable growth of ICCROM's Heritage Hubs initiative. The goal is to empower young people to engage innovatively and creatively in heritage preservation and promotion and to actively participate in the cultural development of the continent. 
A key component of our Youth.Heritage.Africa programme, Heritage Hubs are knowledge-based innovation centres that cultivate and foster youth engagement, heritage education, entrepreneurship and business development skills through creative arts and partnership with Africa's heritage protection and promotion community.  
The Kenya Heritage Hub is one of several ICCROM Heritage Hubs established in partnership with public institutions in African countries – including Rwanda, Senegal and South Africa, with more on the way – and financially supported by the Italian Ministry of Foreign Affairs and International Cooperation.  
The Heritage Hubs Connect Forum will help update the 2022-2026 strategic master plan for the Youth.Heritage.Africa programme with a focus on current and future Heritage Hubs. It will cover a range of themes, including innovative trainings, practice-based research, crafts and entrepreneurship, heritage place lab, field school, digital technologies, awareness and advocacy, community space, creative arts, collaboration and knowledge exchange.  
Youth.Heritage.Africa is an ICCROM flagship programme that aims to create economic value, invest in social and human capital, and foster innovation and creativity in the heritage sector, in line with the United Nations 2030 Sustainable Development Goals and the aspirations of the African Union's Agenda 2063.