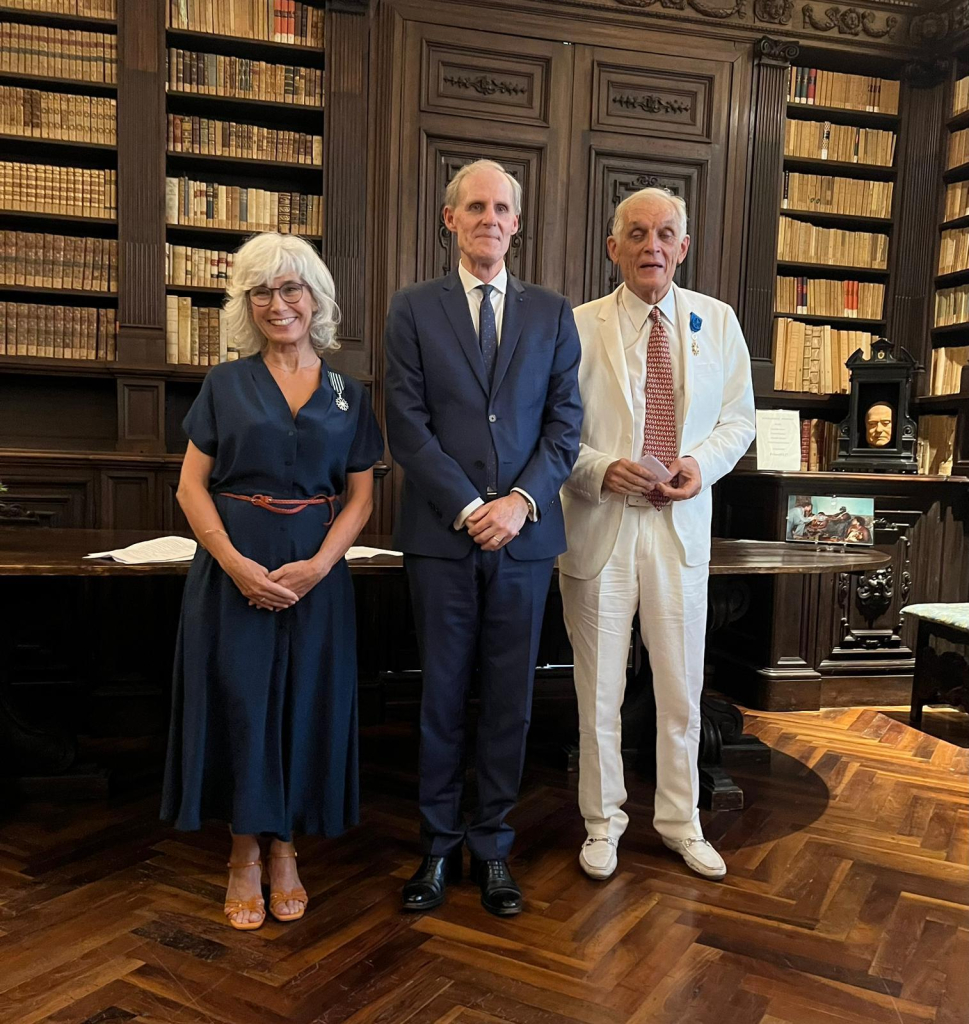 On 8 June 2023, ICCROM witnessed two distinguished former colleagues, whose lifelong commitment has been to safeguard and conserve cultural heritage, receive prestigious accolades. Gaël de Guichen, Special Advisor to the Director General of ICCROM, was honoured with the title of Officer of the National Order of Merit by the President of the French Republic, and Catherine Antomarchi, who was an ICCROM staff member for 35 years, was awarded the title of Knight of the Order des Arts et des Lettres by the French Minister of Culture.  
The award ceremony took place in Rome at the Primoli Foundation, an exquisite establishment dedicated to fostering cultural, literary, historical, and artistic relations between Italy and France. The awardees have deep-rooted connections with the cultural landscapes of both nations. The ceremony was attended by ICCROM former and current staff members and a delegation from the French Embassy in Rome. 
The French Ambassador to Italy, H.E. Mr Christian Masset, bestowed the award upon Gaël de Guichen, commending his efforts for heritage preservation and promotion in more than 90 countries around the world.   
Throughout his lengthy career in the cultural heritage field, Gaël de Guichen has been at the helm of some of ICCROM's most appreciated initiatives, from our PREMA programme (Prevention in Museums of Africa) to the establishment of the EPA (Ecole du Patrimoine Africain) in Benin and, more recently, the international RE-ORG initiative for museum collections.    
In his reply to the Ambassador's speech, Gaël said we shouldn't confuse merit with luck. 
"I was lucky to have a family that helped me discover the richness of heritage and that helped me to engage with heritage. I was lucky to have mentors who patiently showed me the path to follow, in particular, the first ICCROM Director-General, Harold J. Plenderleith of Scotland, Bruno Mühlethaler of Switzerland, Albert France-Lanord of France, Paolo and Laura Mora of Italy, Paul Perrot, who has done so much for ICCROM and its staff, Cevat Erder of Türkiye, Steen Bjarnhof of Denmark, Walter Persegatti of Italy, Alain Godonou of Benin, and others. Thanks to them, I've been lucky to inspire thousands of young colleagues, safeguard outstanding artworks, and make them available to the public. [...] I am particularly thankful to ICCROM staff for their support all along. We are a team, and without this team, we would not have come this far. In awarding these 2 medals, France wished to recognize this teamwork and chose us to bear the expression of its gratitude." 
Equally deserving of praise and recognition, Catherine Antomarchi has dedicated her life to the protection and conservation of cultural heritage. The Ambassador acknowledged Catherine's outstanding dedication and accomplishments. In turn, Catherine acknowledged ICCROM and Gaël's formative roles in her career and life.  
 "This award is also in recognition of [ICCROM's] unique and essential work in the development and renewing of cultural heritage preservation.  Gaël is our valiant conservation warrior... It was him who welcomed me to the portico of ICCROM 40 years ago... He guided me to discover ICCROM's values, those that have enabled me to do what I am receiving this beautiful medal for today: respect for others, the core role of education, transfer of competencies and access to heritage for all."  
Catherine discussed the evolution of the field and of ICCROM that she has witnessed and promoted over the past 40 years. She pointed to the encouraging shift toward a comprehensive approach to conservation that elevates people's and communities' well-being, and the broadened notion of what heritage is, and the knowledge needed to protect it.  
"For all this, I would like to thank my colleagues and collaborators at ICCROM, past and present. They make this moment precious. This distinction salutes the extraordinary work of this small institution - a handful of people with immense inspiration, determined to ensure that knowledge and know-how circulate and renew themselves," she stated.   
We, as ICCROM, are immensely proud of our former colleagues' achievements and congratulate them on receiving these recognitions for their lifelong work, which we hope inspires future generations of cultural heritage protectors.