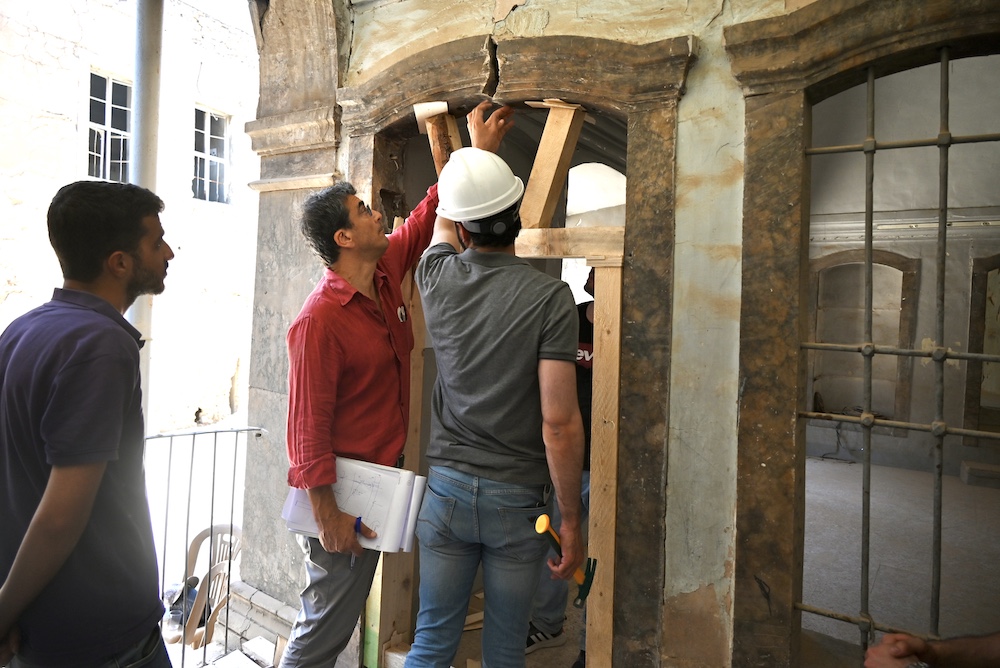 Heritage Recovery Programme activities in Mosul, Iraq, have been in full swing this summer. Heritage professionals (Track 1) started a new module on recovery planning, while young craftspersons (Track 2) wrapped up a workshop on traditional carpentry; others continued a workshop on carving, sculpting, restoring and alabaster building.
The Heritage Recovery Programme in Mosul is a capacity-building initiative aimed at fostering community reconciliation through the recovery of the environment and rehabilitation of the city's heritage sites. The programme is designed to strengthen the skills of local heritage professionals (Track 1) and craftspeople (Track 2) through training and hands-on technical practice. Both tracks intend to strengthen the capacities of Moslawi to actively contribute to progress and recovery in their city.
The first five modules of Track 1 were designed to provide essential knowledge and tools for urban heritage recovery. The sixth module, which kicked off on 6 August 2022, is the first of three modules in which participants will apply these tools and knowledge gained in the framework of the heritage recovery process.
"After all that we learned in the previous modules, my view of heritage has changed not only from a historical or aesthetic point of view, but also scientifically and culturally. Most importantly, I learned how to preserve and restore it in the right way."

– Mirna Tariq, Track 1 participant
"My experience in Mosul has been exciting and of very high interest. The Mosul site will be characterized, at least for one generation, by reconstruction of cultural heritage which I hope could be virtuous and valuable for methodology and new technologies employed."

– Prof. Salvatore Russo, Resource person, Track 1 Module 5
"Before this course, I only knew a few things about Mosul's heritage, but now I know how beautiful and special our heritage is. I also learned that it is important to preserve our heritage if we want to maintain our original identity that makes Mosul what it is."

– Maha Abdul Kareem, Track 1 participant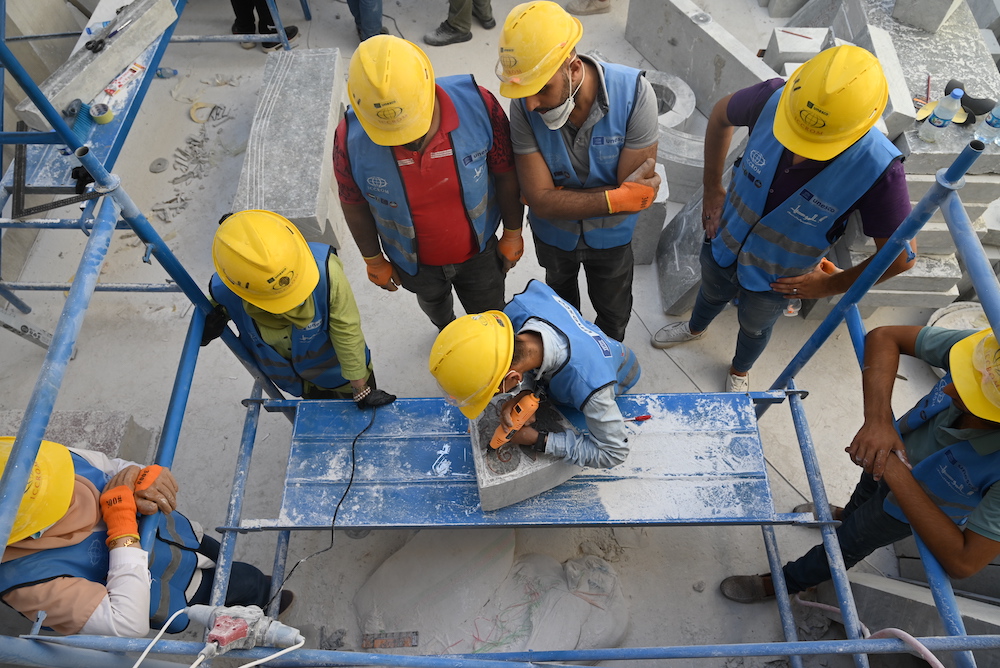 There are also recent developments in Track 2. In July, a workshop was launched to instruct 20 semi-skilled young craftspeople on restoring alabaster, which is a major material of historic buildings in Old Mosul. Participants will learn how to build, carve and sculpt with alabaster – including writing Arabic calligraphy.
August saw the conclusion of an eight-week course on traditional carpentry, which was led by Mosul-native and master carpenter Mohammad Khalil Ibrahim. He taught participants traditional techniques, which have become lost among most Moslawi carpenters.
"By adding 20 skilled artisans to the workforce, the vulnerable traditional alabaster work will greatly benefit from this new blood, which will contribute to allowing it to become more resilient… I was very surprised by the dedication and hard work of these young women and men and the speed at which they are improving."

– Mahmoud Ibrahim Hussein, alabaster workshop leader
"As a volunteer, I lacked confidence and courage, but this is rapidly changing as the workshop moves forward. Being a young woman has always been an obstacle and I thank ICCROM and UNESCO for this opportunity to prove to myself and others what I am capable of."

– Ola Hassan Saleh, alabaster workshop participant
In the remainder of 2022, two additional workshops on traditional stone masonry and blacksmithing will be held for another 40 young Moslawi, wrapping up Track 2. The first cycle of Track 1 will also conclude, with the second cycle opening for 25 new architects, civil engineers and urban planners.
By the end of the year, the Heritage Heritage Recovery Programme in Mosul will have trained 120 Moslawi people:
70 craftspeople will be trained to revive and upgrade heritage using traditional skills, such as traditional stone masonry and blacksmithing (Track 2)
25 architects and engineers trained on building capacity for professional development (Track 1)
25 newly-graduated architects and engineers will join the programme for another cycle of Track 1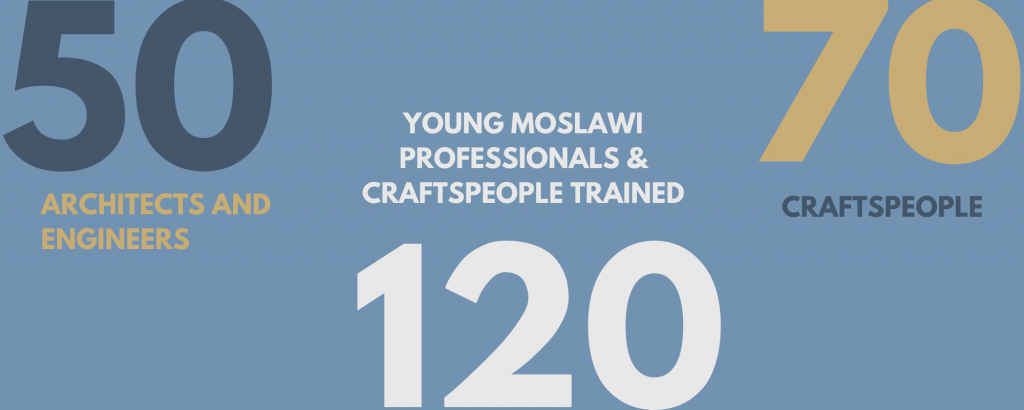 A call for applications for the second cycle of Track 1 will be launched on the ICCROM website and ICCROM and UNESCO's social media outlets in the coming weeks.