The first CollAsia course on sustainable development and the Sustainable Development Goals brought 20 participants from 12 countries together in Siem Reap, Cambodia, for three weeks of intensive learning that they can apply to their work in museums, libraries, archives and heritage sites.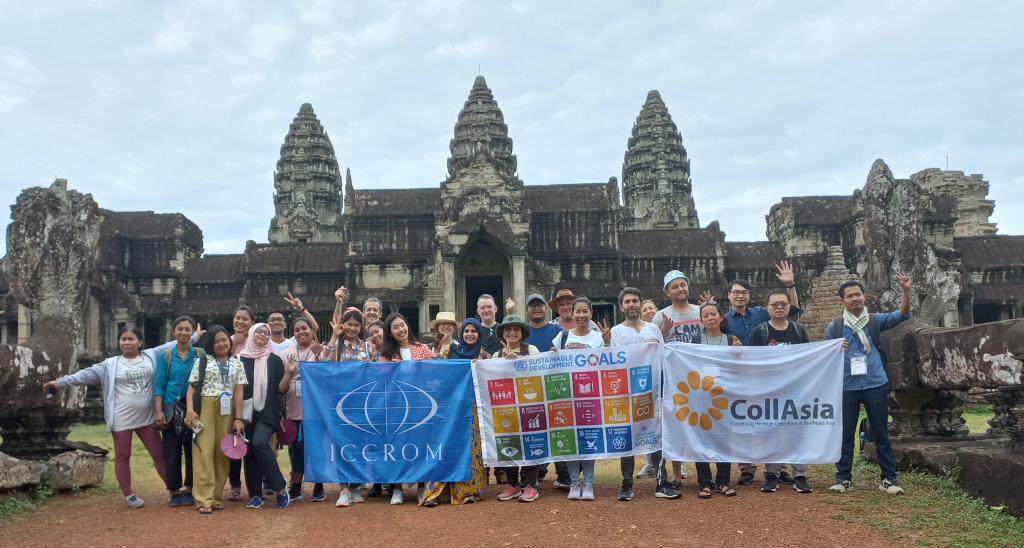 The course, held from 21 November to 9 December 2022, encouraged participants to dive into Agenda 2030 and the SDGs to examine how they can address pressing social, economic and environmental challenges in the heritage context. 
The host country, Cambodia, offered the ideal context to dig into the relationship between cultural heritage and sustainable development. Small-scale institutions and organizations, such as those represented by some of the speakers, inspired the group with their flexible and agile working practices in addressing the SDGs, constantly seeking a balance between the resources used and the potential benefit for local communities and the environment.
The course included perspectives from guest speakers from various organizations from and beyond the heritage sector to shed light on the work and challenges of different sustainable development actors. We were honoured to be visited by the US Ambassador to the United Nations Agencies in Rome, Cindy McCain, who stopped by to show her support for saving our heritage and history for the future by considering heritage collections through the lens of the SDGs.
1/4 On Friday, #CollAsia2022 participants were visited by @USUNRomeAmb Cindy McCain, who advocated the need to look at heritage collections through the lens of the #SDGs and highlighted the importance of saving our heritage and history for the future. pic.twitter.com/9aXEqJogRx

— ICCROM (@ICCROM) December 5, 2022
A diverse pedagogical approach combining field visits and individual and group activities developed participants' knowledge, motivation and practical skills to put collections and conservation to work for sustainable development. Participants engaged in on-site assessment exercises at the MGC Asian Traditional Textile Museum, the Preah Norodom Sihanouk Angkor Museum and the Angkor Wat heritage site.
Course participants developed personal action plans to take back to their work. They used the Our Collections Matter Toolkit to identify practical tools to support them in setting goals, creating actions and monitoring and evaluating their activity. 
"In a short span of time, we learnt that heritage collections could contribute to sustainable development for everyone. Museums, libraries and archives must be places where no one is left behind. In the past, the heritage sector has been criticised for being passive protectors, not instigators of positive change. But together, we can confront critical issues like global warming, injustice and lack of access to resources."

– CollAsia 2022 course participants' statement
CollAsia 2022 aimed to empower heritage professionals to be active agents in sustainable development. By the course's end, participants could use the SDGs as a framework to improve conservation practices, moving from fixed standards to innovative, sustainable and collaborative solutions.