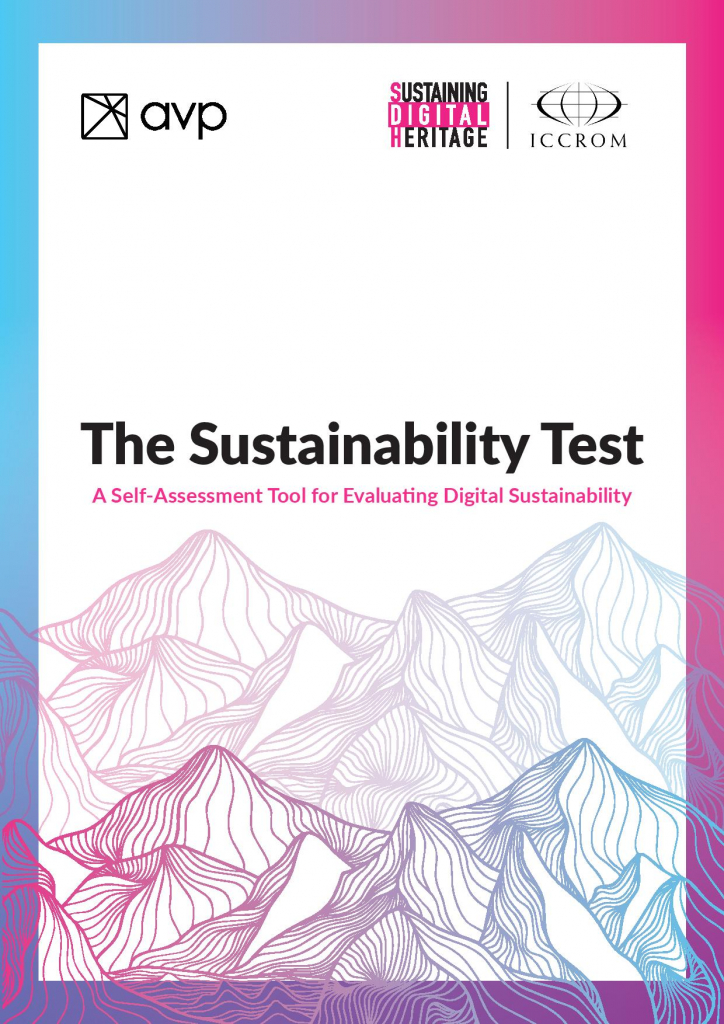 When was the last time you backed up your digital photos and videos? Would they be accessible fifty years from now?
For a library, archive or museum with digital collections this question is even more complex. As our ability to store data has grown exponentially, the challenge that most cultural institutions face is that of how far into the future they will be able to preserve and share content, maximize its value and demonstrate the impact of the services they provide.
With our partners Audio Visual Preservation (AVP), the United States, and the Netherlands Institute for Sound and Vision (NISV), ICCROM has developed an integrated approach that connects knowledge and expertise from different fields for developing capacities at various levels to sustain the long-term preservation and creative use of heritage in the digital realm.
To this end, we release The Sustainability Test: A Self-Assessment Tool for Evaluating Digital Sustainability – a simple, free, easy-to-use tool.
This institutional scan is a tool for self-assessment intended to help you identify where you are in your sustainability journey. It is ideal for organizations managing digital collections that would like to know if their digital assets would be available over the long-term. This assessment can be completed by one person or, preferably, by a small team. Your team can use the results to help plan your next steps, communicate needs to your leadership or other decision-makers, set annual priorities, choose a project to work on, plan a project, create a funding request and more.
Developed by Kara Van Malssen, AVP's Managing Director Managing Director, in collaboration with ICCROM's Sustaining Digital Heritage (SDH) team, this tool is based on findings of the research carried out as part of "The Digital Imperative: Envisioning the Path to Sustaining Our Collective Digital Heritage." This research helped identify a 'Flywheel Sustainability' model based on the methods and mindsets of human-centred design. The digital sustainability journey starts with empathizing, which means establishing an in-depth understanding of the people your organization serves and their needs. Then, you must establish priorities and create solutions that deliver the value and impact your stakeholders are looking for.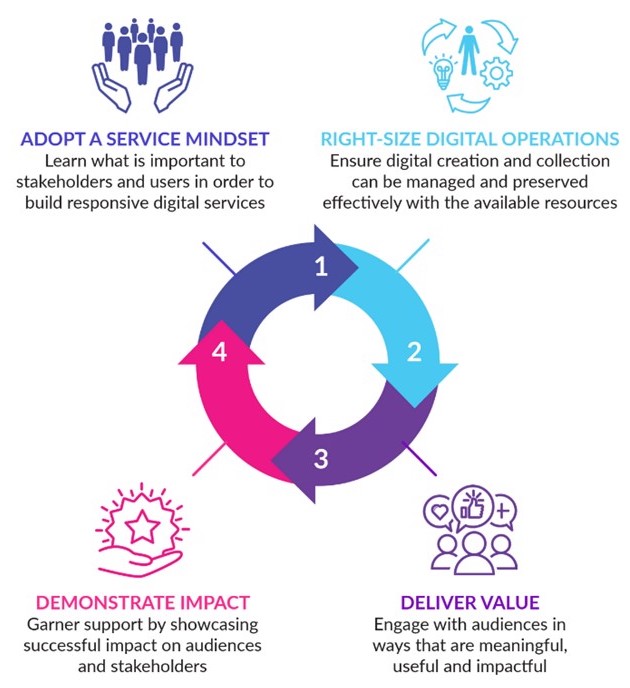 The sustainability test will be accompanied in future by training opportunities and critical resources. Completing this tool will help us tailor the training to your institutional context and needs.
More about Sustaining Digital Heritage (SDH)
This tool is produced in the framework of SDH, an ICCROM-led capacity development initiative that offers training, tools and a self-sustaining network to ensure long-term preservation. SDH's overall aim is to enhance the storytelling potential of digital heritage, as well as connect people, bridge divides, spark creativity and promote development. The programme will develop cross-sectorial partnerships to amplify the cascading effects of capacity-building activities.
Programme activities will include
Self-help tools, such as this one
Development of sustainability case studies and learning materials
Short online courses
In-depth in-person training
Hackathons and webinars to build networks

The SDH Programme aims to contribute to the following Sustainable Development Goals:
SDG 4 – Promote quality education by engaging youth, women and vulnerable cultural bearers through skill development for creating digital heritage content;
SDG 8 – Encourage decent work and economic growth among cultural andcreative industries  by developing sustainable business models that use digital technologies;
SDG 9 – Develop industries, spark innovation and boost infrastructure through heritage-based initiatives; and
SDG 13 – Contribute to climate action through responsible consumption and
by developing low-energy digital storage solutions.