The ICCROM RE-ORG programme continues to be globally active and dynamic for the reorganization of storage collections, with initiatives developed recently in India, Poland and soon, in France.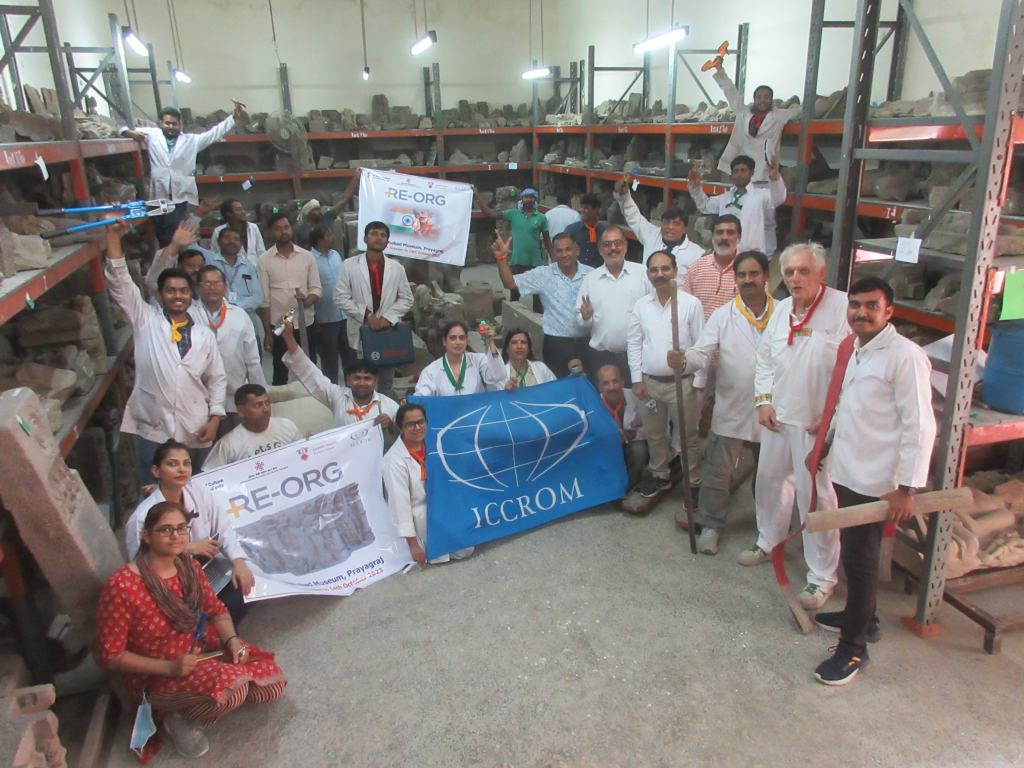 Allahabad Museum, Uttar Pradesh (India) 
First, the 33rd edition of the RE-ORG programme concluded at the Allahabad Museum in Prayagraj, Uttar Pradesh, on 13 October. The work accomplished in nine days was considerable, resulting in one of the most successful and comprehensive reorganizations of a storage department ever carried out under the ICCROM programme.  
The collections of statues, archaeology, paintings, textiles and decorative arts have been grouped together. Whereas before, they were scattered over 14 rooms, they are now housed in just 10 rooms, freeing up four. 
A great accomplishment during this edition was the meticulous registration of textile collections. The others that have not yet been registered will now undergo swift and reliable documentation. 
The end of the 33rd edition was celebrated with the presentation of certificates, which provided an opportunity to commend the work carried out. Once again, it was made clear that far from being a simple technical operation, RE-ORG was a human adventure. 
As a result, collaboration in this field between ICCROM and IGNCA (Indira Gandhi National Centre for the Arts) has been exceptional and will continue.    
National Museum in Gdańsk (Poland) 
Following the RE-ORG course in Poland last year, a training of trainers for RE-ORG was designed with the Polish National Institute for Museums. This course has been taking place at the National Museum in Gdańsk, intending to build capacities for a series of locally run workshops to create a national strategy for the country, which will extend over a four-year period.  
Museum of Sens (France) 
Coming soon, the 34th edition of RE-ORG will take place at the Museum of Sens, France, in two phases, from 27 November to 1 December and from 11 to 15 December 2023, following an agreement signed between the INP (Institut National du Patrimoine) and ICCROM, and in partnership with the National Museum of Catalonia and Museums of the City of Lisbon.  
The workshop is coordinated by Special Advisor to the ICCROM Director General, Gaël de Guichen, and the teaching team includes Florence Bertin, responsible for the collections department, Musée des arts décoratifs de Paris; Benoît de Tapol from the National Museum of Catalonia; and Aida Nunes from the Museums of the City of Lisbon.  
This workshop is being organized for 30 conservation professionals working in French museums whose storage needs reorganization.   
As in previous editions, after two days of theoretical sessions, participants will completely reorganize the storage areas in the host museum, comprising 12 rooms.  
The commitment to fostering effective museum storage practices remains at the core of the RE-ORG programme's mission.