This year marks two decades of contributing to the upskilling of new heritage professionals through the ICCROM Internship and Fellows Programme. A new group of fellows and interns joins us each quarter; in the third quarter of 2022, we welcomed one visiting researcher and four interns representing five countries. 
Visiting Researcher:
Annelies Cosaert from the Royal Institute for Cultural Heritage (KIK-IRPA), Belgium, joins us in September-October to help develop a future summer school in the framework of ICCROM's Our Collections Matter initiative.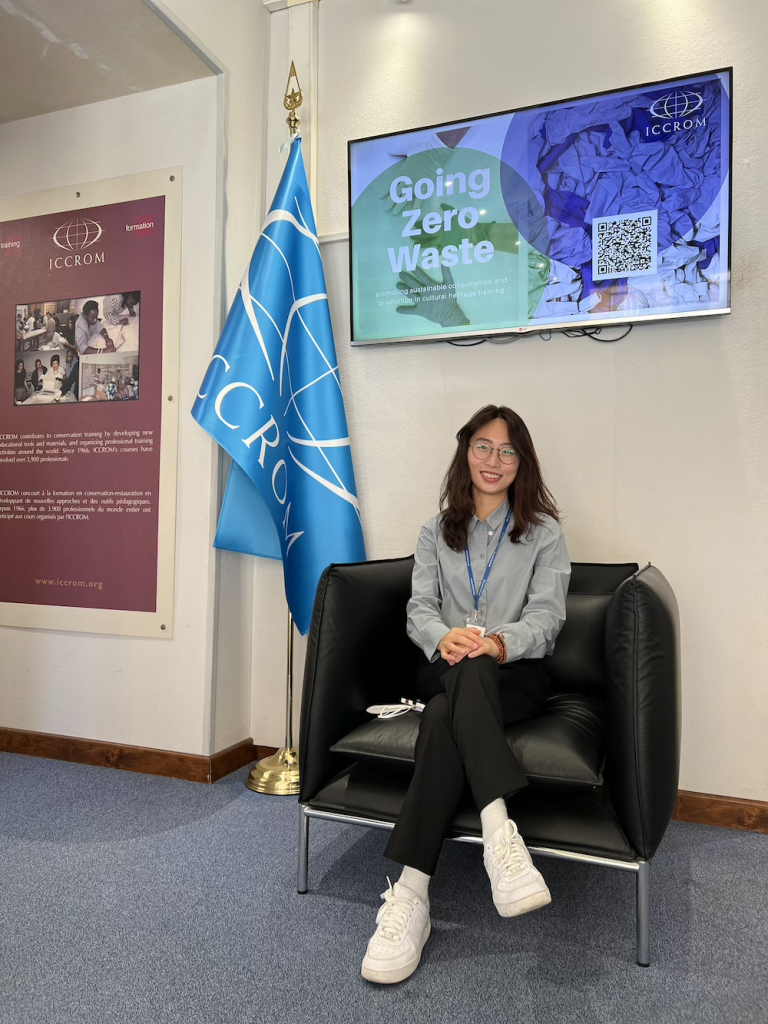 Interns: 
Maryam Azzam from Egypt joined the Youth.Heritage.Africa team in September as a remote intern and will be with us until November. She will provide assistance aimed at enhancing the programme's overall activities. Azzam holds a degree in engineering from Helwan University (Egypt) and is a former head of the cultural committee in African Youth Voice.
Maria Grazia Cantarella from Italy joined ICCROM's Partnership and Communication Unit in September for a three-month remote internship to assist with the unit's various activities. She holds a master's degree in international relations-global studies from LUISS Guido Carli in Rome, Italy
Yixuan Wang from China joins ICCROM in September-December as an intern for the Sustaining Digital Heritage programme. She will assist in enhancing the programme's overall activities and, more specifically, prepare relevant learning materials. Wang holds a bachelor's degree in management, information management and information systems from the Beijing University of Posts & Telecommunications.
Dosun Yun from Republic of Korea began interning remotely with the World Heritage Leadership (WHL) Programme in July 2022 and joined us at ICCROM headquarters in September to continue her work through the end of the year. Yun's internship is in the framework of an agreement with the Korea National University of Cultural Heritage - KNUCH. This summer, she worked with the WHL team on the recently concluded PNC22 course in Korea. While in Rome, she will assist with implementing the People Nature Culture Forum, wrapping up the People Nature Culture 22 Course and collecting PANORAMA Nature-Culture solutions. Yun holds a bachelor's degree in Intangible Cultural Heritage Studies from the KNUCH and is completing her master's in International Cultural Heritage Studies.
We welcome everyone aboard!
Learn more about our internships and fellowships.