From 26 to 30 July 2023, UNESCO, in partnership with the Ministry of Culture and Information Policy of Ukraine, ICCROM and ICOMOS, will train 25 heritage professionals, including World Heritage site managers, from eight at-risk regions across Ukraine on emergency preparedness, risk reduction and first aid to cultural heritage. The project is supported by the UNESCO/Japan Funds-in-Trust.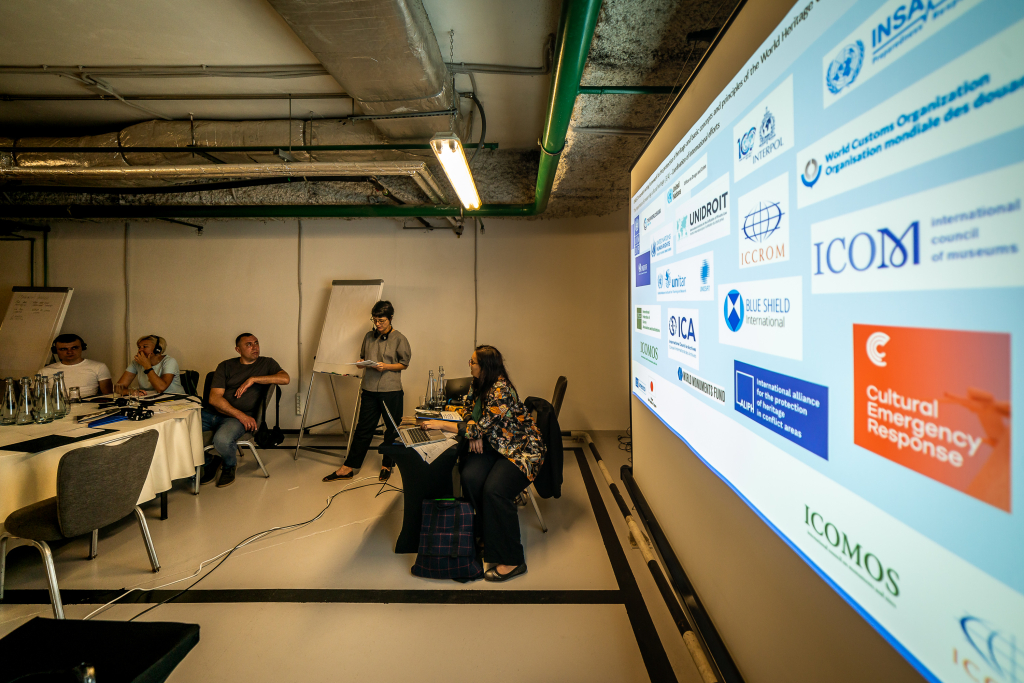 As the conflict in Ukraine enters its second year, ICCROM-FAR and ICOMOS have joined UNESCO and the Ministry of Culture and Information Policy of Ukraine to provide on-the-ground technical assistance, as well as co-lead a capacity development project to strengthen the knowledge and expertise of a core group of Ukrainian heritage professionals on disaster risk reduction, emergency preparedness and first aid to cultural heritage at risk. 
In the framework of UNESCO's emergency assistance programme for Ukraine and in accordance with 215 EX/Decision 5.I.F of UNESCO's Executive Board, UNESCO launched the multisectoral project 'Support for Ukraine in culture and education through UNESCO' in February 2023.  
As an advisory body to the World Heritage Committee, ICCROM, through its First Aid and Resilience for Cultural Heritage in Times of Crisis (FAR) programme, will train 25 heritage professionals, including World Heritage site managers in Ukraine. 
The key objective of this in-person training is to ensure that a critical mass of Ukrainian heritage professionals gains the necessary skills and knowledge to proactively reduce risks to heritage in the ongoing war. Post-training, the cohort of Ukrainian heritage professionals will design and implement risk mitigation and emergency preparedness for cultural properties, including World Heritage and Tentative List sites, and in preparation for Ukraine's recovery and reconstruction.  
This initiative builds upon ICOMOS and ICCROM's joint mission to Ukraine in July 2022, undertaken at the invitation of the Ministry of Culture and Information Policy of Ukraine. The mission helped assess the damage to cultural heritage caused by ongoing conflict, identify immediate needs, and take the first step towards a systematic and coordinated national strategy for first aid interventions and recovery planning of cultural heritage in Ukraine. 
ICCROM modules 
ICCROM will share theoretical, conceptual and practical frameworks on how to carry out a multihazard risk assessment and develop action plans to mitigate identified risks through a case study specific to Saint-Sophia Cathedral, a component of the World Heritage property, 'Kyiv: Saint-Sophia Cathedral and Related Monastic Buildings, Kyiv-Pechersk Lavra.'  
Through tailored lectures and hands-on exercises, participants will learn how to carry out situation analysis and on-site damage and risk assessments, as well as how to mount securing and stabilizing actions for safeguarding endangered cultural heritage sites and structures, taking it one step closer to early recovery.  
A tabletop simulation with multidisciplinary actors will put the knowledge gained into action and develop leadership skills among the participants to act in an emergency. 
ICCROM teaching team 
The in-person training will be conducted by a multidisciplinary teaching team, including: 
Ms Aparna Tandon, Senior Programme Leader, First Aid for Cultural Heritage in Times of Crisis (FAR) and Sustaining Digital Heritage (SDH) – ICCROM 
Ms Jui Ambani, Programme Assistant for Disaster Risk Reduction and Climate Action, First Aid for Cultural Heritage in Times of Crisis (FAR) – ICCROM 
Mr Pedro Cantor, Research Associate Structural Analysis in Historical Constructions & Fire Materials, University of Lisbon 
Mr Ihor Poshyvailo, Director, Maidan Museum and Co-founder, Heritage Emergency Response Initiative (HERI)