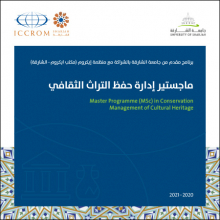 في ظل التحديات التي تواجه حفظ التراث الثقافي في المنطقة العربية وظهور النهج المتكاملة لإدارة التراث، تقدم منظمة إيكروم (من خلال مكتبها الإقليمي في الشارقة)، بالشراكة مع جامعة الشارقة في الإمارات العربية المتحدة، برنامج ماجستير متعدد التخصصات في" إدارة حفظ التراث الثقافي ". يستهدف البرنامج -الذي سيبدأ في السنة الدراسية 2019-2020 العاملين في مجال التراث الثقافي من خلفيات مختلفة في المنطقة ويتكون البرنامج من مساقين:
إدارة المتاحف (التراث المنقول)
إدارة مواقع التراث الثقافي (التراث الثابت)
يتميز هذا البرنامج بنهجه متعدد التخصصات، ونظام الدراسة الفريد ومرونته، والتركيز على قضايا التراث في المنطقة، وأعضاء هيئة التدريس المتميزين، والروابط مع مجتمع التراث الدولي. تم تصميم هذا البرنامج لاستيعاب مختلف التخصصات في مجال الحفظ والإدارة، وسيغطي مجموعة واسعة من الموضوعات، منها الحفاظ على التراث المبني والمجموعات المتحفية، وتقديم وتفسير التراث، وإدارة مخاطر الكوارث للتراث الثقافي وإدارة التراث العالمي. وسيتم تدريس المساقات في البرنامج من قبل أساتذة ذوي خبرة وممارسي إدارة التراث من جميع أنحاء العالم. وسيتم تدريس مساقات البرنامج باللغة العربية بشكل رئيسي وذلك لتلبية احتياجات المنطقة.
MSc programme in "Conservation Management of Cultural Heritage"
Addressing emerging conservation challenges in the Arab region, and integrated approaches to heritage management, ICCROM (through its regional office in Sharjah), in partnership with the University of Sharjah in the UAE, is offering an inter-disciplinary MSc programme in "Conservation Management of Cultural Heritage". The programme, set to start in the academic year of 2019-2020, targets heritage professionals from a diversity of backgrounds in the Arab region, and will consist of two tracks:
Management of Museums (Movable heritage)
Management of Cultural Heritage Sites (Immovable heritage)
The programme is unique due to its interdisciplinary approach, unique delivery format, flexibility, regional focus, distinguished faculty, and links to the international heritage community. The programme is designed to accommodate various disciplines in conservation and management and covers a wide range of topics, such as the conservation of built heritage and museum collections, heritage presentation and interpretation, disaster risk management of cultural heritage and World Heritage management. Courses in the programme are delivered by experienced professors and heritage management practitioners from around the world. To address the needs of the region, the programme is primarily delivered in Arabic.