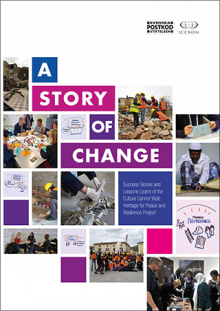 Culture has been recognized as a driver for development. Yet, when disaster strikes, years of human achievements can be wiped out in a moment. Today, key policy frameworks for sustainable development and disaster risk reduction recognize cultural heritage as an enabler of inclusive growth, social cohesion, peace and disaster resilience. Nonetheless, in actual effect, we only have a rudimentary understanding of how cultural heritage aids recovery, or which coping capacities it provides to local communities. This results in cultural heritage not being formally included in the main national and local plans for disaster risk reduction, climate action and humanitarian relief. This makes it extremely difficult for institutions and communities to tap into its full potential and effect change on the ground.
A Story of Change – Success Stories and Lessons Learnt from the Culture Cannot Wait: Heritage for Peace and Resilience Project collects the experiences of 16 participants in implementing context-specific projects in 14 risk-prone countries. This group of participants took part in ICCROM's Culture Cannot Wait: Heritage for Peace and Resilience (Culture Cannot Wait) project, which aimed at mobilizing institutions and communities in their respective local contexts, while promoting early recovery, risk reduction and a transition to lasting peace. This was a joint initiative of ICCROM and the Swedish Postcode Foundation, implemented with the collaboration Smithsonian Cultural Rescue Initiative and the Prince Claus Fund – ICCROM's long-standing partners in First Aid to Cultural Heritage Training – along with other multiple institutions belonging to the fields of disaster risk reduction, humanitarian assistance, civil protection and emergency response, going beyond the cultural heritage sector field.
Recognizing the importance of heritage to humanity, the overarching goal of these projects was to mobilize heritage as a force for post-crisis recovery and resilience, while also addressing the lack of coordination between the fields of emergency response and cultural heritage. This publication hopes to inspire and engage new cultural first aiders worldwide to undertake similar action, furthering innovative approaches in the field of heritage conservation and encouraging collaboration between varied sectors, leading to an increase in the understanding of the role that cultural heritage plays in conflicts and disasters, including the ongoing COVID-19 pandemic that has affected us throughout this year.
#culturecannotwait