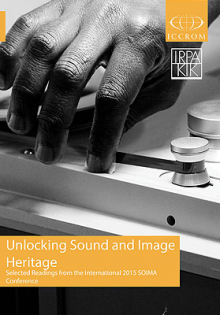 SOIMA: Unlocking Sound and Image Heritage is a web-based and freely downloadable book that offers tips and advice from dedicated professionals from all corners of the world, for the preservation and creative use of sound and image heritage. Featuring compelling case examples and strategies founded in evidence-based research, this resource will interest collectors, users and educators alike.
Within the pages of this work, the authors explore the diversity of sound and image collections, and highlight innovative, creative and cost-effective strategies for coping with constant technological change and meagre resources. The topics are as diverse as the authors, who come from fifteen different countries and institutional contexts.
A joint effort of ICCROM, the Belgian Royal Institute for Cultural Heritage (KIK-IRPA) and the PrestoCentre in the Netherlands, this publication is a compilation of articles drawn from the SOIMA 2015 International Conference held in Brussels. Some 140 conference attendees, representing 41 countries and 95 institutions collectively upheld that collaboration and exchange between institutions and specialists is the key to unlocking sound and image heritage.