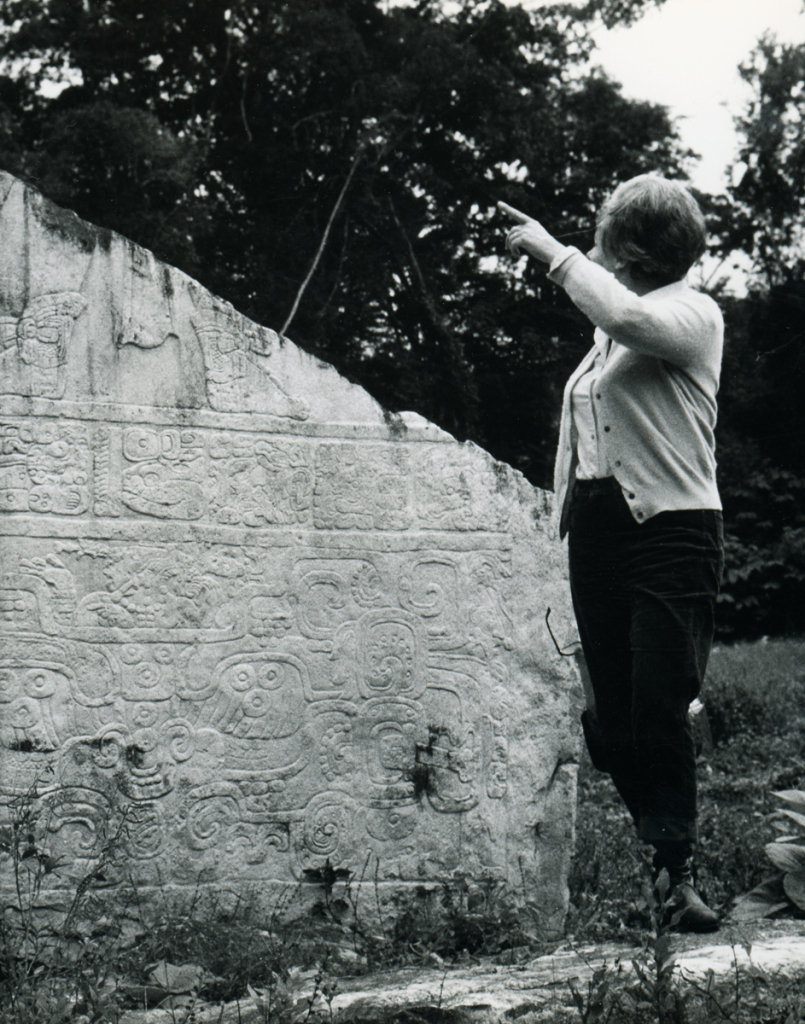 In this photo from 1968, you see Laura Mora, a famed painting and mural painting conservator, in front of Stela 1, a Mesoamerican carved monument (stela), in Bonampak, Mexico. This relief area depicts an earth monster holding up the ruler Chaan Muan II, whose feet are visible at the top. The entire Stela is one of the tallest of the Mayan period at 20 feet (6.1 metres).  
Bonampak is an ancient Maya archaeological site well known for the best-preserved Mayan mural paintings (The Temple of the Murals), dated as the site's structures from the Late Classic period (c. CE 580–800).  
In 1968, Paolo and Laura Mora visited Bonampak to assess the state of conservation – especially the Mayan mural paintings – and propose a restoration project.  
They reported that the conservation of Bonampak's monuments presented significant issues due to its geographical location, far from any inhabited place and surrounded by tropical forest with a hot, humid climate. This environment posed challenges to the logistics of the restoration work and the restorers themselves. Any restoration plan had to account for the monument and its surroundings' constant maintenance.  
The Mora team analyzed the factors of alterations, which focused on water infiltration and condensation. This had favoured the melting, transporting and re-precipitating of salts in the wall structure, causing plaster disintegration and deposits (incrustations). 
Further information about this trip and their restoration recommendations – along with other documentary material, such as correspondence, reports and photos related to missions and technical advice provided in the 1960s by
Paul Coremans
(
IRPA
),
Harold H. Plenderleith
(ICCROM) and the Italian Central Institute for Restoration (
ICR
), among others – is available in
ICCROM Archives
.