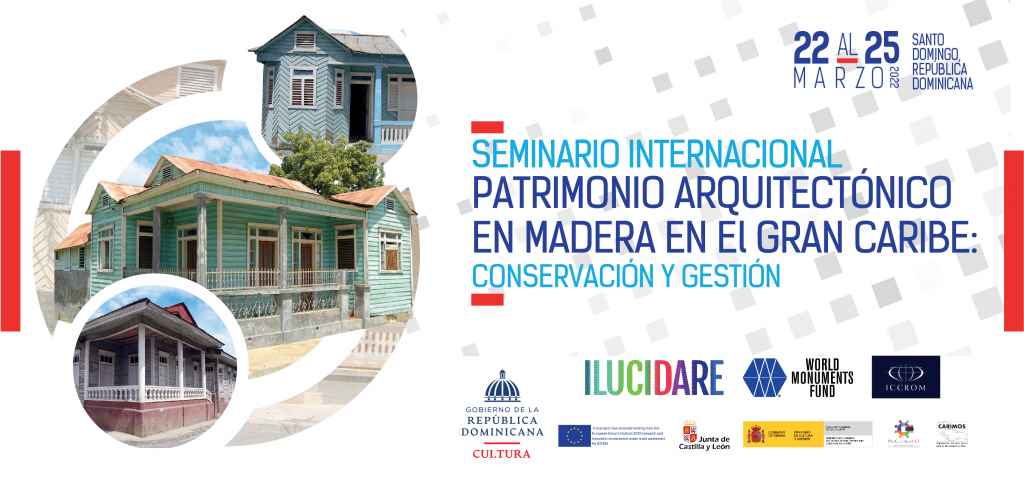 Time: 9:30-13:00 and 13:30-16:00 (GMT-4)
Organizer: World Monuments Fund, Ministry of Culture of the Dominican Republic and ICCROM
Languages: Spanish and English (simultaneous translation will be available)
Traditional wooden architecture has always been a symbol of the Caribbean landscape. It has been identified in different Plans and international documents, as an identity sign of these territories and the groups that have produced it for decades. In 2003, UNESCO called for an expert meeting in Guyana, whose conclusions were gathered in the Georgetown's Declaration. This document alerted about the need of creating a new legal framework for the protection of this heritage, encouraging research, and fostering appropriate conservation, management. It also encouraged the creation of a thematic regional network for the monitoring of these strategies.
In this context, World Monuments Fund Spain, through the ILUCIDARE project financed by the Europe Union, in collaboration with the Ministry of Culture of the Dominican Republic and ICCROM, has organized this Seminar with the aim of rethinking the strategies through the conservation and recognition of the values that this heritage in risk has. In different thematic sessions, the Seminar will aim to reflect on the current situation in the different countries in the region. Taking up the recommendations given in 2003, the development of the conservation and management practices of this cultural heritage will be assessed, encouraging the use of wooden architecture as an instrument for local sustainable development.
Taking into account the current situation of the pandemic produced by the SARS-CoV-2 virus, the Seminar will take place in-person and online.
To have access to the online sessions, please register using the following links:
(password: 819 2653 4411)