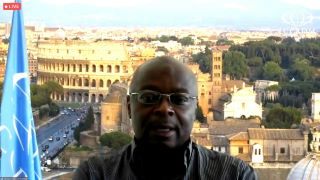 ICCROM recently joined practitioners, decision-makers and leaders from around the world at the International Union for Conservation of Nature (IUCN)'s long-awaited World Conservation Congress, held in a hybrid format in Marseille, France, and online after being postponed last year due to the COVID-19 pandemic. Our two organizations are close partners on the World Heritage Leadership programme and share a commitment to improving conservation and management practices for cultural and natural heritage.
"Nature and culture were never divided," said Director-General Webber Ndoro during a high-level session of the congress looking at cultural and natural diversity within the context of the Post-2020 Global Biodiversity Framework. "We perceive nature through our cultural lenses and culture would not exist without our nature." Our world and environment, he explained, must be understood as a holistic entity in which all elements are intertwined.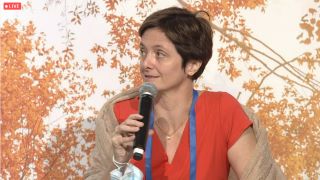 In a thematic session focused on the state of the World Heritage Convention in the lead up to its 50th anniversary, Valerie Magar, ICCROM's Unit Manager for Programmes, highlighted the importance of capacity building in implementing the Convention, as well as the need to recognize traditional knowledge and Indigenous voices in the management of World Heritage properties. She also spoke to the value of collaboration between Advisory Bodies and UNESCO World Heritage Centre as part of a panel discussion with IUCN, ICOMOS and UNESCO.
Impact assessments for World Heritage and the new guidelines and toolkit being developed by the World Heritage Leadership programme in cooperation with UNESCO and ICOMOS were the subject of a campus session organized by ICCROM, IUCN and ICOMOS. Participants were given an overview of the impact assessment process when dealing with a World Heritage context.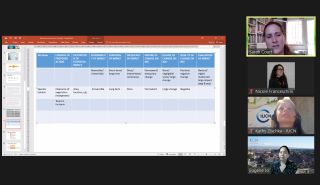 The World Heritage Leadership programme also took part in two key events showcasing the work of the PANORAMA Partnership and the Nature-Culture Thematic Community, the first being a campus session aimed at scaling up 'solutions for a healthy planet' and the second a high-level event on the work and benefits of the partnership.
Eugene Jo, Programme Manager for World Heritage Leadership at ICCROM, presented the work done within the scope of the programme, which aims to integrate people-centred approaches to the conservation of nature and culture in heritage management. Her 'speaker's pitch', which outlined upcoming resources and capacity building opportunities, can be viewed here.
Held every four years, the IUCN World Conservation Congress is one of the world's largest nature conservation events. This year it ran for nine days from 3 to 11 September 2021. A round-up of the final day, which included the adoption of the Marseille Manifesto, can be read here.