A post-conference report and a highlights video is now available on the Climate.Culture.Peace knowledge portal.
The Climate.Culture.Peace initiative and its knowledge portal focuses on the lives, livelihoods and cultures of communities already experiencing the impacts of the climate crisis. Its conference component, held virtually from 24-28 January 2022, aimed to encourage an intergenerational exchange of ideas, lived experiences and perspectives to identify the various links between culture, heritage, climate, conflict, disaster risk reduction, peace and sustainable development. 
This report summarizes the proceedings and findings of the conference and analyzes understandings growing out of the conversations held. It underscores the urgency of promoting shifts in the ways we perceive culture, heritage and climate change and take action. 
The report ends with a list of practical steps we can take to amplify heritage-based climate action. Key findings are listed below:
Heritage in arid, semi-arid and coastal regions is most at risk to extreme climate impacts.Indigenous communities are on the frontlines of climate change and support some of the last surviving biodiverse areas. While they hold place-specific knowledge, practices and solutions that could be critical to restoring fragile ecosystems, reducing inequity, and addressing the vulnerabilities of people and heritage to climate extremes, their connection with nature is threatened.Frequent and intense flooding are among the primary threats to heritage and communities. Often, cultural heritage is left out of flood risk management plans at the city or area levelTo play a positive role in climate action, there is a need to move away from expert-centric discourses and develop tools to make heritage a community-led process that removes inequity, promotes food security, peace and resilience, and reduces exposure and vulnerability to climate risks.Remove mental and physical divides between nature and culture in order to meet the challenges posed by climate change and its variability head-on. When heritage interventions are not people-centric and/or eco-sensitive, they can escalate tensions, increase injustice and inequality, and contribute to environmental degradation.Conceptual frameworks and specific tools are needed to assess cascading climate risks to heritage and people. Increase the ability among heritage communities to recognize the complex nature of climate risks in order to manage damage and loss.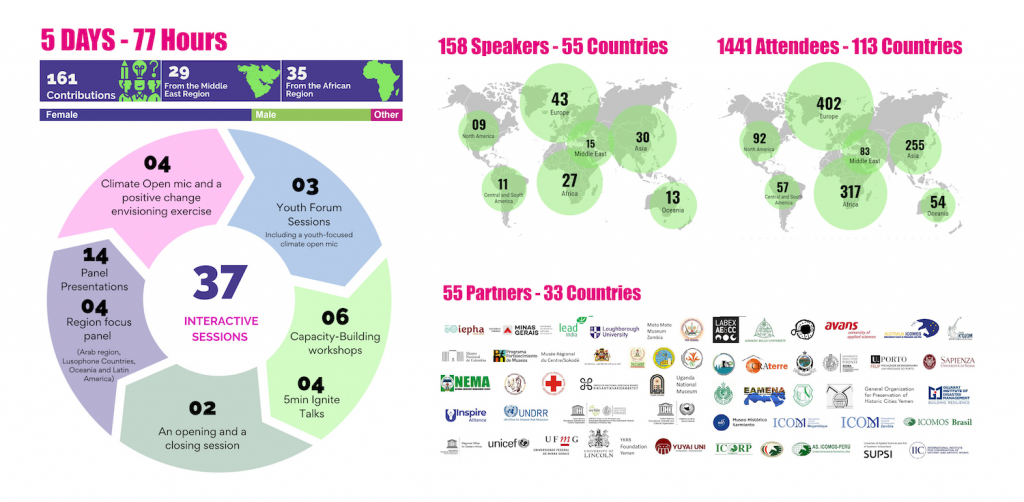 Over 5 days, 77 hours and nearly 160 speakers from 55 countries, Climate.Culture.Peace saw engaging discussions, interesting presentations and inspiring performances. More than 1440 people from 113 countries registered for the conference, with even more joining via livestreams on YouTube and the official Facebook page. 
The Conference highlights video captures the strong ideas and diverse perspectives of the conference. It makes a strong case for scaling heritage-based climate action.
"Culture and heritage are not and cannot be bystanders in a global action on climate change. Through this initiative, we would like to reach out to all regions where climate-related stress has been witnessed."

Webber Ndoro, Director-General, ICCROM
This initiative is generously supported by the British Council's Cultural Protection Fund (CPF) in partnership with the Department for Digital, Culture, Media and Sport (DCMS) and seeks the participation from all CPF target countries.
Sneak peek – what's next?
Case studies documenting place-based stories of heritage and climate shared during the conference, demonstrate how heritage can be an instrument for climate adaptation and mitigation. These will be compiled and shared on the  Conference Knowledge portal. 
A publication compiling abstracts by the 158 speakers, participating from 55 countries, will be released soon on the Conference Knowledge portal. 
The portal will remain an active hub for the coming two years. It will create a robust group of multidisciplinary professionals and engage them in upcoming and relevant discussions and projects. 
As a follow-up to the conference and in preparation for this report, the team has conducted initial feedback and discussion meetings with the Conference Scientific Committee, Advisory Group, partners and key contributors. Similar meetings and other interactive activities such as knowledge building webinars, workshops, etc., will continue periodically.
Our upcoming capacity development initiative, Net Zero - Heritage for Climate Action, will build on the momentum of Climate.Culture.Peace.
Message of support for ICCROM and its FAR Programme
We are pleased to have supported the International Centre for the Study of the Preservation and Restoration of Cultural Property (ICCROM) and its flagship Programme, FAR - First Aid and Resilience for Cultural Heritage in Times of Crisis for their five-day international virtual conference, Climate.Culture.Peace as one of twenty funded projects in the 2021/2022 round of the Cultural Protection Fund (CPF).
Climate.Culture.Peace achieved significant impact in the development of an impressive network, engaging diverse voices and perspectives from contributors across 58 countries whose lived experiences helped to identify and understand the interconnections between heritage safeguarding and climate resilience.
The conference brought together expertise, experience and understanding of climate risks to culture and heritage, increasing awareness of disaster and conflict risks and sharing the principles behind global Indigenous practices that could help to mitigate climate change. Through the continued development of the open access knowledge portal, Climate.Culture.Peace will continue to sustain those connections initiated during the conference and the facilitation of inter-agency dialogue through highlighting good practices and innovative strategies.
We extend our thanks to the conference Advisory Group and Scientific Committee, the 55 global conference partners, speakers and participants for their contributions to Climate.Culture.Peace and for supporting this crucial conversation to inspire collaborative action.  
Finally, we would like to thank our colleagues again at ICCROM and its FAR programme as they build on the findings from Climate.Culture.Peace to inform and shape their continued work in implementing disaster risk reduction. The Cultural Protection Fund will continue to fund projects which protect heritage at risk due to conflict, instability and climate change and consider ICCROM and its FAR Programme to be an important partner and stakeholder in delivering this mission.
- British Council's Cultural Protection Fund (CPF)