From 9-11 January 2023, ICCROM's newest programme,
Sustaining Digital Heritage (SDH)
, conducted its first workshop on digital storytelling –
The Digital Story Circle: Telling and Preserving Heritage Stories in the Digital Realm.
This three-day virtual workshop provided participants with tools and resources to digitally bring heritage communities' and cultural bearers' stories to life.
SDH is an ICCROM-led capacity development initiative that seeks to collect and disseminate strategies and tools for the preservation and creative use of digital heritage. It aims to connect knowledge from diverse fields, promote development and make technologies accessible for capturing the potential of heritage in the digital domain. 
The workshop's geographically and disciplinarily diverse cohort comprised 33 professionals chosen from more than 200 applicants. The participants come from 25 countries across six continents and from fields as varied as heritage to human rights, science, research and communications.
The workshop was co-designed and organized by Aparna Tandon, Senior Programme Leader of ICCROM's First Aid and Resilience for Cultural Heritage in Times of Crisis (FAR) and SDH programmes; Hilke Arijs, a specialist in the digitization of audiovisual heritage; and Michela Masciocchi, consultant for SDH. Jui Ambani, Mohona Chakraburtty and Rahel Wolde Mikael, Programme Assistants for ICCROM-FAR, helped facilitate the workshop.
Highlights & key takeaways
Dr Antonia Liguori, Senior Lecturer at Loughborough University, and Philippa Rappoport, Manager of Community Engagement at the Smithsonian Office of Educational Technology, shared their experiences on digital storytelling as a dynamic process of co-creation.
Participants could narrate their heritage stories and gain first-hand experience of how participatory storytelling triggers rich and inclusive conversations. A virtual 'story circle' was created, helping participants challenge preconceived narratives about heritage, unpacking complex realities and developing a shared understanding of present-day challenges.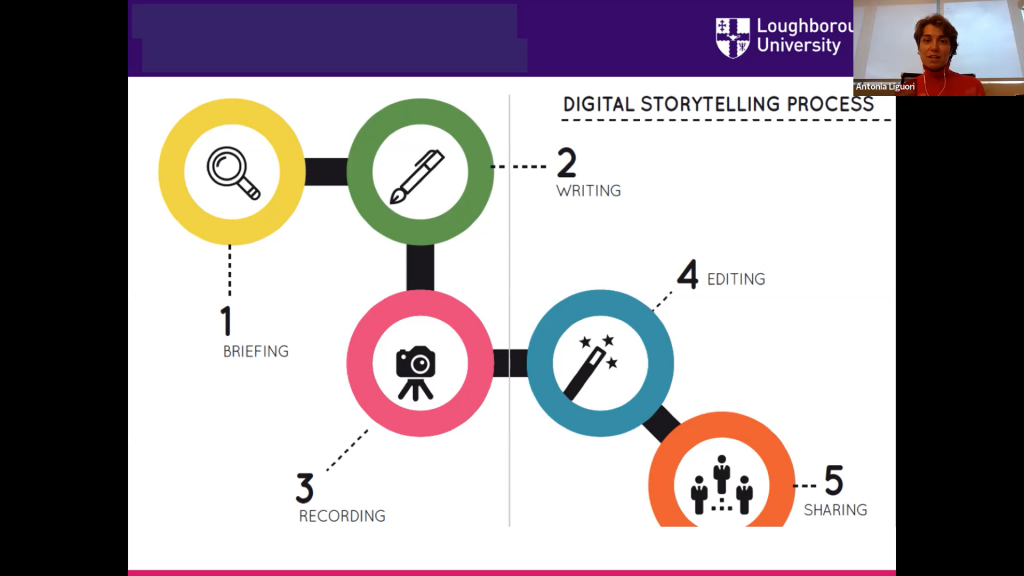 This was followed by a technical session led by Erwin Verbruggen, Project Lead at Q42, who showcased a range of digital tools for creating and publishing heritage stories. In an interactive group activity, participants tried out ready-to-use tools combining visual and audio resources to co-create compelling stories. 
Concluding the day, Jui Ambani, ICCROM-FAR Programme Assistant, shared a case study on how to build scenario-based stories to enhance emergency preparedness in the heritage sector. Participants then reflected on storytelling strategies that can help capture people's imagination using audio, video and other realistic elements to make stories as effective as possible. 
The final day featured inspiring case studies on digital storytelling in the heritage field. Elizabeth Lee, Vice President for Programs and Development at CyArk, showed how 3D models and Virtual Reality technologies can create equitable and respectful access to heritage sites. 
Bram Wiercx, ICT Manager at FARO, shared insight into developing an app for touring heritage collections and sites, which allows users to interact with and learn from heritage exhibitions.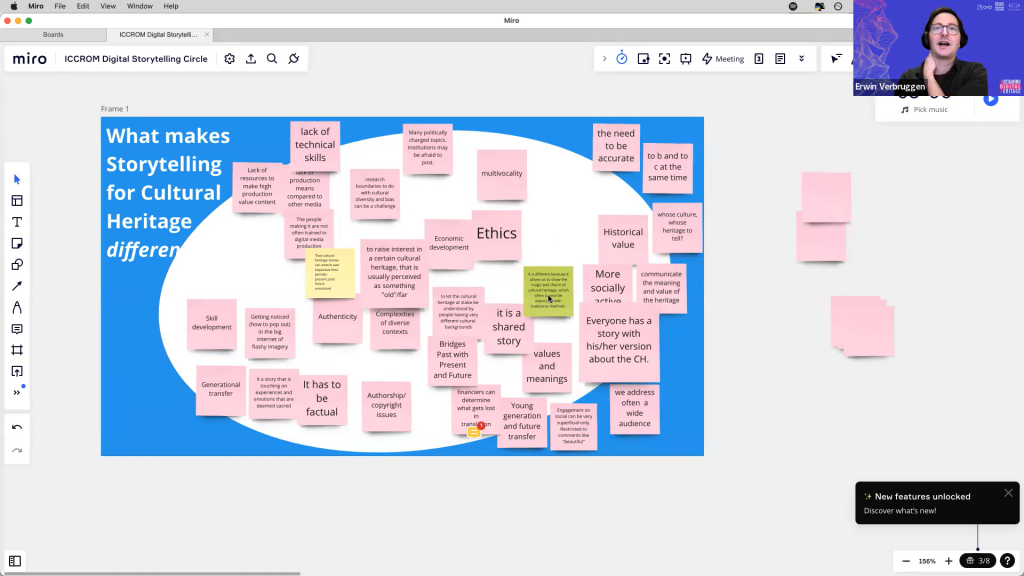 Samuel Donvil, Project Officer at Meemo, discussed the advantages of leveraging open linked data to build heritage stories, demonstrating how Wikimedia platforms can enable greater visibility of heritage collections. 
A session on best practices to preserve stories in the digital realm concluded the workshop. Erwin Verbruggen underscored the importance of adopting a backup strategy throughout the digital storytelling process to ensure smooth data recovery in case of need. Moreover, he suggested tools to ensure long-term maintenance of digital archives of webpages and other video-documentation solutions.
Observing how heritage stories involve themes of memory and identity that connect people across time and space, the workshop shed light on the role of digital storytelling in providing an inclusive space and creative means for people to express alternative narratives around shared heritage. In this framework, the growing variety of digital tools opens up new possibilities for the heritage sector, making heritage more accessible and engaging.
A follow-up of the workshop is being planned to support the co-creation of inclusive heritage stories in the digital realm.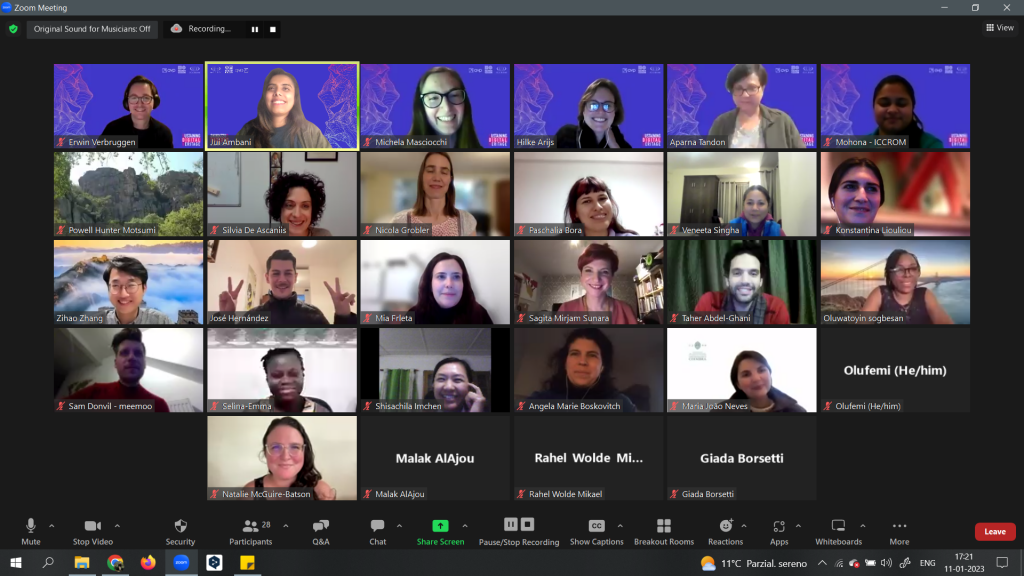 "As an academic in architecture and urbanism interested in cinematic urbanism, the workshop built a lot upon my scope of research and inspired me to teach the tools and techniques to my students. These tools are very much needed in education, a field that should have more collective, collaborative and democratic approaches." 
Taher Abdel-Ghani, Assistant Lecturer in Architecture Design, October University of Modern Sciences & Arts
I am very inspired and excited about the possibilities presented during the workshop. For me, what stood out was the relational aspect of storytelling, something that relates to my art practice and the process – how it affects everyone involved. 
Nicola Grobler, Senior Lecturer in Fine Art, University of Pretoria
To learn more about the Sustaining Digital Heritage Programme and its initiatives, write to digitalheritage@iccrom.org