What role does heritage play in increasing tensions during an ongoing conflict? How do we ensure that protection and recovery of heritage in conflict settings can contribute to lasting peace?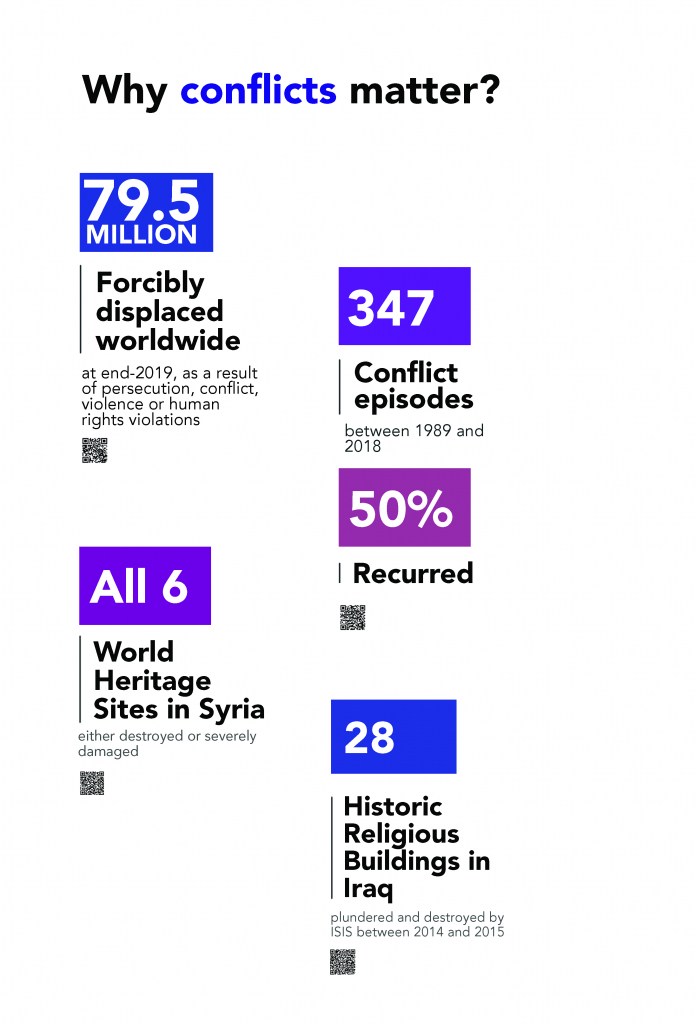 PATH, the peacebuilding assessment tool developed by ICCROM's FAR programme helps heritage as well as peace, humanitarian aid and development organizations to assess, design and reorient heritage interventions to maximize the peacebuilding potential of heritage.
This self-assessment Tool is now available in Arabic. Generously supported by the Principality of Monaco, the Swedish Postcode Foundation and ALIPH Foundation, this tool is especially relevant for the Middle East and North Africa (MENA) region that has 21 World Heritage Sites in Danger, 20 of which are directly threatened by armed conflicts. Active and dormant wars in different parts of the region have contributed to more instability over the years, posing a major threat to cultural heritage and its associated communities.
PATH - Peacebuilding Assessment Tool for Heritage Recovery and Rehabilitation, a first-of-its-kind tool that enhances an understanding of the interplay between heritage and conflict dynamics in a given context, has been translated to Arabic and made digitally available for users in the region. 
Designed as a self-assessment and reflective tool, PATH enables its users to identify the cultural drivers of a conflict that could prolong it or make the conflict reoccur due to unresolved, or newer grievances.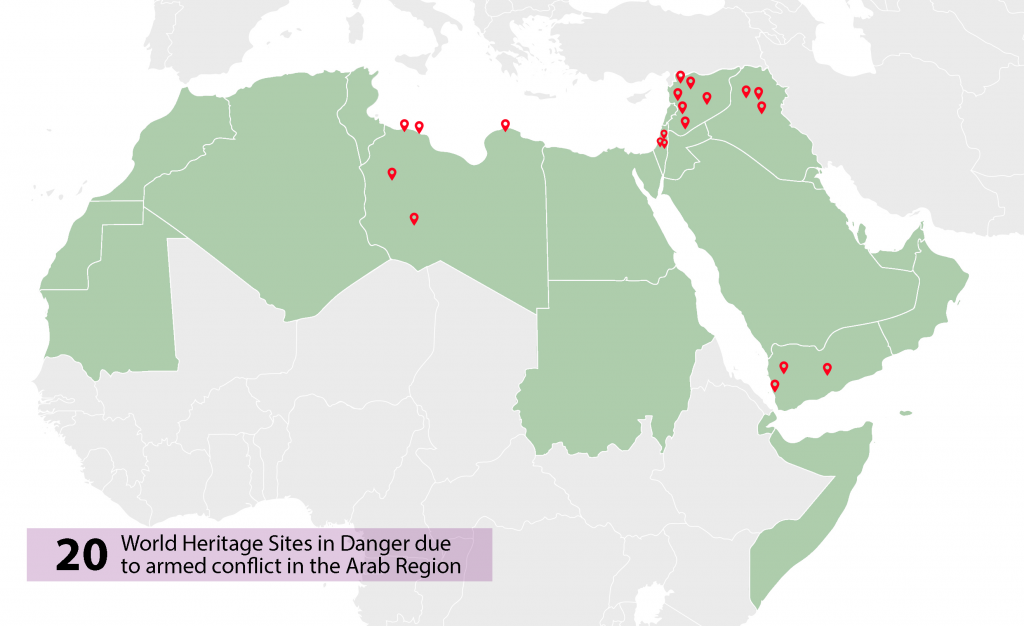 The guiding questions and exercises in the Tool can be used at any stage of a heritage recovery and rehabilitation project. Additionally, it can be applied to diverse conflict contexts and different types of heritage. It is intended to help heritage practitioners, peacebuilders and supporting organizations to take key decisions on which heritage gets preserved or rebuilt; where, when and by whom. Such decisions are key to maintaining peace and addressing the root causes of a conflict.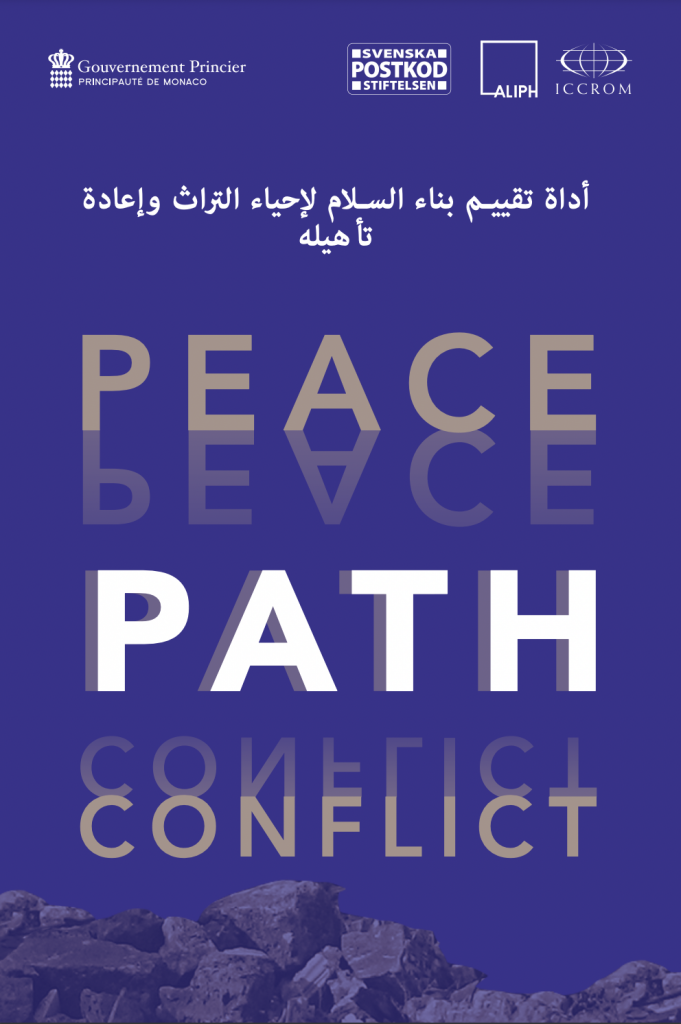 This book has been divided into two interconnected parts. The first part includes the Peacebuilding Assessment Tool for Heritage Recovery and Rehabilitation (PATH) and the second part consists of the Foundational Concepts, which must be consulted before undertaking a peacebuilding assessment. Follow its interactive features to answer the guiding questions from Steps 1 to 4, and share the document with your team and relevant stakeholders, in order to invite their input. Such an inclusive assessment will make your project more sensitive to the conflict context and contribute to sustainable peace.
PATH has been conceived within the framework of ICCROM's flagship programme on First Aid and Resilience for Cultural Heritage in Times of Crisis. It forms the first publication of the Toolkit on Heritage for Peace and Resilience, an initiative supported by the Principality of Monaco. It was field-tested through the international capacity building project Culture Cannot Wait: Heritage for Peace and Resilience, in collaboration with the Principality of Monaco and the Swedish Postcode Foundation.
The translation of this publication to Arabic has been made possible due to the generous support of the ALIPH Foundation.
"The symbolic acronym PATH stands for a user-friendly and a game-style formatted matrix to assess conflict impact of heritage restoration, and mitigate risks - which it might either face or cause - through a context-tailored set of objectives. It addresses the relationship between heritage, conflict and peace. The authors argue that heritage projects either ferment peacebuilding or lead to conflict relapse, depending on the specific conflict context, as well as on the heritage recovery management. The style of presentation with the combination of smart pictograms and clear wording enables wide and easy use of the tool by both experts and non-experts. The publication is hopefully the initial step of a much-needed set of practical tools for heritage recovery in the peace building processes across the world, which should be adaptable to diverse contexts and based on empirical knowledge."
Dr. Amra Hadzimuhamedovic,
Director,
Center for Cultural Heritage,
International Forum Bosnia, Bosnia and Herzegovina, Sarajevo
"A must-read for all those who are committed to protecting heritage in conflict areas! PATH is a practical and in-depth toolkit to turn to again and again when designing, implementing and monitoring heritage protection initiatives in vulnerable, conflict and post- conflict settings. It clearly sets out peacebuilding concepts and how to apply them to concrete heritage projects. It contains useful do's and don'ts for planning conflict-sensitive interventions for heritage. As a funder, we highly recommend PATH to our current and future grantees. The publication will be very helpful in demonstrating how heritage recovery contributes to peacebuilding."
Alexandra Fiebig,
Project Manager,
International alliance for the protection of heritage in conflict areas (ALIPH)