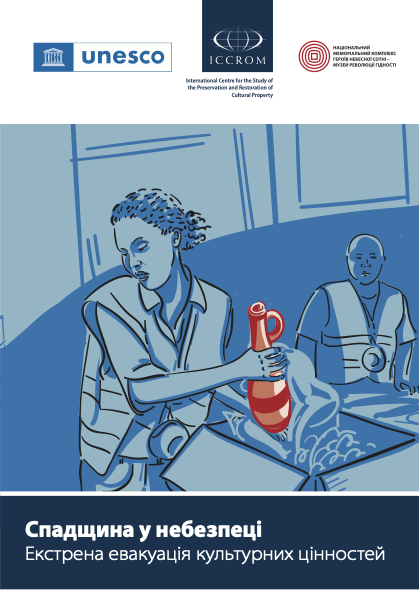 UNESCO, ICCROM and the Maidan Museum in Kyiv (Ukraine) have translated the manual Endangered Heritage: Emergency Evacuation of Heritage Collections (Спадщина у небезпеці – Екстрена евакуація культурних цінностей), into Ukrainian. UNESCO will support the distribution of some 2,000 printed copies across Ukraine, to areas with no or limited internet access.
"UNESCO commends the fruitful cooperation with ICCROM and the Maidan Museum of Kyiv on the Ukrainian translation of this effective and easy-to-use handbook. We will quickly share it with museums and culture professionals in Ukraine to help prevent the destruction and looting of cultural objects," said
Ernesto Ottone R., Assistant Director-General for Culture of UNESCO.
This practical handbook, jointly elaborated by UNESCO and the International Centre for the Study of the Preservation and Restoration of Cultural Property (ICCROM) in 2016, offers a field-tested simple workflow for the emergency evacuation of valuable objects, covering fields of emergency documentation of collections, temporary storage, and safe transport. As part of the efforts of UNESCO and ICCROM to support the safeguarding of cultural heritage in Ukraine, the translation of the handbook into Ukrainian aims to offer technical support to Ukrainian communities and institutions in the midst of the armed conflict.
"Since the inception of ICCROM's programme on cultural first aid over a decade ago, our aim has been to develop easy-to-use references to enhance emergency preparedness and risk reduction for heritage in crisis. We are proud to be working in partnership with UNESCO and the Maidan Museum for this safeguarding effort."
Webber Ndoro, Director-General of ICCROM
The handbook is available online, in open access, on the UNESDOC Digital Library and the ICCROM website. Since 2016, the manual has been translated into thirteen languages: Arabic, English, Farsi, French, Georgian, German, Italian, Japanese, Nepali, Portuguese, Russian, Spanish, and Turkish.