Workshop participants explore ways to integrate traditional building practices in climate change adaptation and the sustainable development of historic cities.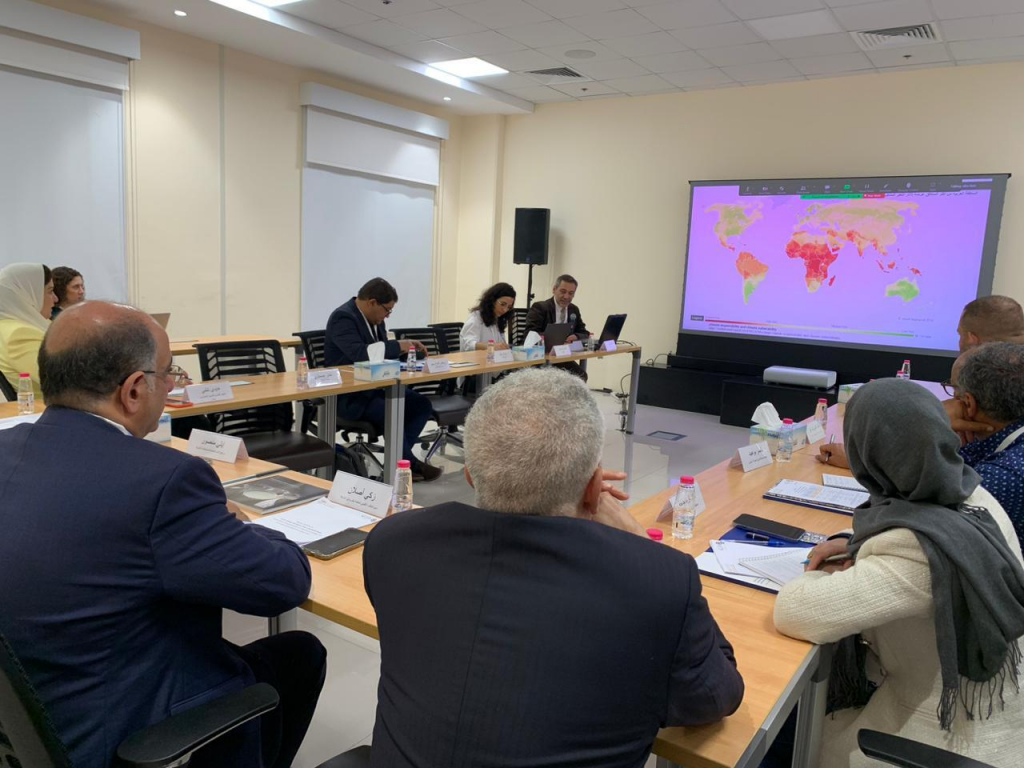 Sharjah (UAE) 31 January 2023 – A regional workshop on "Climate Change and Historic Cities in the MENA Region: Integrating Traditional Knowledge in Climate Change Adaptation and the Sustainable Development of Historic Cities" is inaugurated today in Sharjah, United Arab Emirates (UAE).
The workshop, which will continue for three days until Thursday, 2 February 2023, is organized by the Regional Office for the Conservation of Cultural Heritage in the Arab States (ICCROM - Sharjah) with the generous support of His Highness Sheikh Dr Sultan bin Muhammad Al Qasimi, Supreme Council Member and Ruler of Sharjah.  
The workshop focuses on the unprecedented challenges to cultural heritage posed by the climate crisis and how heritage can help mitigate risks. Severe weather events are expected to cause significant damage to cultural heritage in various parts of the world, including in the Arab region. This irreversible damage will affect not only tangible cultural heritage but also traditional societies' intangible cultural heritage.  
While scientists search for scientific solutions to mitigate the effects of climate change, it is essential for organizations, such as ICCROM, to focus on how traditional practices can provide solutions that can be applied to local contexts and replicated elsewhere. Traditional practices were formed in harmony with communities' surrounding environments, conserving energy and natural resources. 
"ICCROM's mission is to help all of its 137 Member States preserve their cultural heritage and make the world a better place. ICCROM is extremely concerned with climate change issues and is committed to helping achieve environmental, social and economic sustainability for communities, taking into account the significant damage climate change causes to cultural heritage worldwide. This workshop is also aligned with ICCROM's vision of achieving a world in which cultural heritage is closely linked to the concepts of progress, inclusiveness, well-being and stability," said Dr Webber Ndoro, Director-General of ICCROM. 
This workshop will present exemplary case studies on the feasibility of adopting traditional knowledge in contemporary architecture while raising awareness of the risks associated with climate change and the role traditional knowledge has in climate change adaptation. It will highlight how traditional knowledge can contribute to building societies' resilience. The workshop will also promote research in traditional heritage practices as a means to devise sustainable solutions and prepare for existing and potential risks related to climate change and how this can be integrated into modern architecture for greater compatibility with the principles of sustainable development.  
The event will encourage institutions involved in managing historic cities to coordinate climate change adaptation efforts with the broader framework of city management and emergency preparedness and make recommendations for designing subsequent related activities for cultural heritage institutions. 
Dr Zaki Aslan, Director of ICCROM-Sharjah, highlighting the timeliness of the workshop, stated,
"Many countries have emphasized the urgent need to develop practical measures, including legislation, to face the challenges climate change poses. However, research on the impact of climate change on historic cities is still in its early stages in the Arab region; though studies indicate that the Middle East and North Africa will be particularly vulnerable to the negative impacts of a changing climate.  

"The workshop is important for uniting efforts, promoting dialogue, exchanging experiences and benefiting from all traditional cultures and practices – for example, building with mud in dry areas – as there are great opportunities to learn from such practices. Preserving our cultural heritage can help us prepare for potential risks associated with climate change and proactively protect our historic Arab cities." 
Many of those involved in managing historic cities in the MENA region are participating in the workshop, in addition to international and regional experts interested in climate change's impacts on historic cities.  
This workshop is part of the MEDINA initiative, which focuses on protecting historic cities and supporting urban heritage management in the Arab region while valuing cultural heritage's role in sustainable development.  
The workshop also aligns with the great efforts made by the United Arab Emirates to address the challenges and risks posed by climate change regionally and globally. These efforts will be crowned this year with the UAE hosting COP28, the most important global climate conference.  
For more information, please contact:
Abdullah Halawa 
Manager, Policy Projects and Studies 
ICCROM Sharjah
Tel: 1163647-50-00971 
M. Adham ALSAYED 
Communication and Media Consultant 
Tel: 0033-62-3814518 
ICCROM (International Centre for the Study of the Preservation and Restoration of Cultural Property) is an intergovernmental organization headquartered in Rome, working in service to its Member States to promote the conservation of all forms of cultural heritage in every region of the world. For over six decades, ICCROM has partnered with Member States to support them in safeguarding heritage within their borders and beyond.  
ICCROM-Sharjah is a regional conservation centre founded by ICCROM and the Government of the Emirate of Sharjah, the United Arab Emirates, where it has been based since its inception in 2012. ICCROM-Sharjah is a continuation of ICCROM's ATHAR programme, launched in 2004, which dedicates its activities to the protection of cultural heritage in the Arab region and to broadening access, appreciation and understanding of its rich history.