Participants call for awareness raising about the essential role of cultural heritage and traditional practices in addressing challenges of climate change and integrating cultural heritage into national climate change policy.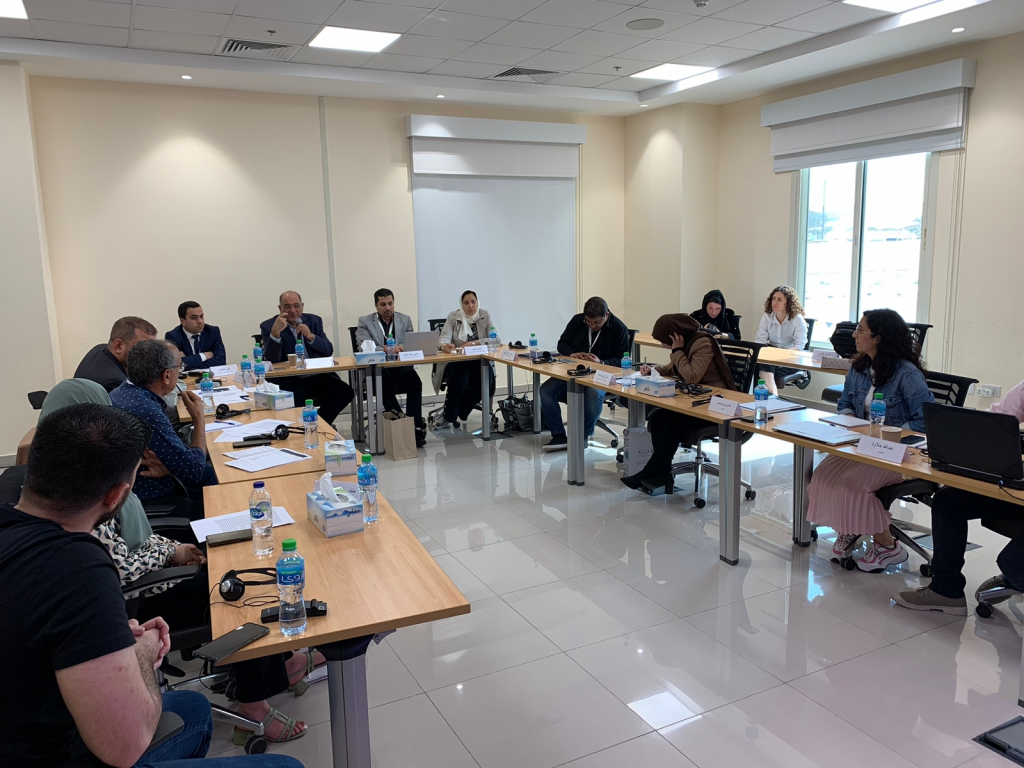 Sharjah (UAE) 3 February 2023 – The three-day regional workshop on "Climate Change and Historic Cities in the MENA Region: Integrating Traditional Knowledge in Climate Change Adaptation and the Sustainable Development of Historic Cities," in Sharjah, UAE, concluded on 2 February 2023. The workshop was organized by the ICCROM Regional Office for the Conservation of Cultural Heritage in the Arab States (ICCROM-Sharjah) with the generous support of His Highness Sheikh Dr Sultan bin Muhammad Al Qasimi, Supreme Council Member and Ruler of Sharjah. 
Experts from 10 countries, including many of those involved in managing historic cities in the MENA region, participated in the workshop – in addition to international and regional experts interested in climate change's impacts on historic cities and representatives of several international and United Nations organizations, including UN-Habitat, UNESCWA, UNEP, ICOMOS and the Climate Heritage Network. 
The workshop consisted of presentations, analyses of case studies and panel discussions on climate change and its effects on tangible and intangible cultural heritage in the Arab region.  
The first day's sessions, chaired by Mr Elie Mansour (UN-Habitat, Lebanon), focused on raising awareness about the impacts of climate change on the Arab region. The second day's activities, chaired by Mr Mohamed Boussalh (CERKAS, Morocco), revolved around the link between traditional building knowledge and climate change mitigation. 
On the third and final day, the sessions, chaired by Dr Zaki Aslan, Director of the ICCROM – Sharjah Regional Office, centered on the role international organizations and associations' initiatives can play in climate action. The workshop concluded with an overarching panel discussion.  
Participants put forth a set of recommendations to be used as a reference for planning and documenting. These recommendations stressed the need to raise awareness about cultural heritage as a way to address challenges posed by climate change, taking into account the need to preserve traditional knowledge and practices. The workshop also iterated the need to continue advocating for cultural heritage to be highlighted in national policies relating to climate change. 
The workshop participants' recommendations can help determine ICCROM-Sharjah's future trajectory in relation to climate action, in addition to providing guidance to other institutions working to preserve cultural heritage in the Arab world. 
Their recommendations also highlighted the importance of:  
illustrating and quantifying the economic and sustainability benefits of quality environmental design of built environments as ecosystems with a holistic approach;  

integrating value-driven and community-led approaches to climate change in education, especially at the university level; and  

promoting collective, interdisciplinary efforts to address the above through capacity-building efforts that bring together the effective participation of the government, the private sector and civil society. 
Dr Zaki Aslan, Director of the ICCROM–Sharjah Regional Office, stressed the importance of this workshop and the recommendations that have been agreed upon:
"This workshop complements other efforts and initiatives implemented by ICCROM-Sharjah, under the generous patronage and support of His Highness Sheikh Dr Sultan bin Muhammad Al Qasimi, Member of the Supreme Council, Ruler of Sharjah, and in cooperation with various partners and stakeholders, with the aim of preserving cultural heritage in the Arab region." 
"ICCROM extends its gratitude and appreciation to all experts who participated in this workshop and to all committed to preserving cultural heritage in the face of climate change, prioritizing traditional knowledge in our response," said ICCROM Director-General Dr Webber Ndoro. "We call on all partners and stakeholders to continue working together to implement these recommendations. We will continue our efforts to address the serious risks to which cultural heritage in the Arab region is exposed due to climate change." 
This workshop is part of the MEDINA initiative, which focuses on protecting historic cities and supporting the urban heritage management in the Arab region while valuing cultural heritage's role in sustainable development.  
The workshop also aligns with the great efforts made by the United Arab Emirates to address the challenges and risks posed by climate change regionally and globally. These efforts will be crowned this year with the UAE hosting COP28, the most important global climate conference. 
For more information, please contact: 
Abdullah Halawa 
Manager, Policy Projects and Studies 
ICCROM Sharjah  
E-mail: abh@iccrom.org 
Tel: 1163647-50-00971 
M. Adham ALSAYED 
Communication and Media Consultant 
E-mail: zajel.consulting@gmail.com 
Tel: 0033-62-3814518 
ICCROM (International Centre for the Study of the Preservation and Restoration of Cultural Property) is an intergovernmental organization, headquartered in Rome, working in service to its Member States to promote the conservation of all forms of cultural heritage in every region of the world. For over six decades, ICCROM has partnered with Member States to support them in safeguarding heritage within their borders and beyond.  
ICCROM-Sharjah is a regional conservation centre founded by ICCROM and the Government of the Emirate of Sharjah, the United Arab Emirates, where it has been based since its inception in 2012. ICCROM-Sharjah is a continuation of ICCROM's ATHAR programme, launched in 2004, which dedicates its activities to the protection of cultural heritage in the Arab region and to broadening access, appreciation and understanding of its rich history.