Climate.Culture.Peace is a knowledge-building initiative aimed at exploring the interconnections between culture, climate change, peace and disaster resilience. It was conceived by ICCROM's FAR Programme with support from the British Council's Cultural Protection Fund (CPF), in partnership with the Department for Digital, Culture, Media and Sport (DCMS).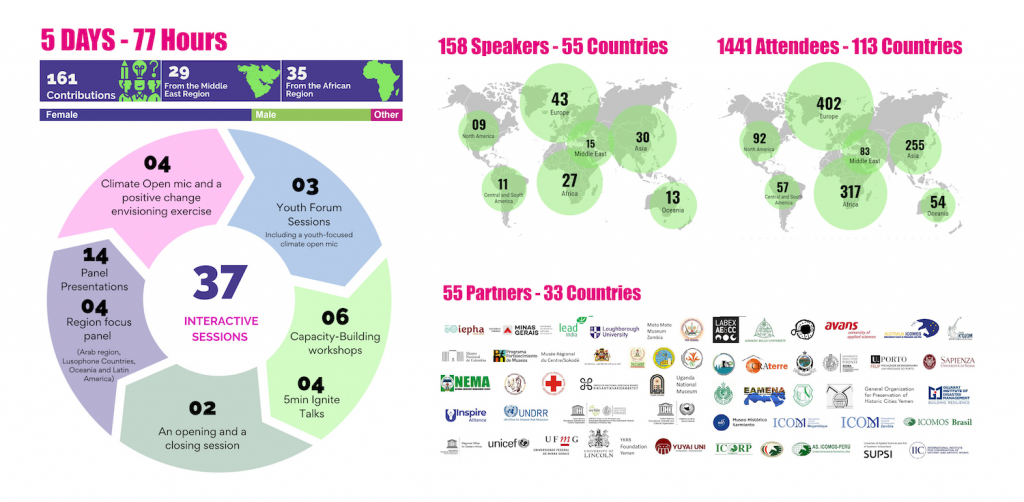 A virtual conference was held over five days from 24-28 January 2022. Across 37 sessions and 77 hours, the conference fostered an intergenerational exchange of ideas, capturing stories from practitioners, heritage professionals, scientists, researchers, thought leaders and policy advisors, as well as at-risk communities, youth representatives, Indigenous leaders and professionals from diverse sectors directly or indirectly experiencing the impacts of climate change.
More than 1 400 attendees from 113 countries joined the conference live through a dedicated knowledge portal and official media platforms. Simultaneous interpretation was provided in French and Arabic, with regional-focused sessions also held in Spanish, Portuguese and Arabic. Recordings of all sessions are available on the Climate.Culture.Peace website and ICCROM's official YouTube channel.
The knowledge portal serves as a platform for sharing knowledge and resources, while building a transdisciplinary collaboration. Conference proceedings, including key recommendations, multimedia and place-specific case examples of heritage in climate action will be shared through this portal.