Announcing the release of volume 3 of 'A Story of Change'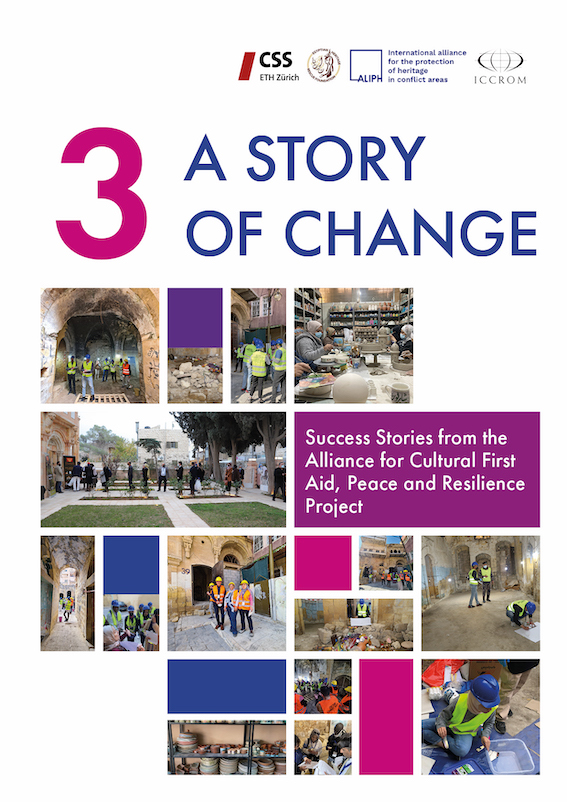 Exposed to intersecting conflicts, climate change-induced disasters and health crises, the Middle East, North Africa, Afghanistan and Pakistan – collectively referred to as the MENAP region – is home to rich and diverse heritage. 
Over the past two and a half years, ICCROM's First Aid and Resilience for Cultural Heritage in Times of Crisis (FAR) Programme has trained a readily deployable team of 20 Cultural First Aiders (including four mentors) from the MENAP region in the framework of the Alliance for Cultural First Aid, Peace and Resilience project. Generously supported by the ALIPH Foundation, this cascading capacity development project was implemented in partnership with the Egyptian Heritage Rescue Foundation (EHRF) and the Zurich-based Centre for Security Studies (CSS).
These Cultural First Aiders are now equipped to respond during complex emergencies. They are trained to assess, document, secure and stabilize damaged heritage in tandem with humanitarian relief and recovery.
This cohort carried out field projects at 16 heritage places, seven of which are World Heritage Sites. They provided first aid to endangered heritage and improved the sites' emergency preparedness. The field projects helped train another group of 262 Cultural First Aiders and proactively involved 624 residents in managing the risks to their local heritage. 
While the long-term impacts of the training and the afterlives of these projects are yet to emerge, the community of practice built is already changing attitudes and behaviours, making heritage an instrument for sustaining peace and resilience in the region. 
These inspiring stories of change from eight countries are now available in a free-to-download publication, A Story of Change 3: Success Stories from the Alliance for Cultural First Aid, Peace and Resilience Project.
The stories of change were captured by Aparna Tandon, Jui Ambani, Michela Masciocchi and Anthony Rizk, and the publication was brought to life by Mahassen El Masri and Paz Abad.
Sneak peek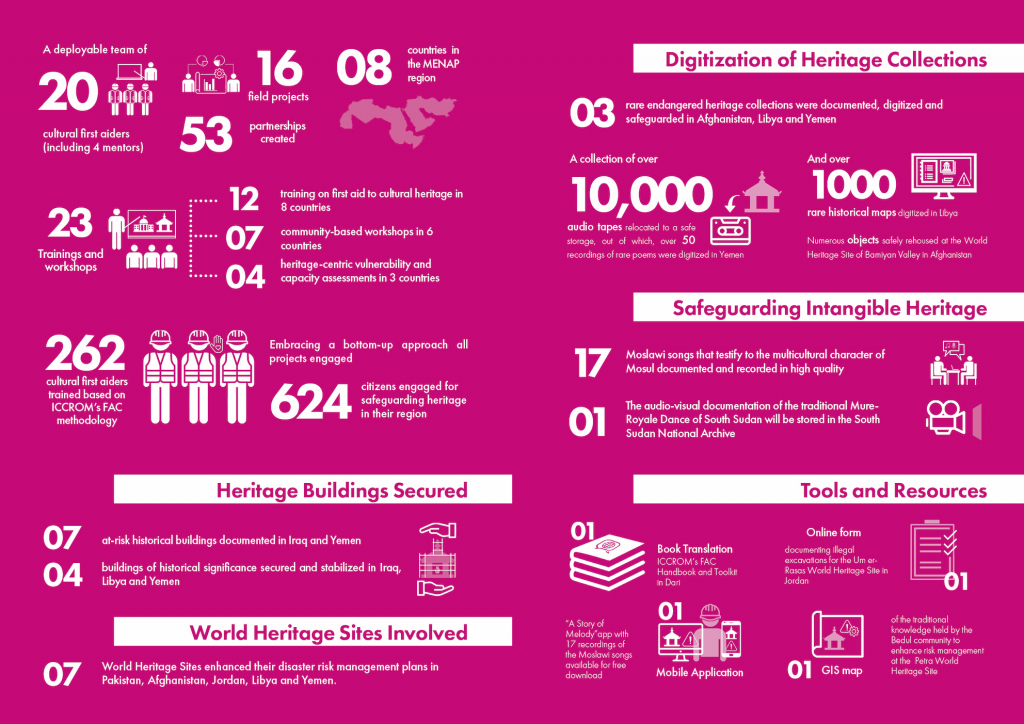 About the Project
The Alliance for Cultural First Aid, Peace and Resilience (2020-2023) was an innovative capacity-development project that effected change on the ground through training, mentoring, in-field action and seed grants. The aim was to protect heritage from intersecting conflicts, disasters and epidemics while enhancing social cohesion at national and subnational levels in the MENAP region. 
The Project included training of trainers; 11 months of online mentoring; two weeks of hands-on training; translation of valuable resources into Arabic; creation of self-help videos to address pandemic-related impacts on heritage; development of a Tool to measure peace through heritage; and seed grants to provide first aid to cultural heritage in eight countries. The training was conducted in English, Arabic, Dari, Pashto and Urdu. 
The Project benefitted from a unique curriculum based on ICCROM-FAR's widely-used First Aid to Cultural Heritage in Times of Crisis (FAC) methodology. The hybrid training combined knowledge from cultural heritage, disaster risk reduction, conflict and peace studies and humanitarian aid. 
Scenario-based training, which simulated real emergencies, was blended with in-field action to help establish cultural heritage as a critical component of post-conflict and post-disaster humanitarian recovery in the MENAP region. Online training and mentor support helped participants apply their knowledge and skills in their respective contexts.
The Alliance for Cultural First Aid, Peace and Resilience project was generously supported by the ALIPH Foundation. EHRF and CSS contributed to the training and advised the participants during the implementation of their respective field projects.
A people-centred approach to heritage preservation can help reinstate peace and build disaster resilience, contributing to a sustainable recovery. The Alliance for Cultural First Aid, Peace, and Resilience project, conceived by ICCROM and the ALIPH Foundation, has helped provide strong evidence supporting this idea.
"ICCROM is grateful to the ALIPH Foundation, our implementing partners the Egyptian Heritage Rescue Foundation and the Center for Security Studies, as well as the course team – including teachers, mentors and participants – for their invaluable collaboration."
Webber Ndoro, Director-General, ICCROM
"The ALIPH-ICCROM Alliance for Cultural First Aid, Peace and Resilience stems from the shared conviction that cultural heritage can play a central role in peacebuilding and recovery after conflicts, disasters and pandemics. ALIPH proudly supports this initiative with its complementary digital and in-field components, reflecting ALIPH's mission to provide support locally, where it is most needed and is adaptable to fast-changing circumstances."
Valéry Freland, Executive Director, The ALIPH Foundation
Post-training follow-up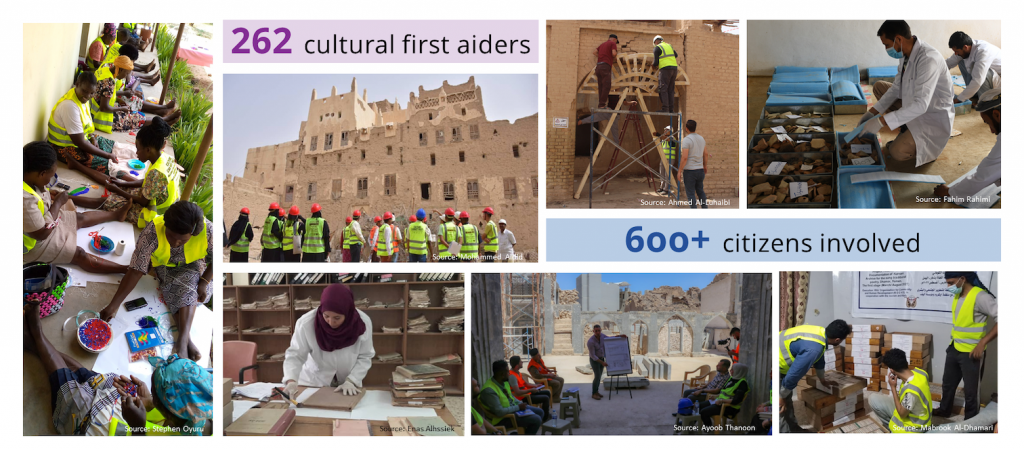 After the training, participants tested their newly acquired skills by carrying out various field-based activities in conflict-affected settings. They conducted field projects to secure and document damaged archaeological objects at the Bamiyan Valley World Heritage Site, safeguard at-risk intangible heritage in South Sudan and perform emergency stabilization of historic buildings in Iraq and Yemen.
Embracing a bottom-up approach, the Cultural First Aiders and their mentors conducted 23 workshops in their respective countries. 
Men and women, children and the elderly, artisans and government employees were called on to collaborate with heritage experts, contributing to intergenerational and interdisciplinary knowledge transfer and enhanced communication among diverse stakeholders. 
These field projects helped expand a growing network of Cultural First Aiders from the coasts of Libya to the mountains of Afghanistan and beyond.
The uprising in Afghanistan, devastating floods in Pakistan and the resurgence of COVID posed significant challenges to the project's implementation. However, thanks to a committed partnership, the Project team was able to respond to multiple crises and meet the Project goal of creating a robust, community-based network to provide cultural first aid while promoting peace and resilience. 
The Project team and participants engaged mainstream disaster risk management and humanitarian aid agencies to help develop interagency coordination mechanisms to safeguard heritage at national and subnational levels in the MENAP region. These mechanisms also include enhanced security at archaeological sites to prevent illicit trafficking. 
Multilingual resources and tools
Co-creation and knowledge transfer were at the core of this Project. A Tool for measuring peace through heritage, Community-Based Heritage Indicators for Peace, was created to capture local voices on how communities use and regard heritage in peace and conflict situations. The new Tool is now available for free download. 
ICCROM's widely-implemented resources, such as the First Aid to Cultural Heritage in Times of Crisis - Handbook and Toolkit and PATH – Peacebuilding Assessment Tool for Heritage Recovery and Rehabilitation, were translated into Arabic. 
To help mitigate the impacts of the COVID-19 pandemic, 3 self-help videos were also produced in partnership with EHRF. 
"ICCROM is pleased to release the final publication of the project that chronicles the success stories of the newly trained Cultural First Aiders who, with the support of local communities, secured at-risk tangible and intangible heritage in Afghanistan, Egypt, Iraq, Jordan, Libya, Pakistan, South Sudan and Yemen." 
Webber Ndoro, Director-General, ICCROM
"A Story of Change takes us on-the-ground, where the ICCROM course participants could put theory into action with ALIPH seed grants. The 16 field projects reflect the breadth and diversity of cultural heritage in the regions and the strong commitment of a new generation of professionals to protect heritage, foster dialogue and build peace."
Valéry Freland, Executive Director, ALIPH Foundation