Emergency evacuation guidelines now available in German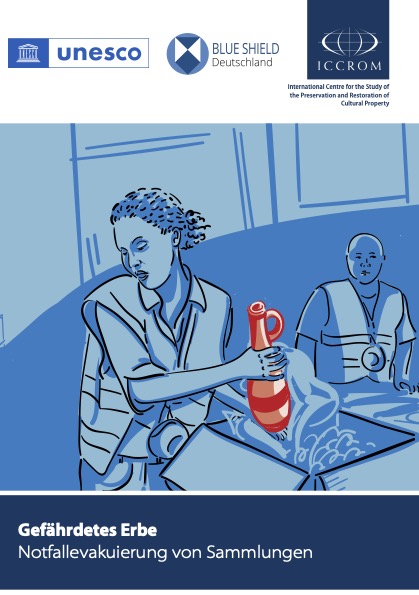 With the aim of breaking language barriers and providing knowledge where it is needed most, ICCROM and Blue Shield Germany have released a German version of the pioneering online resource, Endangered Heritage: Emergency Evacuation of Heritage Collections, developed in partnership with UNESCO.
The German translation arrives at a time when efforts continue to recover cultural property damaged in the floods that devastated north-western Europe in July. It also means the guidelines now come in 13 languages, making them more accessible to emergency responders, heritage professionals, and communities living in risk-prone regions.
The manual provides a comprehensive workflow for an evacuation process, ranging from the assessment of an emergency and the decision to evacuate, to its preparation and implementation. It fundamentally supports preventive emergency planning in museums, libraries, and archives, which today exists in many, but by no means all, of these institutions in Germany.
The easy-to-follow structure and the use of numerous illustrations make the manual particularly suitable for smaller institutions, such as those run by municipalities or associations, which have few specialised staff and are dependent on colleagues from outside the field and volunteers in regular operations or emergencies.
The recent flood disaster in Germany and the news about damaged cultural property in the affected regions have led many collection institutions to review their emergency planning or motivated them to develop one in the first place. With the German translation of this manual, Blue Shield Germany aims to provide them an effective assistance.
-  Susann Harder, President of Blue Shield Germany and Coordinator of the German translation
About the guidelines
Built upon years of experience and real-life situations, Endangered Heritage offers a field-tested, simple workflow for the emergency evacuation of valuable objects. A multi-purpose guide, it is created with a variety of users in mind, with simple language and layout intended for heritage personnel, emergency responders and civilians alike.
The resource offers guidance on when and how to intervene to protect endangered heritage, with its illustrations and charts helping readers to understand quickly and begin working. In crisis situations, it is a fast and easy read covering the emergency documentation, safe transport and temporary storage of collections.
In addition to German, the guidelines are available in English, French, Spanish, Arabic, Nepali, Georgian, Japanese, Portuguese, Turkish, Farsi, Italian and Russian. You can browse our publications here.
Download it, save it to your phone, and share it with as many people as possible, so that together we can improve emergency preparedness and response, and build resilience for cultural heritage worldwide!