We are excited to have renewed our cooperation with the Cultural Heritage Administration of Korea (CHA) to invest in providing capacity building, resources and tools to those tasked with the management and conservation of cultural and natural heritage places. On 7 October 2022, ICCROM and CHA signed a five-year cooperation agreement to continue to develop relevant capacity building on heritage management globally. In doing so, we've reaffirmed our shared commitment to enhance the people-nature-culture link in heritage management and also contribute to the implementation of the World Heritage Convention. 
Korea is one of our long-standing partners. Since 2012, it has contributed to ICCROM's flagship capacity-building activities: beginning with CollAsia, which focused on the conservation of museum collections in Southeast Asia; continuing with the Living Heritage Programme (later, Promoting People-Centred Approaches to Conservation); and today through the People-Nature-Culture (PNC) course, organized by the ICCROM-IUCN World Heritage Leadership (WHL) programme.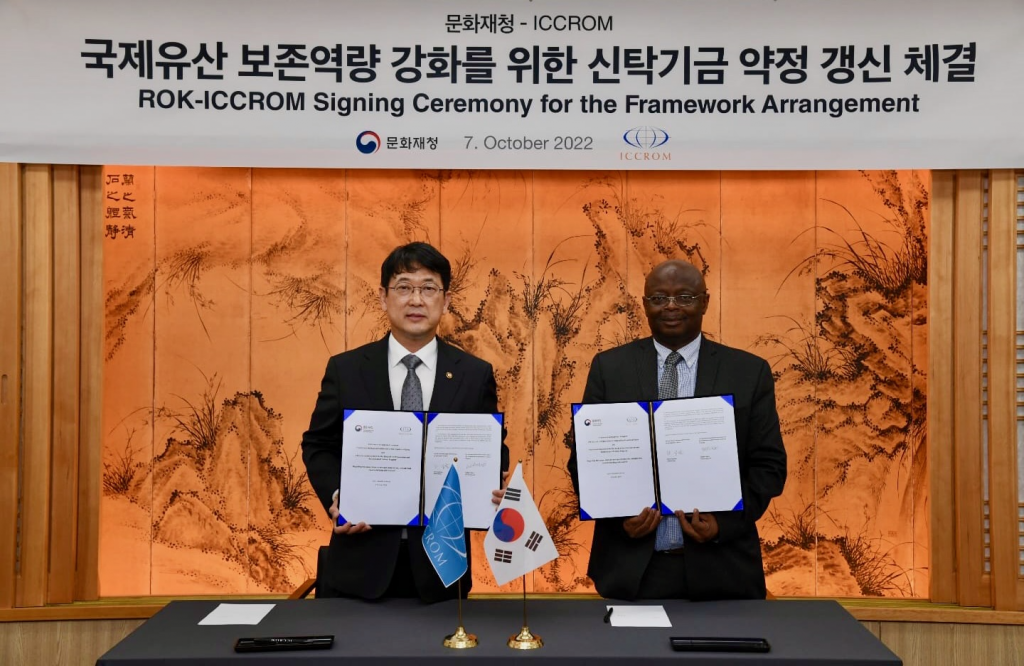 During the signing ceremony, ICCROM Director-General Webber Ndoro stressed, "The resources provided by CHA have created invaluable opportunities for heritage practitioners around the globe to continue to learn, exchange and advance the way we conserve and manage heritage."
In the past five years, WHL and CHA have implemented seven editions of the PNC course, involving more than 180 heritage professionals and representatives of communities and engaging with more than 40 global partners. The course connected and revised previous capacity-building efforts to link nature and culture and promote people-centred approaches to heritage conservation, aiming to provide participants with a comprehensive understanding of how effective management looks like focusing on conserving and enhancing the multiple heritage values of heritage places in their wider social, environmental, and economic contexts. 
CHA's support of ICCROM and its programmes has been essential in supporting museums and heritage professionals and in creating networks of practice and platforms for continuous capacity building and peer learning.
"Capacity building is an area that takes time to reap results, but that always yields stronger and better results," ICCROM's Director-General Webber Ndoro stated. "ICCROM is truly grateful that CHA is continuously committed to building the capacity of the global heritage community so that together we can protect and manage our valuable heritage better."
In the coming years, ICCROM and CHA will work closely to design and implement capacity-building activities that respond to on-the-ground heritage management issues, focusing on developing annual PNC activities and continuing to explore ways to provide capacity building to fill existing gaps in heritage management.

People-Nature-Culture Forum 2022: 'Benefits of Heritage'
To celebrate the achievements made under the scope of our present agreement with CHA and pave the way to five more years of fruitful collaboration, the WHL programme, CHA and the Korea National University of Cultural Heritage (KNUCH) have organized an international People-Nature-Culture Forum. The forum will take place from 10 to 12 October 2022 in Suwon, Republic of Korea, bringing together heritage practitioners and institutions involved in managing heritage places from around the world – particularly World Heritage sites – to reflect on their challenges and brainstorm ways that future capacity building efforts can address it.
In particular, the forum will reflect on how to better recognize the wide range of services and benefits generated by heritage places and their conservation, particularly with respect to the Indigenous peoples and local communities associated with them. 
Find more information about the PNC Forum in the sidebar.