What do the next generation of conservation professionals think about studying in the time of COVID?
Students Eleonora Sermoneta and Amber Bhatty share their insights into the challenges and priorities associated with learning about heritage conservation during a global pandemic.
Last year, as the battle against COVID-19 raged, we participated in a webinar, Heritage Conservation Learning in the COVID World, organized by ICCROM, Athabasca University and IIC. Thankful for the opportunity to reflect on the disruption to our studies triggered by the pandemic, we decided to reach out to fellow students worldwide to ensure that their concerns and experiences were also represented.
At the time, heritage and teaching institutions around the world had been forced to close their doors, making it difficult for them to continue serving their communities. In particular, the closure of universities resulted in a lack of hands-on learning opportunities for conservation students, while museum placements were no longer feasible.
Teaching institutions and students alike had to adapt quickly to this new reality and embrace online learning and engagement. The learning curve was steep for everyone trying to navigate unforeseen challenges. For many, the process of adaptation continues.
Through social media, we were able to offer students a platform for discussion and debate, with the goal being to amplify their voices. Listening to their stories allowed us to understand how the pandemic was and is affecting their studies and their expectations for their professional futures.
What our research found
While it was generally agreed that conservation theory could be learned online, nearly all the students who commented felt online learning was no substitute when it came to the more practical elements of heritage conservation. As such, almost everyone prioritised a return to hands-on learning and the need for supplementary lab time when circumstances allowed.
Similarly, many students were concerned about the limits on work placements and volunteer opportunities, with some calling for support in finding alternatives to traditional placements. Notably, students recognised that a lack of practical experience could affect their employability post-COVID. 
For some students, the situation created positives, such as the knowledge able to be gained through increased access to new online resources, including webinars and virtual courses and conferences. More time could also be dedicated to worthwhile activities such as in-depth research, digital skills, or documentation.
The findings from our research are discussed at greater length in Investigating Heritage Conservation Students' Priorities in the COVID and post-COVID World, which is published in the International Institute of Conservation's journal, News in Conservation. 
Also worth a look is the transcript of audience questions and panel responses from the webinar, which touches on student concerns regarding gaps in practical experience, managing employers' expectations, and overcoming barriers to ICT access and virtual training opportunities. 
How students are adapting
Since the webinar, the world has experienced second and in some places third waves of COVID-19, each bringing with it new challenges. Students of heritage conservation, like educators, practitioners and institutions across the sector, continue to learn new ways to adapt and cope in the face of ongoing uncertainty.
One approach that has proven successful for us has been to seek out community online – forums in which to interact with and learn from peers, stay connected to the sector, and even form valuable new friendships. If nothing else, the pandemic has shown the conservation community to be a supportive one, even in the digital sphere. 
Students also need to get involved in conversations around the future of heritage conservation learning in the post-pandemic world. With that in mind, a second joint ICCROM-Athabasca University-IIC webinar, Pandemic insights: revealing the essential of heritage conservation, will take place on 24 June 2021 at 5pm (Rome, Italy).
We look forward to continuing the discussion there!
Eleonora Sermoneta is studying Heritage Resources Management at Athabasca University in Alberta, Canada and works as a Learning Programmer at the Royal Alberta Museum.
Amber Bhatty is completing a MSc in conservation practice at Cardiff University in Cardiff, Wales.
More about last year's webinar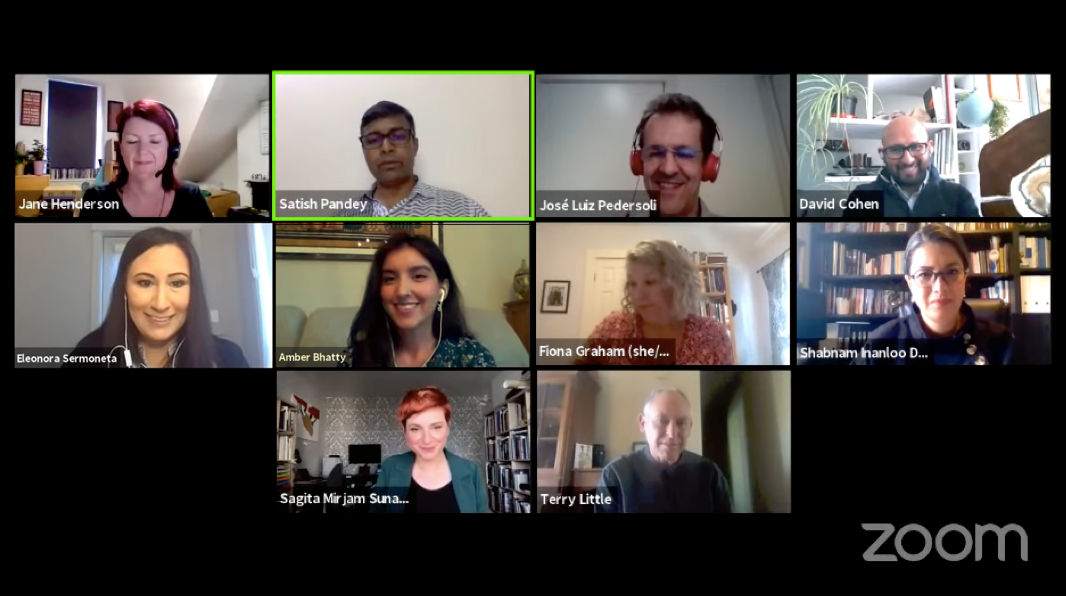 Heritage Conservation Learning in the COVID World brought together a community of international educators and students to discuss their experiences during the first wave of COVID-19.
The webinar was moderated by, José Luiz Pedersoli Jr., ICCROM, Prof. Shabnam Inanloo Dailoo, Athabasca University, and Prof. Jane Henderson, IIC.
Speakers included:
Fiona Graham, Tutor, Conservation, Heritage Resources Management Program, Athabasca University; Adjunct Professor, Art Conservation Program, Queen's University, Canada
David Cohen, Assistant Professor, Faculty of Arts and Humanities, Universidad de los Andes, Colombia
Terry Little, Senior Lecturer, Ahmadu Bello University, Nigeria; Senior Advisor, Trust for African Rock Art, Kenya
Sagita Mirjam Sunara, Assistant Professor, Conservation-Restoration Department; Vice-Dean of Arts, Science, International Collaboration and ECTS, University of Split, Croatia. 
Satish Pandey, Associate Professor and Head, Department of Art Conservation, National Museum Institute, India.
Eleonora Sermoneta, Student, Heritage Resources Management Program, Athabasca University; Adult Learning Programmer, Royal Alberta Museum, Canada. 
Amber Bhatty, Student, MSc Conservation Practice, Cardiff University, United Kingdom.