Workshop on Post-Event Damage and Risk Assessment for Cultural Heritage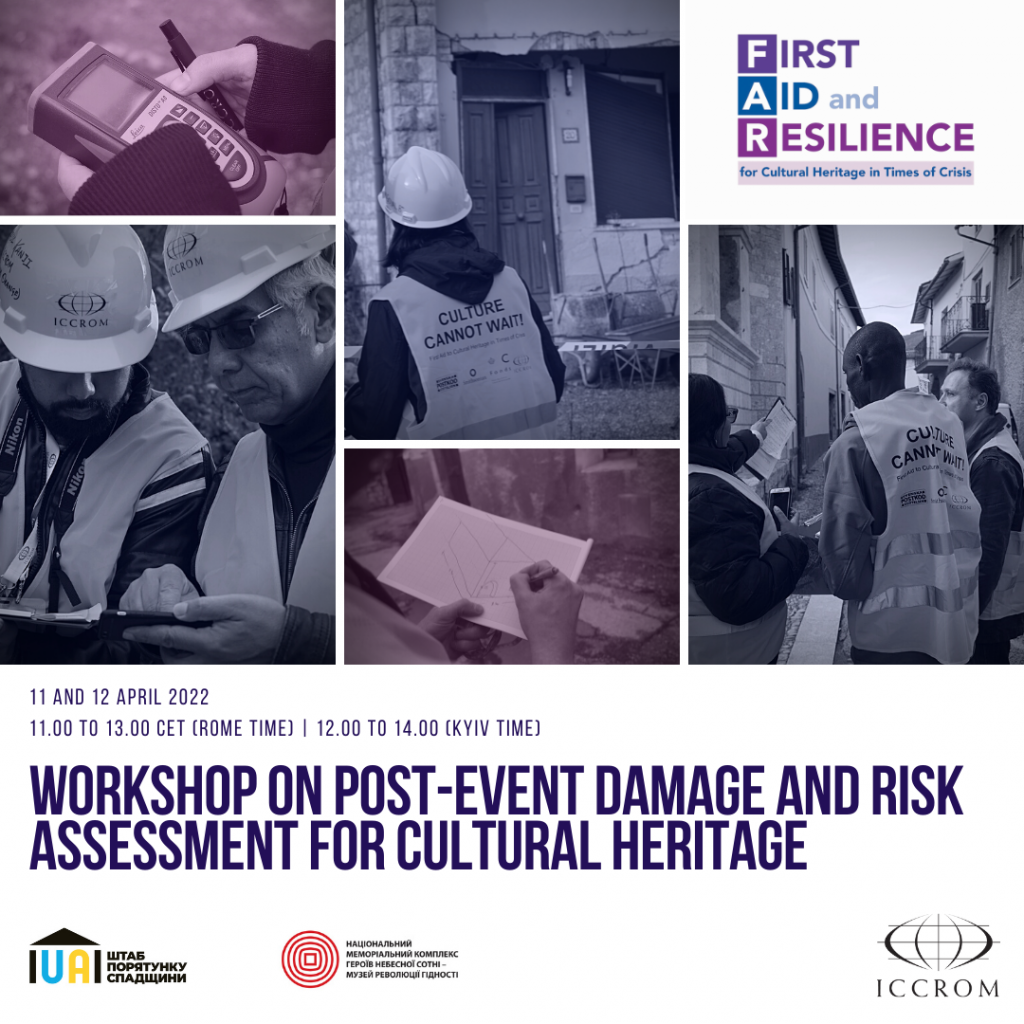 ICCROM through its flagship programme on First Aid and Resilience for Cultural Heritage in Times of Crisis (FAR), in partnership with the Maidan Museum and the Heritage Emergency Response Initiative (HERI), organized a two-day online workshop on developing a collaborative damage and risk assessment methodology for heritage sites damaged or at  risk of destruction.
Held on 11 and 12 April 2022, the workshop brought together over 77 professionals representing museums, art institutions, memorials, archives, departments of culture, research institutes and universities, non-governmental and private cultural institutions from 14 regions including Chernihiv, Kharkiv, Mykolayiv, Donetsk and Crimea.
Among the participants were representatives from the Ukrainian Ministry of Culture, including Deputy Minister Kateryna Chuieva, the Ukrainian national committees of ICOM, ICOMOS, and Blue Shield, as well as representatives from properties inscribed to the UNESCO World Heritage List such as Saint Sophia Cathedral and Kyiv Pechersk Lavra.
During the workshop, which was simultaneously translated into Ukrainian, participants received emergency training on how to carry out systematic and coordinated damage and risk assessments for movable and immovable cultural heritage. This included working together to develop context-specific forms for undertaking these assessments in Ukraine, helping to define a common method for documenting war damage and estimating post-war recovery needs for cultural heritage of all types. Ensuring the safety and security of those accessing heritage sites in hazardous areas was another key focus.
The first day opened with presentations on the importance of the First Aid Framework from the Director of the Maidan Museum Mr Ihor Poshyvailo, who is also coordinating the HERI Initiative, and Ms Aparna Tandon, Senior Programme Leader of ICCROM's FAR Programme. Participants were then helped to prepare for working safely and securely in conflict-affected areas by Dr Zeynep Gül Ünal, ICOMOS-ICORP Turkey and Ms Barbara Caranza, CHIEF Onlus.
The second day highlighted the importance of the damage and risk assessment forms. Ms Tandon introduced a systematic methodology for operationalizing post-event damage and risk assessment, specific to the case of Ukraine. The discussion was further guided by specific presentations by Davide Lgt CC Cutrino, Counter Improvised Explosive Devices (C-IED), Xavier Romão and Esmeralda Paupério, Civil Engineers, Structural Engineering Division of the Faculty of Engineering of the University of Porto (FEUP), as well as Dr Sonia Giovinazzi, Civil Engineer, ENEA - Italian National Agency for New Technologies, Energy and Sustainable Economic Development.
The damage and risk assessment forms, tailored to the context of Ukraine, are currently being revised by the workshop participants. Together with Maidan Museum and HERI, ICCROM is working to provide a secure platform for gathering, sharing and analyzing data.
"Ukrainian culture as a core of Ukrainian identity and a part of the world heritage has to be recovered, reconstructed, and rebuilt after Russia's invasion. This requires not only emotional motivations but systematic and professional approaches, new skills, knowledge and experience.  We are grateful to our international partners who express their solidarity with Ukraine in action, empowering us with effective practices and standards tested in other warfare contexts. The ICCROM's workshop on post-event damage and risk assessment for cultural heritage is a vivid illustration that in a fruitful collaboration we will meet global challenges and protect cultural heritage in emergency situations." Ihor Poshyvailo, Director, Maidan Museum
In her closing remarks, Ukraine's Deputy Minister for Culture Dr Kateryna Chuyeva thanked ICCROM and international partners for organizing the workshop. She emphasized that the Ukrainian Government, people and heritage professionals are united in their resolve to protect their heritage.
Workshop Leaders
Ihor Poshyvailo, HERI Initiative
Aparna Tandon, ICCROM
Presentations
Aparna Tandon, ICCROM
Barbara Caranza, CHIEF Onlus
Zeynep Gul Unal, ICOMOS-ICORP
Davide Lgt CC Cutrino C-IED Operational
Xavier Romão, University of Porto
Esmeralda Paupério, University of Porto
Sonia Giovinazzi, ENEA
Jui Ambani, ICCROM
Mohona Chakraburtty, ICCROM
Interpreters
Milena Chorna
Dariia Sereda
FAR Team
Jui Ambani, ICCROM
João Otoni Cardoso, ICCROM
Mohona Chakraburtty, ICCROM
Kelly Hazejager, ICCROM
Yurim Jeong, ICCROM
Closing Remarks
Dr Kateryna Chuyeva, Deputy Minister for Culture and Information Policy for Ukraine