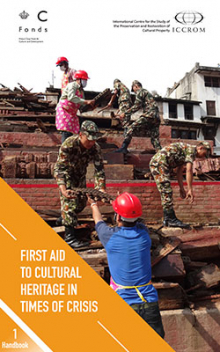 When disasters strike, local communities are the first to try to safeguard their cultural heritage; however, their ability to intervene is often greatly reduced during complex and multi-faceted humanitarian crises. At the same time, first responders may not always be aware of what is culturally important, and they often lack the training to handle heritage objects and structures, and meet the specific needs those who bear traditional knowledge.
First Aid to Cultural Heritage in Times of Crisis is a two-part publication created for the various actors involved in an emergency. It provides a practical method and a set of ready-to-use tools for securing endangered cultural heritage, both tangible and intangible. The user-friendly workflows help readers to plan and implement coordinated cultural rescue and risk reduction operations that involve local communities, heritage custodians, emergency responders and humanitarians.
Written with the key guiding philosophy of ensuring an inclusive attitude and respect for diversity while at the same time interlocking humanitarian assistance with cultural heritage first aid, this resource provides an essential, ethical framework that will lead to successful outcomes.
The resource has multiple uses: it will help to improve emergency preparedness within cultural heritage institutions, serve as a reference to train others, and act as a guide for planning and implementing coordinated cultural heritage first aid.
Who will be interested in reading it?
Cultural heritage professionals and institutions that would like to develop coordinated emergency plans.
Community-based organizations and humanitarian aid professionals who are working to enhance disaster resilience in-risk prone regions of the world.
Civil protection, civil defence and military personnel, firefighters, and others in charge of protecting communities and their assets during disasters and conflicts.
Read also: